I have worked with 3-4 good network marketing companies in the past & made lots of money. I am still looking for some good opportunity.
The reason is simple. I love network marketing business.
This is one of the business in the world that can make you famous and rich without any qualification or any hard work.
I personally know hundreds of MLM leaders who are not much qualified but they have made thousands of dollars through network marketing.
Anyone can start a network marketing business. Anyone can become famous and make lots of money.
Only thing you need is a good MLM company and leadership quality.
Yes, you should be a good leader in order to grow your network. If you are unable to handle your network under your leadership, it will collapse.
10 Effective Strategies for a Network Marketing Leader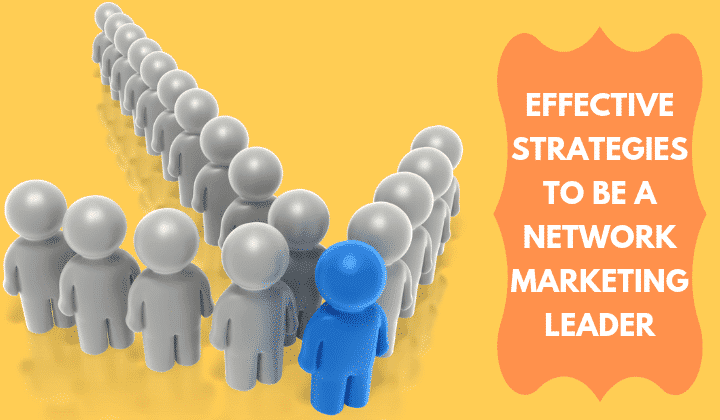 Here are some of the most effective strategies every MLM leader must know. Just check them if you want to become successful in network marketing.
1. Start a Conversation With Your Family & Friends
Begin a conversation with your family and friends. If you are promoting a product from a company such as Amway or Herbalife then first you must tell about the products to your family members and close friends.
Let them know what you are promoting. You should use all the products that you are promoting so that you know all the pros and cons about the products.
If you are convinced with the products and the business concept then you can easily convince them because they are the people who trust you a lot.
It's always a good idea to promote your company with your friends & relatives so that you get the initial motivation you needed to grow this business.
2. Go to Public Places
Once you a have dozen of people in your downline through your family & friends, you are ready to expand your network further with unknown people. Tell about your product or company in public places.
You can start with your school, colleges, shopping malls, subways, waiting rooms, cinema halls, parking lots etc.
Distribute handbills in public places, and advertise in local newspapers & magazines. Get as many members as you can inside your network.
3. Promote your MLM product online
There is no better place than internet to promote your product. In 2010, I got 4000+ unknown people in my network just by promoting online.
I started a blog where I used to post news about my company and other general posts related to network marketing. I had created a landing page about my company where I used to divert my readers.
I had provided the contact details of mine and some of the good leaders in my network, on my blog
People who wanted to know about my company, used to contact me and my leaders. Once convinced they would join my company.
We would train them on phone or in person so that they would bring more potential leads. This way, I created a network of 4000+ people from my blog and made thousands of dollars.
I used SEO techniques to get traffic on my blog. But there are other ways you can promote your product online.
Other ways to promote online
You can advertise your business on classified sites like Craigslist. You can create a Facebook page, post regularly on your FB page and promote this to get followers and leads.
You can even search for relevant Facebook groups where you can promote your company.
I know one of the person who promotes his business on YouTube and makes thousands of dollars. He posts YouTube videos related to product, business plan and his achievements.
You can even promote your business on hundreds of other social networks.
You can places ads on PPC sites like Google AdWords, bings or content delivery platforms like Taboola, Outbrain etc.
Personal Attributes of a Successful Network Marketer
A successful network marketer must have some qualities. You can only get more and more members inside your network if you have these 3 personal attributes.
4. A Speaker
First attribute every network marketer must have, is that he is a good orator. He must be able to speak and present himself in a dignified manner to ordinary people.
If he can speak flawlessly in any language then he can convert a lay man into becoming his network member.
5. Art of Persuasion
Just speaking to people is not enough. You have to convince them, that is why speak to them not speak at them.
A man or a woman would only be persuaded, to become a member in your network when he or she is totally convinced about your product or company.
6. A Personal Touch
If a person becomes a member of your network, then you should never forget his or her name. A good network marketer must always remember the name.
This is personal touch and other members in your network will get a good impression about you.
Expanding & Sustaining Network
Now, we have to move beyond your personal attributes. You have to expand your network and sustain memberships for a long period of time.
You have to evolve yourself and take certain responsibilities.
7. Leading From Front
In order to get more members you have to lead from front. Leadership quality is very important. You must have command on your members in the network.
Without an effective leadership, your network would never expand.
8. Clear Communication Within Network
As a network marketer, you have to manage thousands of members in your network. You have to take care that the flow of thought among various members must be clear.
Members who are under you must be able to communicate back and forth without any problem.
9. Ability to Teach & Guide
Whenever new members join network marketing under your leadership then you must have ability to teach and guide them properly. You will fail if you cannot teach them about the company you are promoting.
It is very important that every new member understands what you are doing, because later he also has to teach this to new members coming under him. Therefore, they will learn everything from you.
10. Synchronized Teamwork
Finally, you can only be successful as a network marketer when your team is working in symphony. You must inspire your team members to give their best and put all effort.
Your success totally depends upon the success of the members under you. Network marketing is a name of teamwork.
In conclusion, I would say that, MLM leader's success totally depends upon how many members join his network & all of them remain motivated. Bigger the network, bigger the success in MLM & network marketing.
Therefore, try to follow all the strategies that I talked in this article to become a successful network marketing leader.