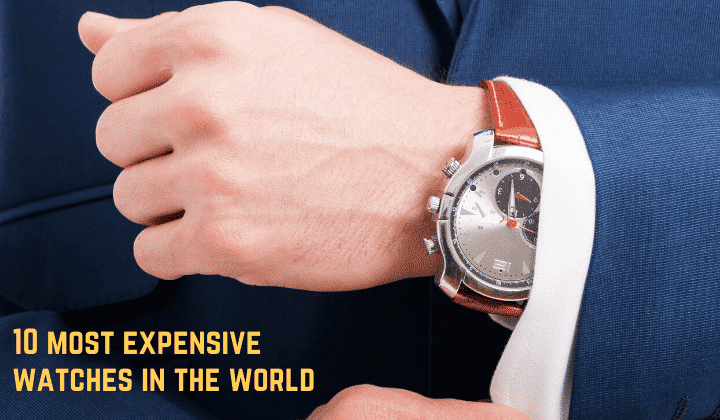 Time is more precious than money, as the old adage goes. And if we apply this axiom to watches and money, it will prove shockingly true. The 10 most expensive watches in the world clearly prove that time is money- literally.
In this article, I will speak about the 10 most expensive watches in the world, that're owned by collectors or companies that made them. The prices of some of these watches might make you jump out of your seat. Because these aren't just ordinary watches.
Most Expensive Watches in the World
These are the 10 most expensive watches in the world. There could be more, but their existence remains unknown since their owners and collectors do not declare them for various reasons. The ones I'm listing featured at various auctions worldwide.
1. Graff Diamonds Hallucination ($55 million)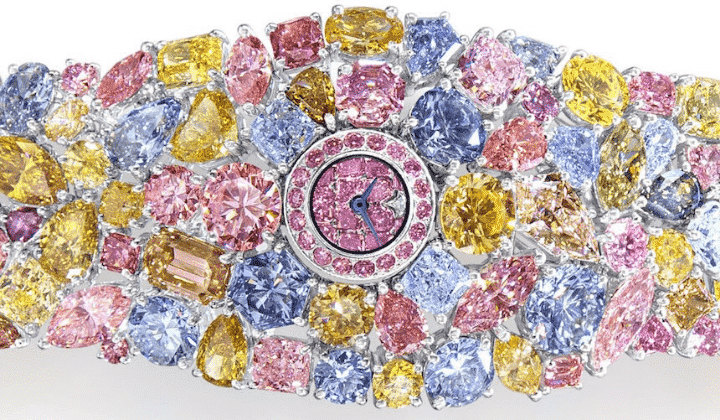 Graff Diamonds Hallucination is by far the most expensive watch in the world. At $55 million, its price is more than the cost of a private jet aircraft such as Gulfstream. In fact, its designer set out to create the most expensive watch in the world.
Hence, they used 110 carats of the rarest, big and multicolored diamonds, uniquely cut and polished to make its casing and belt. In fact, the watch looks more like a piece of jewelry than a watch.
The Graff Hallucination belongs to South Africa's diamond mining company, Laurence Graff, who had it specially crafted to showcase the fine quality of their diamonds.
2. Graff Diamonds Fascination ($40 million)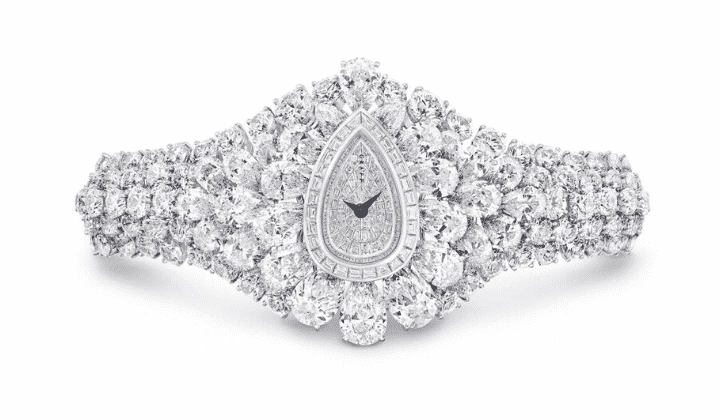 Also specially made for Laurence Graff, the Graff Diamonds Fascination comes at a tag price of $40 million. It is almost entirely made with 114 carat of pure white diamonds from Graff mines.
The watch was crafted by Swiss maker, Chopard in 2019 and uses the most unique cuts of diamonds ever seen in this world. It is said that diamond cutters and experts from Laurence Graff and Chopard had to craft each diamond with extreme precision to ensure they create a seamless design for the watch casing and strap.
This watch also isn't for sale and used by Laurence Graff to showcase the exclusivity of its diamonds. This watch costs $10 million more than the famous fighter aircraft, Mirage 2000.
3. Breguet Grande Complication Marie Antoinette ($30 million)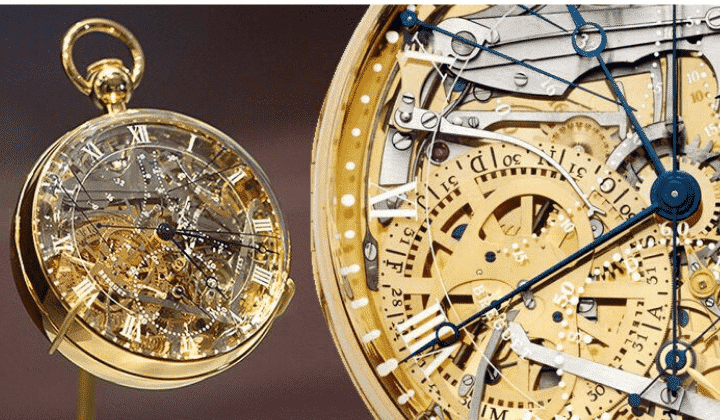 The Breguet-Grande Complication Marie Antoinette draws its value of $30 million from two factors. Firstly, it's an antique pocket watch that has quite an impressive history.
According to legend, Franco-Swiss watchmaker Abraham Louis Breguet made this watch on order from an unknown lover of Bourbon queen of France, Marie Antoinette in 1782.
This is the same Marie Antoinette associated with the infamous quote: "If they don't have bread, let them eat cake," which was one of the triggers of the French Revolution and eventual toppling of the Bourbon dynasty. The watch is set in solid gold and uses Topaz, Sapphire and various other precious stones for its casing.
The Breguet Grand Complication Marie Antoinette was stolen in 1900s and resurfaced at an auction only in 2007. It is currently kept at the LA Mayer Museum in Jerusalem.
4. Chopard 201-Carat ($25 million)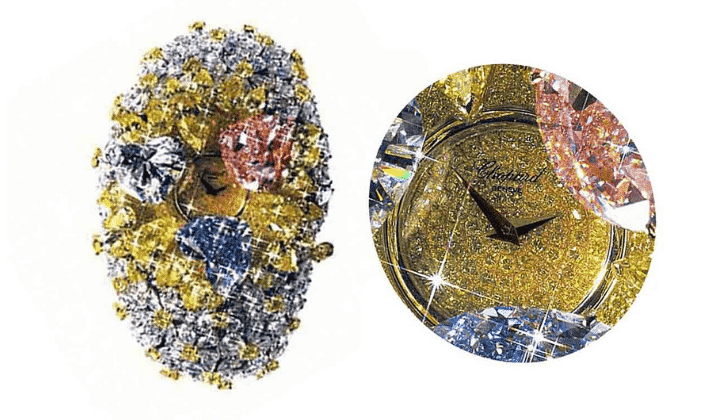 And if you're looking for something a bit cheaper, ask for the Chopard 201-Carat which costs only $25 million. Actually, that's not really much if we consider that Chopard 201-Carat consists of 874 rarest and finest diamonds ever cut in the world.
The watch was made by Swiss maker Chopard and first made news in the year 2000 when it was sold at an auction. What makes this watch even more exclusive is the intricate design.
You can never clearly distinguish every diamond because they're woven so finely into the casing and strap that you're likely to miss seeing some of them. And each of the 874 diamonds are of different color and carat rating.
5. Patek Philippe- Henry Graves ($24 million)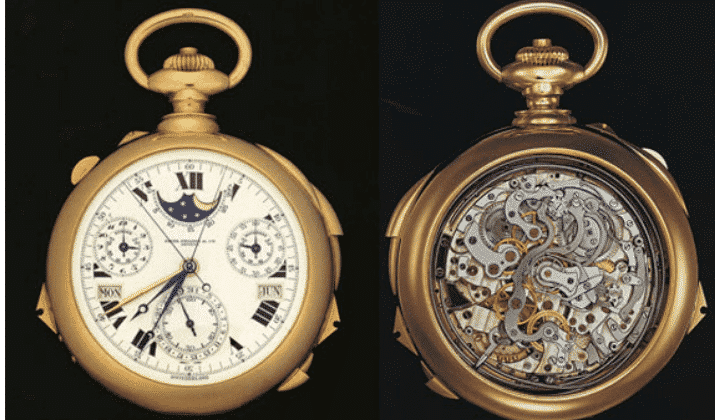 Patek Philippe- Henry Graves gets its name from two personalities. This pocket watch was commissioned by banker Henry Graves in the year 1933. It was handcrafted by the famous Swiss watchmaker Patek Philippe himself over a period of nearly five years.
In fact, Patek Philippe- Henry Graves ranks as the most complicated pocket watch to be ever made at the time by hand. It has over 24 different functions such as Moon-phase and multiple time zones on a single dial.
Made entirely out of 18-carat gold and finest movements, it sold for $24 million at an auction in London in 2018. It was the single most expensive pocket watch in the world before the arrival of the one ranking at No-3.
6. Jacob & Co- Billionaire Watch ($18.268 million)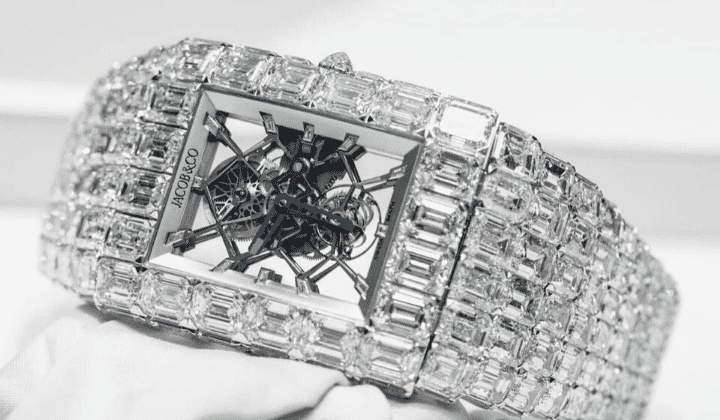 The little known Billionaire Watch made by Jacob & Co was valued at $18,268 million in 2019. The watch is one of the rare pieces made by Jacob & Co. It consists of 60 carats of pure white emerald-cut diamonds that gives it most of its value.
Additionally, the Billionaire Watch also includes handcrafted complex movements made of the finest material. It has 167 components based on 19 jewels in the machinery.  
The Jacob & Co-Billionaire Watch gets its name from the fact that its owner can automatically become a billionaire, merely by selling the piece and investing the money.
7. Patek Philippe- Ref 1518 ($11.136 million)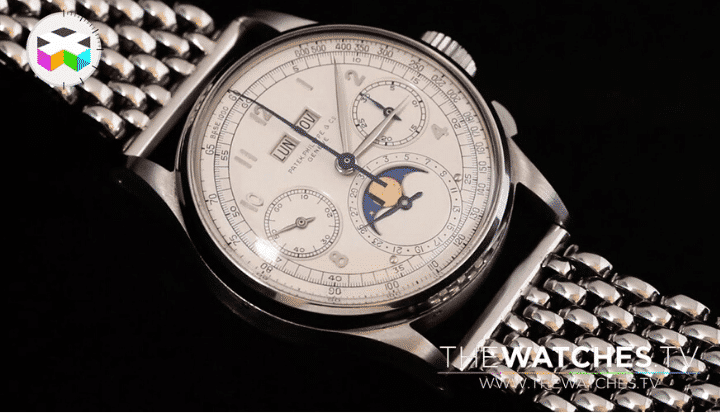 If you thought that all most expensive watches in the world are made of platinum, gold and have diamonds and other precious stones, think again. The world's seventh most expensive watch, Patek Phillippe-Ref 1515 No-4 has no such expensive material.
Rather, it looks like a humble watch for an ordinary person. And it's made of stainless steel only. The watch has some basic functions and the Moon phase mode. But what makes it so pricey? Patek Philippe himself handcrafted this watch. A
nd only four pieces were made. The fate of the other three remains unknown. But No-4 sold at little over $11.136 million at a 2017 auction.
8. Vacheron Constantin 57260 ($8 million)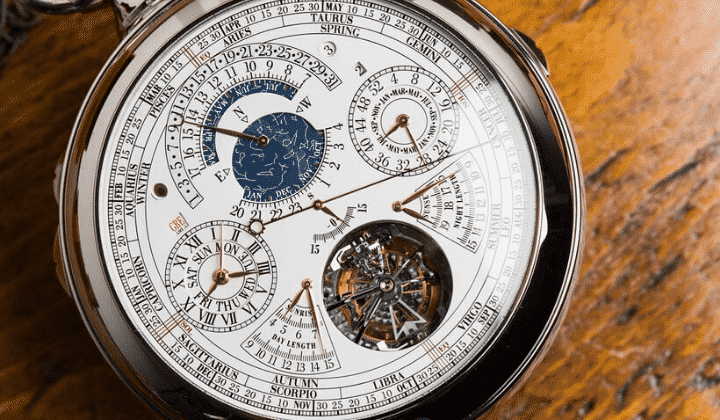 The Vacheron Constantin 57260 pocket watch doesn't look very impressive at first. Indeed, it wouldn't appeal to anyone who doesn't know that it consists of 2,800 components made over a period of eight years by a team of three watchmakers from Vacheron Constantin of Switzerland.
The Vacheron Constantin 57260 is the most complicated pocket watch ever created in the world.  It comes with multiple functions, made possible by 57 complications in its machine design. The watch fetched $8 million at an auction in 2018 from an unknown buyer, despite its relatively simple white gold casing and no diamond or gemstone studding.
9. Hublot Big Bang ($5 million)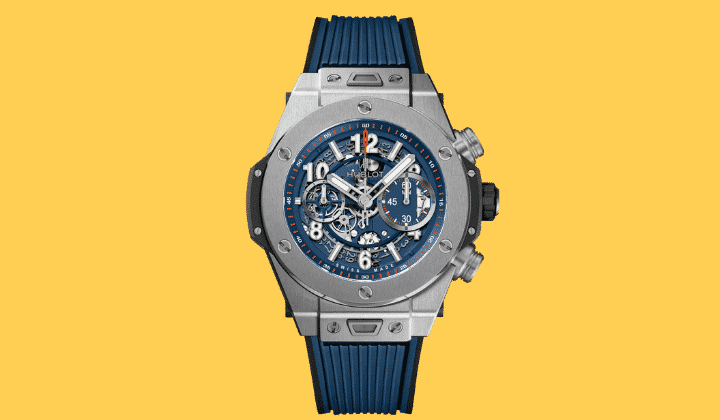 The Hublot Big Bang is famous because Beyonce Knowles bought it for her husband, Jay-Z as his 43rd birthday gift in 2012. The watch remains in their collection, though the latest tag price could be much higher.
The Hublot Big Bang started as a watch where maker Hublot wanted to fit in the maximum number of diamonds. Eventually, they could fit as many as 1,280 diamonds of minimum three carats each.
Each of these 1280 diamonds were cut by a single craftsperson from New York with 40 years of experience, to ensure unique signature of the craftsperson. And it took a year for the designers to intricately fit in every diamond to craft the Hublot Big Bang into the precious watch that it is today.
10. Louis Moinet Meteoris ($4.6 million)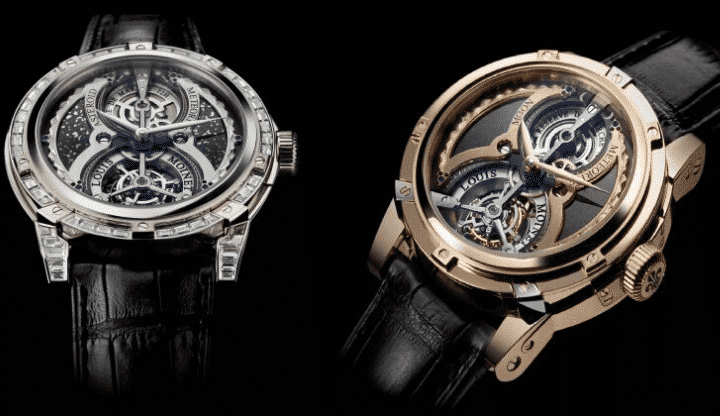 The Loius Moinet Meteoris is actually crafted from rare Moon meteors that were found in various parts of the world. Over 150 such meteors were found at different locations, which go into creation of the Louis Moinet Meteoris.
The material, as you would know, isn't easy to find on Planet Earth. Hence, watchmaker Louis Moinet was able to craft only four of these very exclusive watches.
These watches otherwise appear fairly ordinary and come with a leather strap. However, nobody can replicate these watches because Moon rock can't be found on this planet and nor is anyone visiting the Earth's satellite to bring a few pieces.
Wrap Up
There're several other watchmakers that vie for the most expensive watch title for their creations. One among these is Ulysses Nardin Tellurium Johannes Kepler, whose price is never disclosed except to genuine buyers. This watch shows the location of various planets and the Moon in relation with your location in the world. And of course, the time. So, the next time you hear that time is more precious than money- think twice.