Amazon Mechanical Turk i.e. mTurk is one of the most used site by people who needs very simple program to make some extra income. This program is not for people who wants to make full time income or wish to earn more than $1000 a month.
You can find a detailed guide here that will show you everything that you need to make $500 or more by working on Amazon mTurk. There are many people who make even more than $2000 per month from mTurk.
So if you want to earn from this program than your first step will be to join mTurk as a worker. After registration you can start your work and earn from Amazon Mechanical Turk.
Step by Step Procedure to Join Amazon Mechanical Turk i.e. mTurk
Just go through this step by step procedure to join Amazon Mechanical Turk. It will hardly take 5 minutes for mTurk registration.
Step 1
Visit the website www.mturk.com and click on worker as shown below in the image.

Step 2
After clicking 'worker' you will go to the next signup page where it will ask for the email address. Just enter your email address & then click 'I am a new user' checkbox and then click 'Sign in using our secure server' button.

Step 3
After clicking the button, you will come to next screen of mTurk registration page as shown below.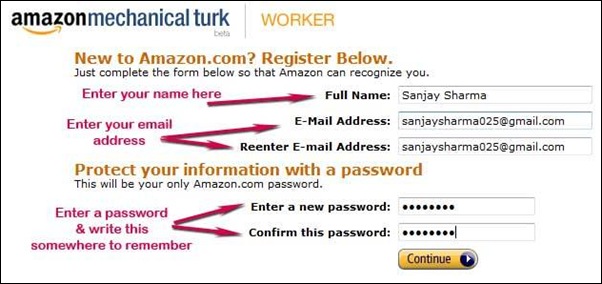 Enter your name, email address & desired password and then click 'Continue'. Write your password in a notepad or some safe place.
Step 4
After clicking the continue button, you will come to the main mTurk signup page where you have to provide your details. Just check this image below for more details.
Please check the above image which is self explanatory. You can follow red color arrow for more assistance. After filling all the details, Click continue button.
Step 5
In the next page of mTurk registration, you will be provided with your details to check again and verify if all the details are correct. Just click on the 'edit' button if you want to correct something like your name in the bank or your address.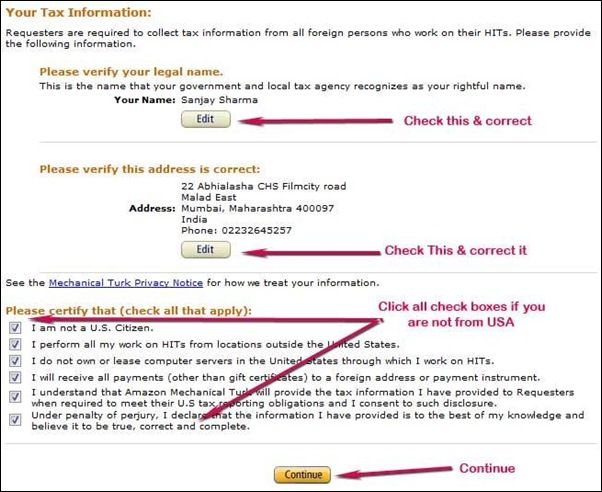 After that there are some information that you need to check. There are 6 checkboxes so just read the information and click what is applicable for you. If you are not in USA, then you can click all the check boxes as shown above.
After that click on Continue button and you are done.
Step 6
If you are lucky, you may get the message "You have successfully registered for Amazon Mechanical Turk". You can see your dashboard and all the HITs. You can start your work right away.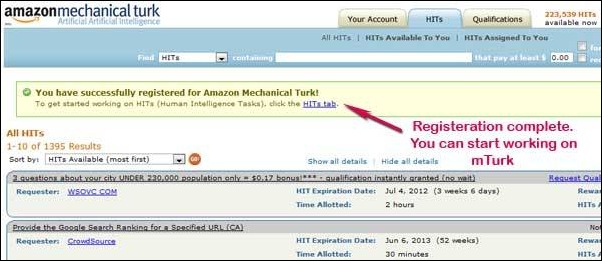 But you may also receive "pending application" message & you need to wait for 5-7 days. If you are lucky then your application will get approved otherwise it will be rejected.
But you don't need to worry if your application get rejected. You can re-apply again in future & take a chance.
mTurk is really one of the cool & best option for decent earnings but you need to keep some patience. Initially for 1-2 months, you have to work on very small hits and increases your approval rate so that you will be eligible for better commission hits.
Don't think of making more than $500 from mTurk in the first 2 months. Once you get a master's qualification in Amazon Mechanical Turk with good approval rate and good qualification test, you can start making good income from mTurk months after months.