Women all over the world are showing their entrepreneurial skills by starting new companies. Here in India we have many such inspiring stories where women have created well known brands in the country.
In this article we try to list 15 most successful startups by women. They were either founder or co-founder of the following start ups.
You will be surprised to know that startups started by women are less likely to fail compared with a startup started by a man.
So here is the complete list of 15 such successful women entrepreneurs and their startups.
1. Anisha Singh of MyDala
Anisha Singh started MyDala in the year 2009, is one of India's largest coupon provider website.
Well she has a solid background, she holds a masters degree in political communication and MBA in information systems from American University.
Earlier she also worked for Clinton Administration for raising funds aiding women entrepreneurs.
2. Radhika Ghai Aggarwal for ShopClues
Radhika is Co Founder and CMO of ShopClues one of the India's largest shopping sites named Shop Clues.

Radhika is a product right from Silicon Valley. She started this site from there and before this she was a fashion blogger.
Shop Clues has over 8 million visitors per month.
3. Upasana Taku from MobiKwik

Upasana Taku is a co founder of MobiKwik online mobile phone top up website. She is also founder of Zaakpay a payment company that deals with ecommerce websites.
As far as her educational qualification is concerned she is B.Tech from NIIT, MS in management science & engineering from Standford University.
4. Sabina Chopra of Yatra.com

Sabina is co founder of Yatra.com a well known travel portal. She had exposure in travel industry hence it made easy for her starting a travelling website.
She worked for Europe's leading online travelling company then she also worked for Japan Airlines before launching Yatra.com.
5. Neeru Sharma of Infibeam.com

Neeru is co founder of another famous ecommerce portal named Infibeam.com. Neeru has worked for Amazon USA in corporate development and media retail.
As far as her educational qualification goes she holds a MBA degree from Carnegie Mellon and Engineering degree in computer science.
6. Falguni Nayyar of Nykaa

Falguni is the founder of a beauty and ecommerce portal called Naykaa. The portal was launched in the year 2012 and has been able to raise over Rs 20 crore as seed funding.
She is a graduate from IIM Ahmadabad and worked 18 years for Kotak Mahindra as Managing Director.
7. Chitra Gurnani Daga of Thrillophilia

Chitra and her husband Abhishek Daga started Thrillophilia an Indian adventure travel company.
She has a MBA and engineering degree both.
8. Richa Kar from Zivame
Richa Kar is Co founder and CEO of Zivame launched in year 2011 from Bangalore. Zivame is India's one of the largest lingerie online retailing shop.

The USP of this web portal is it gives women choice of choosing an item right from home rather going to physical outlet.
Richa has prior experience in branding and retail marketing also.
9. Pankhuri Shrivastava of GrabHouse

Pankhuri is the co founder of India's first roommate search engine called Grab House. The reason for the success of Grab House is you save a lot of brokering charges.
She has a degree in Computer science from Bhopal University and she also did two year fellowship at Teach for India.
10. Shradha Sharma of Your Story

You all know about YourStory website. It deals with some of the success stories related to entrepreneurship. Shradha a girl from Patna is founder of this website.
Earlier she worked for times of India and CNBC TV 18 and gained experienced from field reporting and was inspired to launch her own website called Your Story.
11. Suchi Mukherjee for Lime Road
Suchi is founder of Limeroad.com a web portal designed for urban woman. The portal gives them a choice for choosing clothes that they had like to.
She was a banker with Lehman Brothers for 5 years then 2 years as Director and Business development manager in Virgin Media.
12. Rashi Choudhary of LocalBanya.com

Rashi is co founder of LocaBanya an online grocery shop for the residents of Mumbai.
Local Banya is specifically designed for Mumbai, Thane and Navi Mumbai area. The portal is quite popular because of 98% deliverance rate.
13. Shubhra Chadda from Chumbak
Shubhra is the co founder of Chumbak along with her husband Vivek Prabhakar. This online store sells apparels designed for young Indians.
Chumbak has over 120 retail stores all across the country.
14. Ankita Gaba of Social Samosa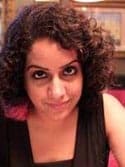 SocialSamosa is co founded by Ankita Gaba. The site has ideas, trends and news related to Indian social media.
Ankita is also listed in Global 100 Social Media Agencies and Consultant for 2012-2103. She also worked as PR executive in various companies.
15. Sairee Chahal for SHEROES.in
The last women entrepreneur in our list is Sairee Chahal founder of

SHEROES.in.
Sairee is also a well known TED speaker and a finalist for Cartier's Women's Award Initiative for 2012.
Her web portal sheroes.in offer women a space for conversation with other likeminded women.
So this was the list of some of the most successful startups started by talented women in the country. Although there are many others but we restricted our list to 15 only.