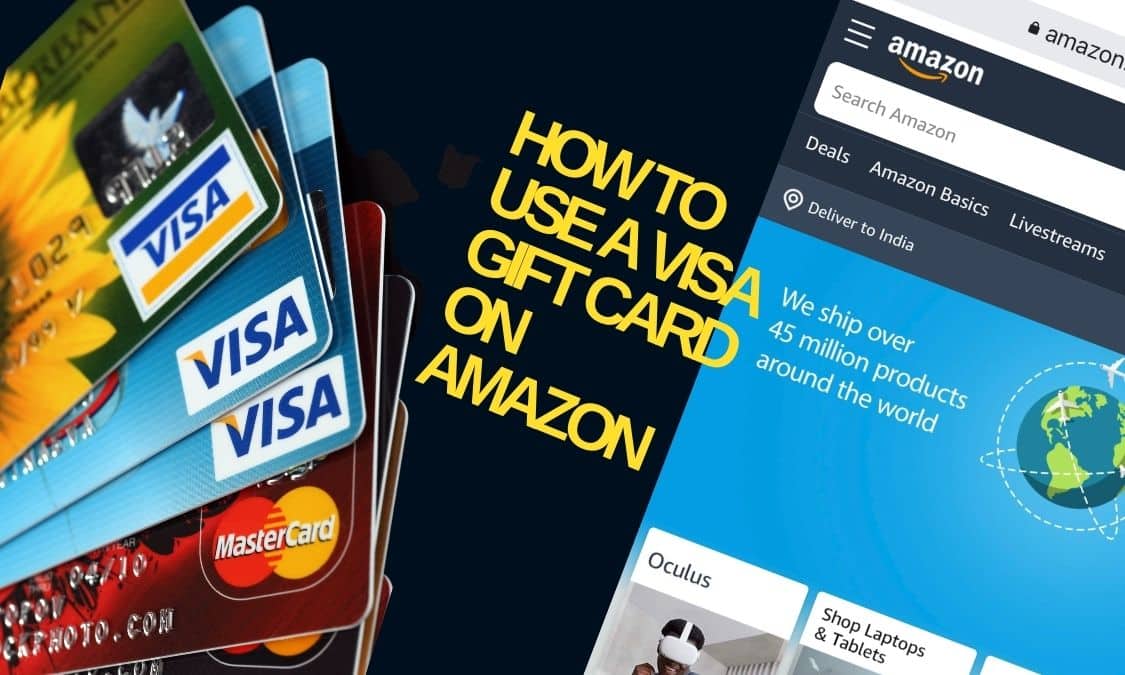 One of the questions that many people ask me is 'how can I use a Visa gift card on Amazon?'. Now, as we all know, Visa and Amazon are two very famous global brands from the USA.
Visa is one of the leading issuers of all kinds of cards, such as credit cards, debit cards, prepaid cards, and gift cards, among others. Amazon is the single largest online retailer in the world, where we can find millions of products.
Therefore, it's quite likely that you've got an Amazon account as well as a Visa gift card from somewhere.
However, lots of us use a Visa gift card to some extent but leave some balance. That's because this balance could be just a couple of dollars and some small change. Often, people throw away such Visa gift cards because the amount of money left as the balance isn't really useful to buy anything.
That needn't be the case. You needn't throw away these Visa gift cards with low balances merely because the cash isn't sufficient to buy something. Instead, you can transfer the cash to the Amazon Pay Balance and shop and pay for something online.
Nowadays, Amazon Pay also allows you to transact with other parties such as electricity companies and mobile services providers.
How to Use Visa Gift Card on Amazon
Therefore, to help you get the maximum benefit from your Visa gift card, here're some suggested ways to use a visa or other gift card on Amazon. These are simple and legit ways and you can use any of these, depending on the needs.
Read: 12 Easy Ways to Get Cash from a Visa Debit Card
Check Card Validity for Online Use
Yes, that's right. Not all Visa gift cards that you get are valid for online use. However, the chances that you'll get a Visa gift card strictly for offline use is very low. Such cards aren't issued by Visa and their merchant banks unless there's a specific demand.
Normally, the Visa gift card itself will indicate whether it can be used online and offline or only in one of these ways. If your card has words like "For Electronic Use Only," it means that you can use the Visa gift card for online as well as offline purposes.
Open an Amazon Account
I'm assuming that you already have an account on Amazon. But if you don't have one, you can open one easily. Visit. Amazon.com and click on the sign-up link. Now, you'll be redirected to a page where you've to fill in a valid email ID and create a password. You'll receive an email to confirm your account.
Upon confirmation of the account by clicking the proper link on the email, your Amazon account becomes active. The next step is to fill in your personal details, such as your delivery address and your billing address.
In these sections, you can provide your residential address or office address, as per your needs and the location where you'd like Amazon to deliver your stuff. You can always change these addresses later, by editing your profile.
Buy Worth Full Value
The first best way to use a Visa gift card on Amazon is to make a purchase worth the card's full value. For example, if your card is worth $50, you can buy it worth that amount. This means you won't have any change or balance leftover on your Visa gift card. In such cases, you can discard the Visa gift card since there's nothing to lose. Or you can retain it and top up with more money if you wish.
To do so, simply follow these steps:
Place items that you wish to buy in your online shopping cart on Amazon.
Click 'Buy Now'.
You'll be led to the page where it asks you for the address for the delivery of your order.
If the delivery address is the same, proceed to Check Out.
When you click on the 'Check Out' link, you'll be led to make the payment.
Select the Use Credit/ Debit Cards.
Go to Add a Card.
Add your visa gift card by providing the exact number of your gift card.
You can choose whether or not Amazon should store your card details.
Amazon will now ask you for the Card Verification Value to validate your Visa gift card.
The CVV is the three digits that appear on the reverse of your card, near the magnetic strip.
Once you enter the CVV successfully, press on Make Payment.
Next, you have to press 'Place Order'.
Amazon will display a thank you message confirming that the payment has been received. You will also get an email and message that says the same.
Add to Amazon Pay Balance
Let's consider that you've already spent part of the money on your Visa gift card and have a balance left. And this balance is too less or too small to buy anything. It could be only a few dollars that aren't really worth much.
In these cases, the best thing to do is transfer the balance to your Amazon Pay account. Here's how to do it.
Open Amazon Pay and select Top Up or Add Money.
Amazon Pay will display various amounts for your top-up
Instead, choose the 'Custom' amount and fill in the sum from your Visa gift card that you wish to transfer.
The next step is to transfer the balance.
You'll see various options to fund your Amazon Pat balance.
In this section, select debit cards.
Now, key in the number of your Visa gift card.
Next, submit the CVV of the card.
Go to Make Payment and click.
Amazon Pay will then debit that amount from your Visa gift card.
The money will reflect on your Amazon Pay balance.
You can use this money to pay for your online shopping on Amazon.
This is the perfect way to get money from all your Visa gift cards, especially where you have small amounts of cash left. You can accumulate all the money on Amazon Pay and use it to make purchases.
In Conclusion
If the amount of money on your Visa gift card is very small, you can always top it up and transfer to Amazon Pay. That way, you can get cash from various Visa gift cards instead of losing it.
You can collect the money from different Visa gift cards and other prepaid debit cards and collect a large balance, which could pay for something really wonderful.
Another way is to sell it on Amazon and get money. In such cases, you have to register as a seller. But ensure that you don't have to pay anything that has shipping fees. You can use any of these ways to use a Visa gift card on Amazon.