Most of us never bother to whether the tires of our vehicles have enough pressure. We pay attention only when we observe the tire sagging or is almost flat because there's no air. Once that happens, we rush to the nearest place where we can get air.
Usually, we pay anything between $1.50 and $3 to top up our tires at the nearest air pump.
Now, there're no guarantees that we would get air for our tires at the place we go. Therefore, we leave ourselves, our loved ones as well as the vehicle open to great risks. As a matter of fact, automobile makers strongly recommend that we check air pressure in tires almost daily or at least before setting out on a longer drive.
Actually, vehicle makers recommend that we check air pressures for many reasons. If you've forgotten or don't know these reasons, I will recap them briefly. That would help understand the importance of the right tire pressure and the need to fill air frequently.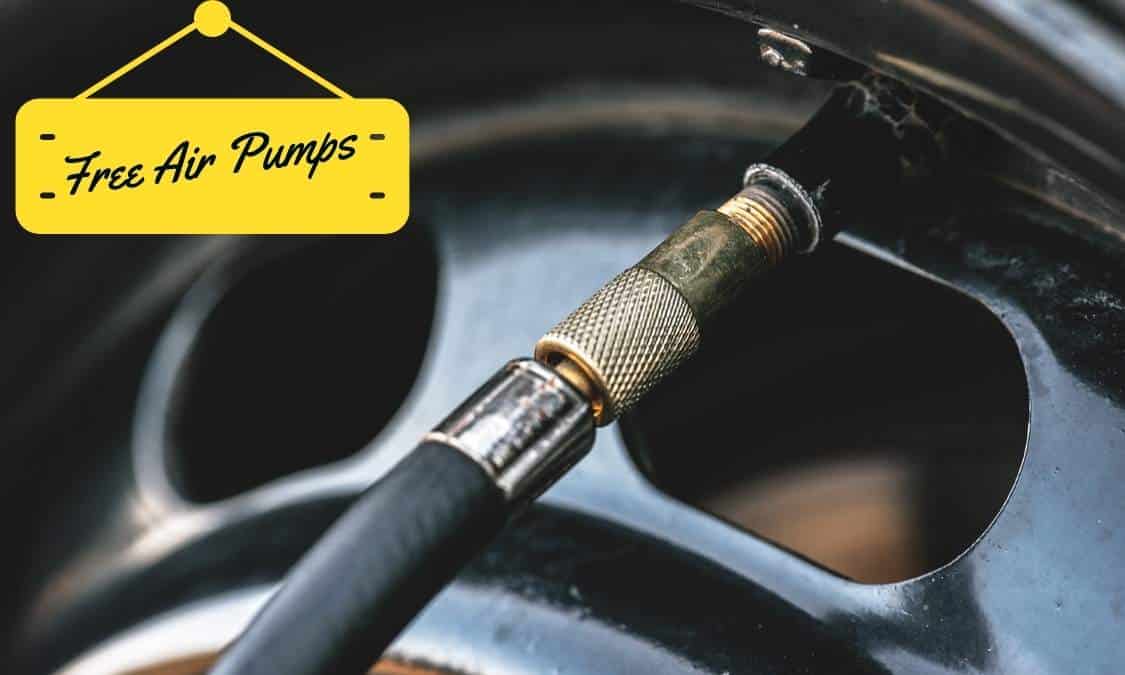 Checking Tire Pressure
I'll begin by pointing out that usually, a tire pressure chart is always displayed just next to the left-hand door of the vehicle, or from where you enter to drive. The chart shows the tire pressure that the vehicle maker recommends. And that's the tire pressure you should try and maintain.
Just in cases this chart is missing or damaged, you can always request one from the nearest showroom of that automobile maker or even download online, for free.
If you've bought a new vehicle, sometimes, a pressure gauge will come with it as part of standard accessories. Or, you can buy one easily online from Amazon or other retailers. A good tire pressure gauge will also be available at stores that sell automobile accessories and spares.
Using this gauge, check the tire pressure. If it's below the recommended average, it's time to top up the tires with some air.
Also read: 10 Important steps of buying a car.
Reasons to Maintain Tire Pressure
Since you're now aware of how to check tire pressure and things that are necessary, let's move to the next step. And that's reasons to maintain the right or recommended tire pressure.
Actually, there're several reasons to maintain right tire pressure. They can help save a lot of hassles and also one of the best ways to save money too.
Right Pressure Means Proper Brakes
Sometimes, we need to slam our brakes hard to avoid an accident such as collision or running over someone including a person or animal or avoid a potential threat such as rocks and fallen trees lying on the roads for any reason. Therefore, the right tire pressure is necessary for full brake control.
Of course, this also means that we've to maintain brakes of the vehicle in topmost working condition by ensuring there's no dirt choking them and there's sufficient brake lube, among other things. However, if your brakes function well, their efficiency will reduce if your tire pressure is incorrect for any reasons. This can leave your family and you prone to accidents.
Other motorists and pedestrians as well as property is at risk when your braking power is lower due to incorrect tire pressure. Therefore, it's best to fill air in tires at the nearest location to you.
Higher Fuel Consumption
Studies around the world prove without doubt that incorrect tire pressure means the vehicle will consume extra fuel. While this might seem insignificant right now, over a span of a year or more, all those extra gallons the vehicle consumed will add up to a huge total.
We all know that gasoline costs a lot. The excessive consumption due to incorrect tire pressure directly translates as waste of your precious money. Such a waste could be easily avoided if the tire pressure was correct and as recommended by the auto maker.
This extra consumption happens because the "drag" on the vehicle increases. The friction between the road and the vehicle is higher because the tires don't have adequate pressure. As a result, the car feels "heavier" to the engine, which automatically requires more energy to drive it.
Tires act as a buffer between the road and the chassis of the vehicle. When this buffer or the tires aren't inflated properly, it's obvious that the vehicle becomes "heavy" due to the natural effects of Earth's gravity.
Tire Damage
As I mention earlier, the tires serve as a buffer between a vehicle and the road. When the pressure is low, the tires bear that extra stress. Over a period of time, these tires will be damaged. Sometimes, improperly inflated tires can lose shape. Others will lose their treads.
Replacing tires can prove expensive. For example, any automobile owner will testify that even the cheapest tires cost between $50 and $150 each, Tires of moderate quality can cost anything between $100 and $300 each.
For high-end cars or for heavy use, tires can cost up to $1,000.  This means, you'll be spending anything between $200 and $4,000 on replacing tires, depending on the quality.
Generally, auto makers suggest that we change all four tires at the same time. That's because having one or two new tires and two or more older ones can again lead to partial loss of control over the vehicle and result in lower braking power. This situation also leads to excessive fuel consumption.
Tire damage and unnecessary expenses on replacements can simply be avoided or at least prolonged by ensuring that tires are properly inflated with the recommended pressure at all times.
Overall Damage to Vehicle
And as if that's less, your vehicle can suffer some serious damage if the tire pressures are low. I'll repeat that tires protect your vehicle from harsh roads. But when tire pressures are low, you'll experience a rougher ride. That's because the protection against the hard road or even offroad conditions is weaker than it should be.
Tires of your vehicle are the first line of defense when it comes to shielding against bumps. When they're not inflated properly, the load is borne by the suspension system of the vehicle. And the efficiency of the suspension or other buffering systems also lowers.
It's very clear that a vehicle with some damage will sell for a lower price in the preowned market. This means, lesser money for you. In fact, you can get much lesser money for the vehicle than the actual price.
If we add up losses in terms of excess fuel, accident risks and low sale price of a preowned car, the amount will be fairly high.
27 Gas Stations with Free Air Pumps Near You
Surely, some of the info I provide above might have come to you as a surprise or even a shock. That's nothing to worry about. All of us make mistakes during our life. Yet, these reasons to ensure that tires of your vehicle are properly inflated, it's best to fill air.
Here're some places near you, where you can find free air pumps.
Gas Stations That Usually Offer Free Air Pumps
GetGo
Holiday Station Stores
Kum & Co
QuikTrip
Royal Farms
Sheets
Wawa
States in USA with Free Air Pumps
Two American states, Connecticut and California make it compulsory for all gas stations to provide free air to customers and other motorists. Therefore, if you're traveling in these states or a resident there, you'll surely get free air.
According to unconfirmed reports, some other states are also planning on making it compulsory for all gas stations to offer free air. At the time of writing this article, no independent confirmation is available.
Stores and Other Locations
Some of these stores offer free air for tiers. However, the service might be unavailable at some locations again.
76
BJs Gas
British Petroleum or BP
Chevron
Citgo
Conoco
Exxon
Flying J
Hy-Vee
Gulf Oil
Hess Express
Holiday Oil
Kroger Fuel
Kwik Trip
Marathon
Mobil
Moto Mart
On The Run
Phillips 66
Quick Check
RaceTrac
Raley's
Shell
Sinclair
Speedway
Sunoco
Texaco
Valero
Used Vehicle Dealers
Though I can't guarantee this, you can ask a used car dealer for free air. Generally, they have air pumps because they need to top up tires of preowned cars and other vehicles that they're selling.
In most cases, such dealers won't charge you for the small service, provided you're willing to fill the air yourself.
Also read: Step by step guide to earn money by flipping cars.
Bicycle and Motorcycle Repair Shops
Bicycle and motorcycle repair shops usually have an air pump. In such cases though, you might require the adaptor to fit into the air nozzle on tires of your vehicle. In some cases, the same nozzle would be sufficient.
These bicycle and motorcycle repair shops aren't really obliged to give free air. But, if you're facing some serious problems, they can prove helpful and top up the tires for free.
Finding Gas Stations & Stores with Free Air
One of the best ways to find a gas station or store that offers free air is by using Google Maps or a nearby finder app on your mobile. Usually, Google Maps will do the needful. Google Maps displays results within a few seconds.
All you need to do is type the keywords: "gas stations and stores with free air." The results will display the nearest locations and name of the place. You can go there and fill air for free. Again, there're no guarantees, but it does work if you're lucky enough.
Car Rental Companies
Also, check with car rental companies if they can help you top up tires of your vehicle free of cost. Some of them have air pumps and might be happy to help you. Though there're no guarantees of getting free air at fuel stations, you can always try your luck.
Closing Thoughts
The cost of air isn't really much if you ask me. The cost of $1.50 to $3 is affordable when we consider how much money we would otherwise waste due to accidents, excess fuel consumption, damaged tires, and vehicles.
While saving money is definitely our goal, I believe it's not worth cutting the proverbial corners when it comes to the maintenance of our own vehicle. Everyone deserves a safe ride and proper tire pressures can help you enjoy one. Try these ways above to get free air for your vehicle, the next time you need it.