This may surprise you but India has one of the cheapest domestic calling and Internet data rates in the world.
For example, you can recharge your prepaid mobile number with a 4G data pack that offers 1 GB per day and unlimited free calls within India.
Additionally, you get 50 to 100 free daily SMS and free national roaming facility for prices starting from just Rs 349, with a validity of almost three months.
This works out to just between Rs 4.45 to Rs 4.75 per day, depending upon your mobile operator and geographic location.
But as competition gets hotter between the three largest players of India's mobile services providers- namely Airtel, Reliance Jio and the Vodafone-Idea combine, customers can also get several freebies.
These include free mobile recharge and cash back offers.
Added to these are online stores and mobile payment wallets. To grab a large slice of the booming mobile recharge market in India, they also offer free recharge offers online.
To help save money, I will show you excellent tricks from top 10 online recharge websites where you can earn daily free recharge for your mobile.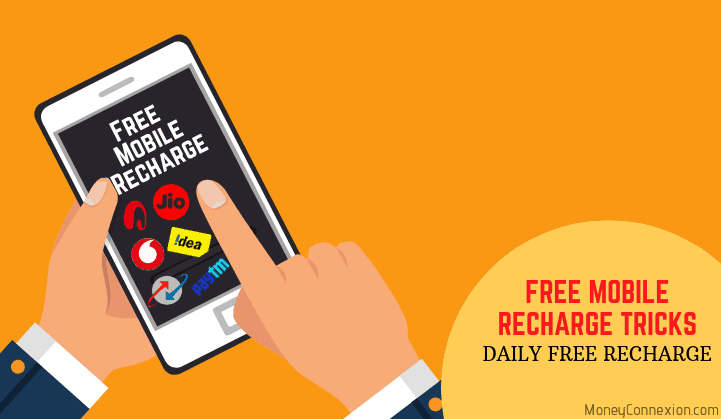 Types of Free Mobile Recharge
Now here is something I need to explain before listing these top 10 website to earn daily free mobile recharges. There are different types of daily free recharge schemes on offer.
Some of these websites offer cashback that can be used to recharge your mobile or that of a relative or friend.
Others give free online vouchers worth a fixed amount of money that can be redeemed during your next recharge or utilized for recharging a prepaid mobile account of relative or friend.
In some instances, the mobile operator will give you a data and call pack upgrade. Meaning, you can get 1.5 GB of 3G/ 4G data while you are paying only for a 1 GB pack. Instead of 100 free SMS daily, they will upgrade your pack to 150 free SMS per day
Daily free recharge offers run rife in the Indian market. You can choose any offer from your mobile services provider or other sources.
Free Recharge Tricks from Top 10 Websites
One word of caution before I proceed to disclose this list. Remember to read the fine print of such free recharge offers. Some are available only once during a month.
Amazon
By every standard, Amazon India is my most favorite website to get free recharge online. Amazon India has a facility to recharge your prepaid mobile number, just in case you are unaware.
In fact, Amazon.in comes up with amazing offers in the form of cashback.
There is an excellent free recharge trick. For first time recharge, you can get up to Rs 100 cash back while on others Amazon gives Rs 75 to Rs 50 cashback. For regular users, Amazon.in gives Rs 25 for all subsequent recharges.
However, you can avail only one cashback offer during a promotion. On other days, they give up to Rs 300 cashback on select mobile recharge packages.
I recommend you try recharge your mobile through Amazon.in. Look for their special offers. Always pay through your Amazon Pay Balance: your cashback will also get credited there.
In fact, I collect sufficient Amazon Pay Balance to pay for at least one pack worth Rs 399.
Airtel
With over 30 percent of India's market share, Airtel is the undisputed leader of mobile services in India. Airtel is well known for its superior data and voice services across India and has a significant presence abroad too.
In fact, Airtel is the first Indian mobile operator that is testing 5G services too. You can use the recharge tricks through its loyalty program.
Airtel has a wonderful loyalty program for its prepaid and postpaid mobile subscribers called Airtel Thanks, it offers 100 percent cashback to prepaid customers that qualify for the rewards.
This loyalty reward is given instantly, the moment you recharge.
To avail of Airtel Thanks rewards, you have to recharge the prepaid Airtel mobile number using the My Airtel app on your smartphone.
For every recharge of Rs 199 and above, you get instant cashback vouchers, each in denominations of Rs 50. These can be used at future date to avail free recharge for your smartphone.
Vodafone- Idea
Vodafone- Idea, offers 100 percent cashback in the form of vouchers every time you recharge a prepaid number using the MyVodafone app from your smartphone.
These cashback offers are available on select prepaid packs only. The cashback will be issued in the form of vouchers that will reflect on your MyVodafone app.
These vouchers can be used to recharge your prepaid Vodafone-Idea number at a later date.
If you are a woman, Vodafone-Idea has an amazing offer. Known as Vodafone Sakhi. This is an exclusive offer for women subscribers of Vodafone prepaid mobile services.
It aims at enhancing safety and security for Indian women.
Women subscribers of Vodafone can use Vodafone Sakhi to make a free call of up to 10 minutes, even when they have no prepaid balance in their account.
Vodafone Sakhi also allows women to alert their relatives and friends of their current location. Women also enjoy the facility of recharging their prepaid Vodafone number without disclosing their mobile number.
Jio
Jio continues to make waves in India's booming mobile services market. After being the first mobile services provider to launch 4G VoLTE services in India in 2015, Jio is now offering a slew of cashback offers for free recharges to its customers.
You can avail these cashback offers using the Jio Money app on a smartphone. The Jio Money app also allows you to get attractive cashback and free recharge offers on other mobile networks in India too.
You can use one more free recharge trick. Jio partners with various payment apps and portals to provide cashback offers for its prepaid customers. These offers include cashback ranging between Rs.300 to Rs.30 per recharge.
Currently, it has a tie-up with Paytm, PhonePe, Amazon Pay, MobiKwik and Freecharge to offer these cashbacks.
Bharat Interface for Money (BHIM)
Bharat Interface for Money ranks as the most trusted payment apps of India. It comes from National Payments Corporation of India (NCPI) and works with Unified Payments Interface (UPI).
What makes BHIM so popular? Unlike a mobile wallet, you need not keep money on BHIM. Instead, it allows you to pay directly from any of your bank accounts that has sufficient balance.
And BHIM has a facility for recharging prepaid mobile accounts too. In fact, recharging on BHIM has several distinct benefits. Firstly, the money is debited from a bank account.
Secondly, you can avail of every discount and special offer made by any mobile network in India to get free recharge. Thirdly, BHIM also offers very attractive cashback for first time users.
These features make BHIM a very attractive online app to get free mobile recharge and cashbacks.
Paytm
With over 200 million Monthly Average Users (MAUs) in India, Paytm is undoubtedly the country's most favorite mobile payments wallet and website.
What makes Paytm so popular among Indians? They offer amazing range of discounts, cashback offers and special promotions on almost everything, including mobile recharges.
On any given day, you can find Paytm making special cashback or discount offers on prepaid mobile recharges. If you are a Paytm user, you would definitely have got such alerts on the smartphone.
This popularity prompts almost every mobile network in the country, from state-run BSNL and MTNL to giant players as well as regional networks including Aircel and Telenor, among others to offer cashbacks and other special offers on Paytm.
If you are looking for great cashback and free online recharge for your prepaid mobile, I suggest you download the Paytm app now.
Just ensure you read the fine print, since some cashback offers are available on certain recharge packs only.
MobiKwik
MobiKwik has year-round promotions that allows you to get cashbacks and free recharge for your prepaid mobile account.
MobiKwik reportedly has over 70 million MAUs across India and is one of the most popular mobile wallets for online recharges.
MobiKwik lists recharges and special offers from every mobile network in India. It offers cashback and free recharges almost immediately.
Consequently, you can find coupons and special offers on MobiKwik that offer incentives like free mobile recharge and cashbacks.
MobiKwik is popular across India. Hence, you can select the telecom circle where your mobile phone is registered to avail the best free recharge option for your area.
Freecharge
Freecharge comes up with daily offers that help you get free recharges for your prepaid mobile account. They offer cashback vouchers that can be utilized for free recharge or any other shopping through the Freecharge app.
The minimum cashback you get from Freecharge is Rs 10 per recharge. However, you can earn more free recharges on select days with specific mobile networks using some recharge trick.
Usually, Freecharge will credit the cashback almost instantly to your account. Remember to key in the special offer code before doing your recharge to avail of any free offers.
Also, first time users on Freecharge are entitled to very attractive cashback offers.
Grabon
If you are confused about which app gives the best free recharge offer or cannot find a suitable one, visit Grabon.com.
It ranks among topmost couponing websites of India. At Grabon, you will find online coupons that provide free recharges, cashbacks and other special offers for almost every mobile payment wallet and network provider.
All you need to do is browse through various offers, select the best one and click on the link beside. This activates your special offer for free recharge and cashback.
Proceed to recharge immediately using this coupon code or activated offer. You can unlock countless cashbacks and free recharge offers round the year with Grabon.
ICICI Pockets
As this brand names suggests, ICICI Pockets comes from India's leading private sector lender, ICICI Bank. Undoubtedly, most banks nowadays have online payment wallets.
But ICICI Pockets stands out because you can also order a customized debit card that allows you to shop online or pay for purchases at brick-and-mortar stores.
ICICI Pockets usually gives a 10 percent cashback on every mobile recharge, regardless of the network and location. Further, you can use ICICI Pockets in two different ways to avail free recharge and cashbacks.
Either you can recharge directly using balance in your ICICI Pockets mobile payments app. Or, you can use the ICICI Pockets debit card and make a recharge from the official website of a mobile network.
Either ways, you get the 10 percent cashback that can be used for free recharges.
More Free Recharge Tricks
There are numerous other ways to get free recharge for your prepaid mobile number. These are not exactly apps from mobile networks or payment apps.
Instead, you can use them to earn money on Paytm that can be used for free recharges daily.
Aditya Birla Payments Bank: Offers up to 50 percent cash back on mobile recharges through its mobile banking app or website.
Baazinow: A quiz app that offers Paytm cash for its two quiz contests, Bingo and other competitive games that can be played on their smartphone app. Baazinow comes from India's leading newspaper, The Times of India.
Loco: Also a very popular quiz app that gives Paytm cash for winners that can be used for free daily mobile recharges.
Amulyam: The website claims to give free mobile recharge to shoppers. It is said to offer really attractive recharges for online shopping. Be careful to use the recharge trick on this site.
Task Bucks: Gives you Paytm money for completing simple tasks like testing new apps on smartphone and answering questions.
Wrap Up
You can use any of the free recharge tricks for your mobile. However, you have to be careful enough to read fine print that accompanies every free online recharge offer.
As I mention earlier, some of these free mobile recharge offers are applicable on specific packages only. Others can be availed only once during the promotion.
Some of them, like cashback vouchers, come with expiry dates. Also, free talk time and data you get free can come with string attached.
For example, the free talk time and data can be used only during off-peak hours. Blackout periods- or days on which these offers cannot be used- may also apply. However, I do recommend you try these offers to save money.