Earning free online mobile recharge is just like earning money online as everyone spend at least INR 100 to INR 500 monthly on mobile recharge. There are number of sites that promise you for free recharge and we will discuss here about 5 such sites.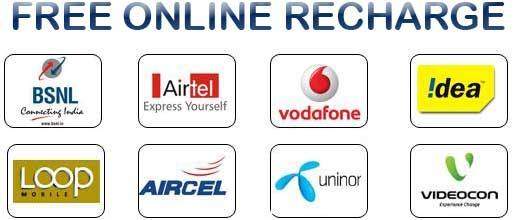 Top 5 sites for free online recharge
So lets discuss about five websites where you can earn free online recharge.
1. Way2SMS
You must have heard about way2sms and its free SMS service. Millions of people use this site to send free SMS. Now you can also use Way2SMS to earn free online recharge.
Just create an account at Way2SMS.com and then login to your account. After login, you will see the tab for 'Email & Win' and 'Share & Win'. Just click there and check the instructions to participate in free online recharge scheme.
You can also track your earnings from 'My Earnings' tab. You can recharge your prepaid mobile once you reach the minimum balance of INR 10.
2. Trick for Free Online Recharge
This is not a site but the tips to get online recharge. You just have to send 1 SMS to get free online recharge worth Rs. 10 to Rs. 100. Use this trick only if you have free SMS facility or SMS charges are low.
Just Type PLY A NAME UNIQUECODE and Send it to '882 667 1122' .
Example : PLY A Sachin 541654
You can try another UNIQUECODE if its shows invalid in first attempt. You must get free recharge in 2-3 try. Get more info on this here
3. FreeCharge.in
You won't get direct free online recharge from FreeCharge.in but you can recharge online and get equal amount of discount coupon for many leading stores and retailers. So if you want to recharge for Rs. 100 amount than you can get the discount coupon of Rs. 100 for any of the merchant they have tie-up.
You can utilize these coupon at various outlets like McDonald, Naaptol, Shoppers Stop etc. You have the freedom to choose your free coupon from hundreds of retail outlets.
4. RechargeItNow.com
Another easy to use and fast online recharging service. The best thing of this site is that they show you the various topups and recharge plans available at any given time. The good thing about the online recharge with this website is that unlike FreeCharge.in, you get coupons of various merchants for every recharge. You can get the assured benefits of up to Rs. 5000 with every online recharge.
5. EasyMobileRecharge.com
This website works the same way as FreeCharge.in and RechargeItNow.com by giving you free discount coupon but there is also facility to get 100% free online recharge if you complete some offers like joining MyDala, SnapDeal etc.
To get more details about the free recharge offer, just visit the site and click on 'Free Recharge' link on the top of the page and see the instructions.
Did you use any of the free online recharge scheme. How did you like the site? Share your opinion through comments so that others can read and review.