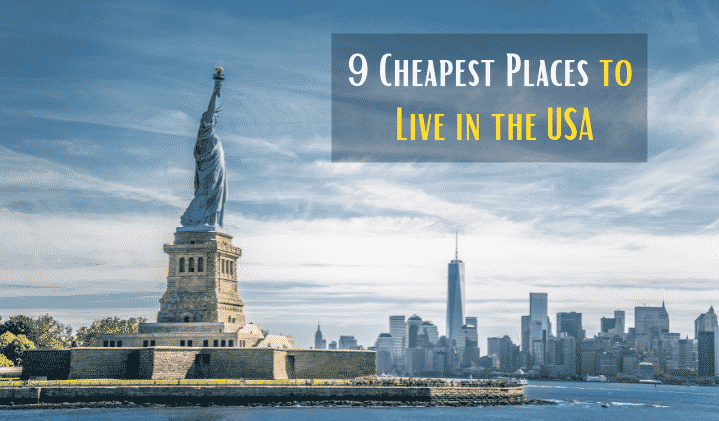 As the cost of living continues to rise almost daily, a lot of people look for the cheapest places to live in USA. And nowadays, with work from home facilities available for most jobs, relocating to a different city is possible.
As a matter of fact, a lot of seniors, persons moving out at the age of 18 years, and families are seeking cheaper places to live in America. Therefore, in this article, I will write about the 9 cheapest places to live in the USA.
Cheapest Places to Live in USA
This list of 9 places is based upon reviews from various sources. If you're planning on relocating to a new place to cut the cost of living, consider any of these 9 cheapest places to live in USA.
Refer: 10 Best Places to Retire in the USA
1. Buffalo, NY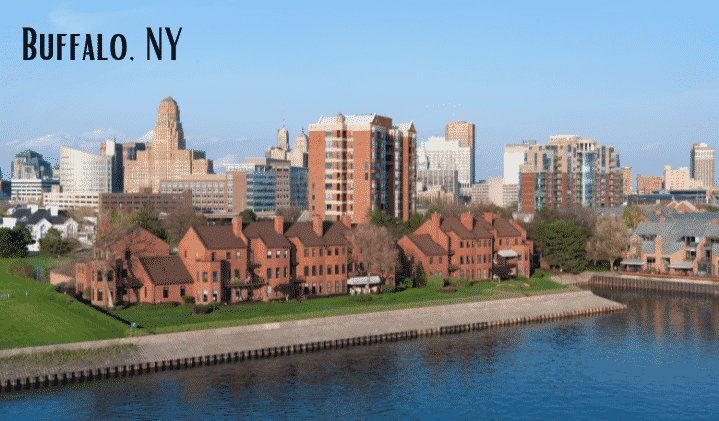 Buffalo in New York state is known for its relatively inexpensive housing as compared to several other cities. There're also several major sports teams that call Buffalo, NY, their home. That means you can also enjoy sports either at stadiums or on TV.
Additionally, Buffalo has several museums and other tourist attractions that can keep you entertained when needed. According to different sources, the average commute in Buffalo takes only 20 minutes, from home to office. And educational facilities at the Buffalo school districts are said to be on top of the range. Therefore, Buffalo, NY is one of the cheapest places to live in USA for relocation.
2. Kansas City, Missouri
An average mortgage in the Kansas City of Missouri is said to cost only $850 a month. Furthermore, the city is also known for the low cost of food and other essentials and boasts superior quality entertainment at low prices. Therefore, Kansas City is one more place you can consider if you're looking for the cheapest place to live in America.
The city also has arcade bars for gamers and various other attractions that you could visit for the entertainment of the whole family. Additionally, Kansas City also has its fair share of Federal government offices.  
3. Dayton, Ohio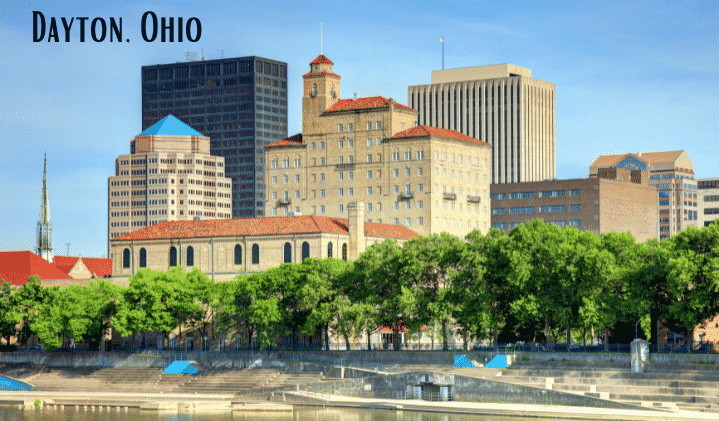 Dayton, Ohio has consistently remained on the list of 10 most affordable places to live in USA for several years. Here the cost of food is a fraction of what you would pay in some of the larger cities of America. You can get a good home in Dayton for less than $100,000, depending upon the size and other amenities, though this can prove a bit difficult nowadays.
Read: How Much Does it Cost to Build a House
Dayton features regularly the best cost of living reports in magazines and Internet-based articles. The city is known for its major highway crossings and diversions, which make it easy to access from neighboring states. Dayton, Ohio also has a lot of attractions for individuals and the entire family. The city has a fabulous healthcare infrastructure too.
4. Omaha, Nebraska
Omaha, Nebraska is a city of millennials. Nearly one-third of its residents are said to be 24-years of age or even younger. There're several large companies that operate in and around Omaha, therefore, getting a job wouldn't be much of a problem if you have the necessary qualifications. Generally, Omaha residents pay less than what an average American spends, according to reviews about this city.
Omaha also has superb healthcare and entertainment facilities that make it a favorite among Americans looking at a cheap city to live in USA.
5. Birmingham, Alabama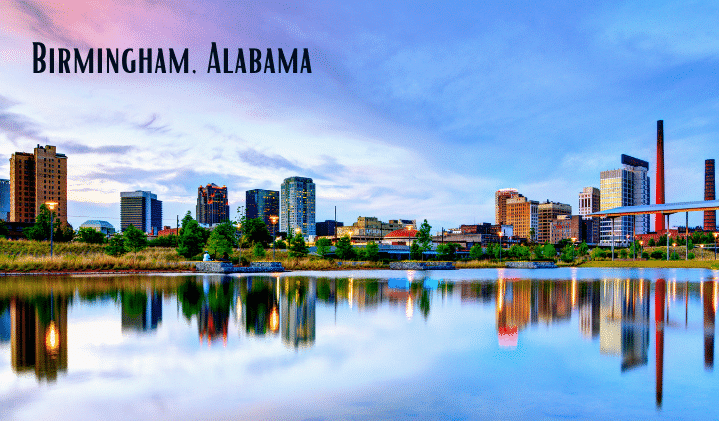 Birmingham, Alabama is also known as the 'magic city'. It has a very low cost of living too. Food in Birmingham costs much lesser than in several other places in America. And the city is home to over 500 restaurants and bars. This is a place where you can find a wide range of housing options at affordable prices. The city also boasts of moderate temperature all around the year, making it a favorite of people that wish to relocate. This is one of the best cities in America to relocate and the cheapest place to live in US for low-cost living.
6. Louisville, Kentucky
If you're really frugal and wish to save a lot of money, you might find Louisville in Kentucky as just the right place. Food in Louisville costs lesser than in average cities of the US. And healthcare is also much cheaper in this city, which can offer you double-digit savings. You can also look for inexpensive utilities in this city. Louisville has a stable economy and hence, your job in this city would be more or less stable, unless you do something to lose it. This is a favorite city for people wishing to save as much as they can and have lower incomes.
7.Memphis, Tennessee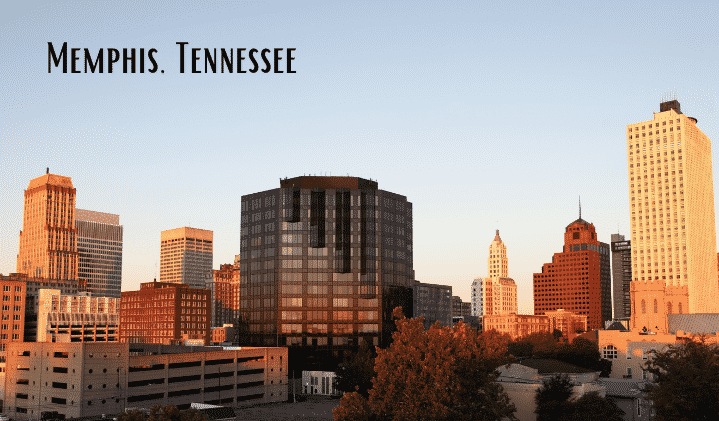 It is said that the cost of living in Memphis, Tennessee is about 14 percent lower than the national average. This makes it an ideal place for people looking at saving a lot of money on their monthly expenses. Food and food products, shopping as well as the cost of housing are much lesser in Memphis than in several other American cities. Tennessee also has one of the lowest rates of taxation in USA. Also, housing would cost you only about 10 percent of your monthly income as a mortgage. You can expect superb healthcare facilities and recreation in Memphis too.
8. Greenville, South Carolina
Greenville in South Carolina is famous for its food, museums, and downtown district. Additionally, there're also several job opportunities for both white-collar and blue-collar workers in this city. The cost of living is about eight percent lower than the national average in Greenville while food and other essentials also beat the prices available elsewhere in America. This is a city that also stands at the crossroads of various other major cities. Therefore, commuting isn't much of a hassle. You can try Greenville, South Carolina for cheaper living.
9. San Antonio, Texas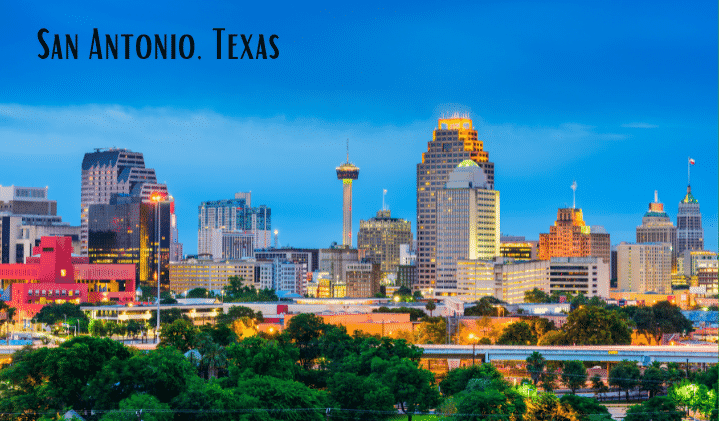 Despite being the seventh-largest city in the USA, the housing in San Antonio in Texas is just about 10 percent of that in other cities of its size and population. San Antonio has an impressive healthcare and entertainment infrastructure too. This is one city where you'll never feel bored or lonely. San Antonio boasts of natural sceneries and hence provides ideal spots for outdoor sports and picnics. This city is connected to rest of America by major highways and air. You would definitely enjoy living in this lovely city of Texas. You can cut your cost of living here as it is one of the cheapest cities in the US.
Wrap Up
If you're considering relocating to a cheaper city to save money or because you have a relatively lower income that makes living in other places a bit unaffordable or out of budget, you can consider any of these 9 cheapest places to live in the USA. Some of the things to consider when selecting a cheap place are healthcare, cost of food and housing, crime rate, and entertainment facilities. These 9 places have the best you can imagine.