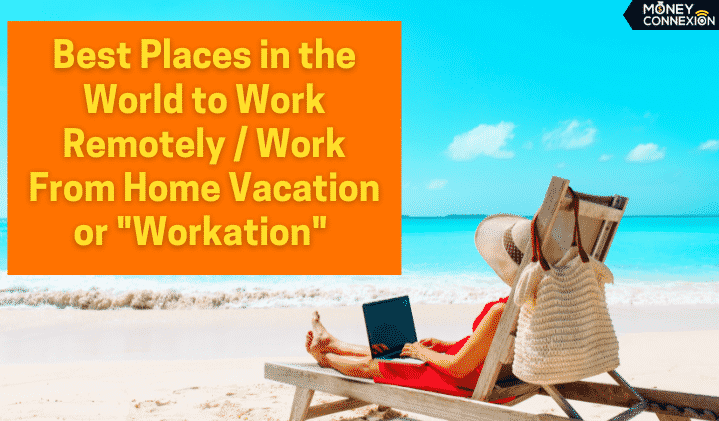 Working from home allows us to work from practically anywhere in the world, as long as we have a laptop and a reliable Internet connection. Therefore, it doesn't matter whether you're working sitting on a beach or by the side of any large monument in the world. All that counts is you're doing your work efficiently.
And during the new normal and beyond, work from home is here to stay. But you might be wondering where to go when there's so much work to do.
If you're considering a vacation during which you could also work from home, there's nothing to worry about. A UK-based travel company, Holidu, recently compiled a list of some of the best places to work during a vacation. If you're an American, here's a shock: none of the American cities made it to the list of top 10 places for their list of 150 best places to work remotely / work from home vacations or "workation."
Understanding Workation
Terming a working vacation as a "workation," the Holidu spokesperson, Sarah Siddle, said: "The events of the past year and a half have completely shifted the ways in which we work, showing us that we don't always have to be in the office five days a week to do our jobs. A "workation" is the perfect way to spend an extended period of time in a destination you want to explore without the limitations of staying within yearly holiday allowances."
By this definition, it's clear that a "workation," means a working vacation. And you can take a workation anywhere if you're working from home or are a freelancer. That's because of flexible working hours that come with work-from-home and freelancing. However, you might need to consider the time-zone differences between your office or employer and the place where you intend to take the workation.
List of 10 Best Places to Work Remotely
Now that you know what's a workation or working vacation, let's explore the 10 best places to work remotely around the world, that Holidu has found. You can travel there easily since flights to most countries are now available with some conditions of vaccination and quarantine still applicable.
1. Bangkok, Thailand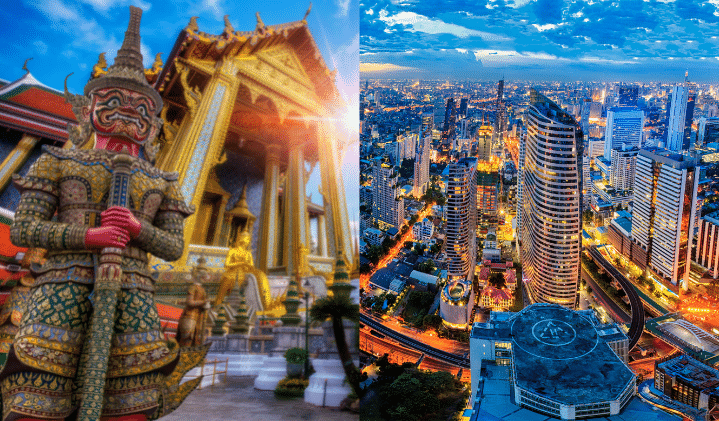 How about working in a city whose name your boss wouldn't be able to remember? Take a workation in Bangkok, which has the perplexing and longest name for a city anywhere in the world: Krung Thep Mahanakhon Amon Rattanakosin Mahinthara Yuthaya Mahadilok Phop Noppharat Ratchathani Burirom Udomratchaniwet Mahasathan Amon Piman Awatan Sathit Sakkathattiya Witsanukam Prasit.
In English, it's known by the simple and easy-to-remember nickname, Bangkok.
The capital city of the Kingdom of Thailand in South East Asia ranks as first from one of the best cities to work from home. And rightly so. Bangkok has excellent infrastructure for work-from-home vacations or rather, working vacations.
Bangkok is well connected with the rest of the world through the Suvarnabhumi International Airport. Most nationalities don't require a visa to enter Thailand and can easily get a visa-on-arrival at the airport for a fee of $20 only.
Furthermore, you can get very affordable accommodation in Bangkok. All accommodations in the Thai capital usually come with high-speed Wi-Fi connections which makes it easy to work from home. Or you can buy a local Subscriber Identity Module (SIM) card along with a data connection at very cheap prices and tether your smartphone for Internet access.
There's no shortage of entertainment activities, both during the day and night in Bangkok. This means you could work anytime you wish and also enjoy what Bangkok has to offer. The city also boasts of wonderful restaurants that cater to all tastes from the world.
2. New Delhi, India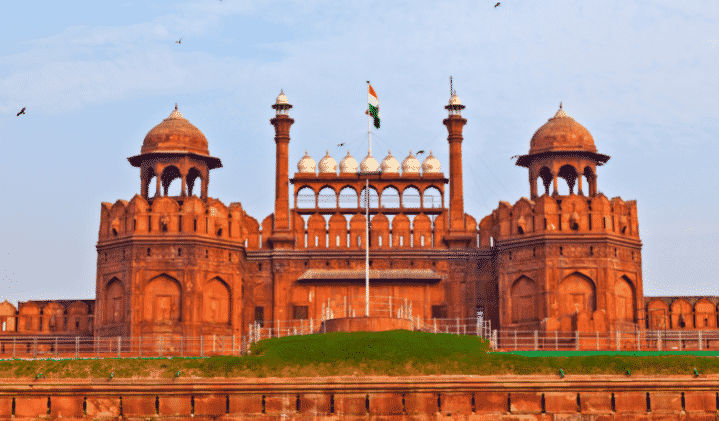 The capital city of India is known for its superb tourism infrastructure. It is well connected to almost all corners of the world too. Therefore, you won't have any problems with a workation from New Delhi. This is one of the best cities to work remotely.
The city has superb, budget accommodations that you can book for a long-term basis for a fraction of the price that would be available in America. And, there's a lot of things to discover in New Delhi such as historic places and different cuisines. This means you can work from New Delhi, India, and take in the sights and sounds of this ancient city too.
Internet and other facilities are very cheap in India. Usually, all hotels, lodges, and accommodations come with free Wi-Fi, which means you don't need to spend on getting an Internet connection. At best, you could get a local SIM card from any of the Indian mobile operators and go for a data plan, which would just you just about $50 for three months.
New Delhi is also home to all the embassies of different countries. Therefore, you'll never really feel away from home in this vast and sprawling city. You can also visit the nearby city of Agra, which is renowned for the Taj Mahal, one of the wonders of the world.
3. Lisbon, Portugal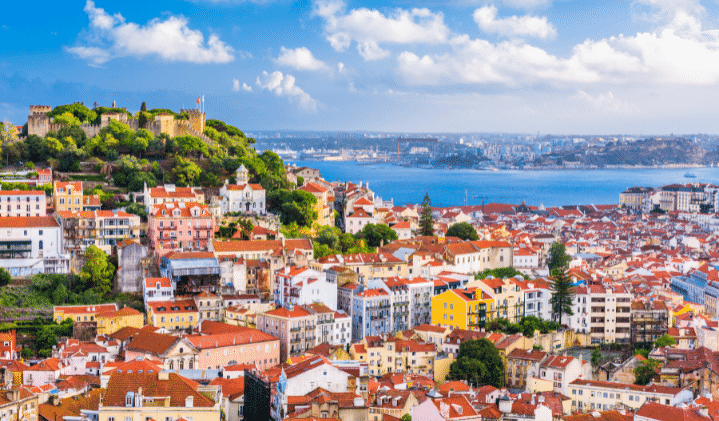 If you're looking at traveling to Europe for a vacation but need to work from home too, Lisbon, the capital of Portugal is your best bet as your working vacation. Lisbon is a city that has a superb history. Over and above, it has that laid-back ambience which means that you can work in peace with superb serenity. Though Europe isn't as cheap as Asia to begin with, Lisbon is comparatively inexpensive when it comes to capital cities of Europe.
Since Lisbon is a favorite among backpackers too, you can find amazing hostels and economical accommodations, including homestays in this city. The Portuguese cuisine is sure to delight all your senses.
Lisbon has air connectivity with every European capital and the US. This means, getting to Lisbon won't be a problem. Check visa requirements for your nationality for Europe. That's because Portugal is part of the Schengen Treaty and you might require the Schengen Visa if you're planning on staying in Lisbon for long.
Furthermore, Lisbon has superb Internet services and finding quality accommodations to suit your budget won't be any hassles. The local transportation system is also well developed. This means you can explore the Portuguese capital without harming your pocket.
4. Barcelona, Spain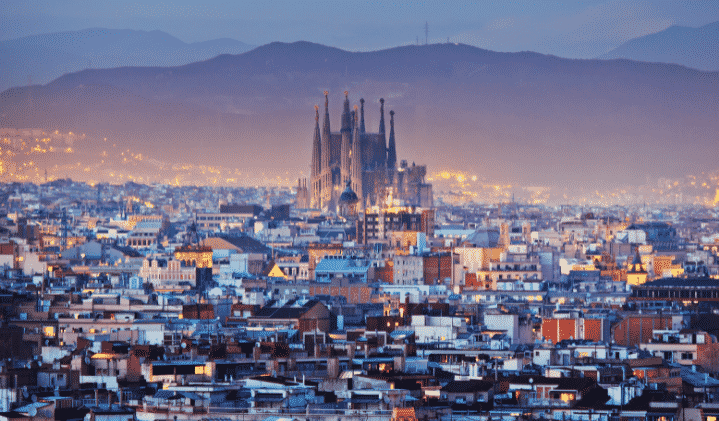 Barcelona, Spain is yet another destination in Europe that you might wish to consider for a workation. However, Barcelona isn't really cheap or inexpensive. Yet, it compares well with other cities in Europe when you consider the cost of living. Actually, the cost of housing and food, Internet connectivity, and transport is fairly inexpensive as compared to other European cities.
This city plays home to lots of sports fixtures, especially football. And then there're various Spanish festivals that are held all round the year, though some may be muted due to restrictions arising from the Covid-19 pandemic. Yet, Barcelona is a fun place to visit and live for a few weeks for work and vacation or what's now known as a workation.
So, what do you need for a work-from-home vacation in Barcelona, Spain? Nothing much. You can arrive in Barcelona with your laptop and mobile phone. The city offers inexpensive accommodation since its once bustling tourism sector is now reeling under the aftermath of the Covid-19 pandemic. Spain has wonderful, high-speed Internet which you would most likely get for free at your accommodation in Barcelona.
Getting to Barcelona isn't difficult at all. There're lots of direct and indirect flights to this Spanish city. All you need to do is pack your bags and carry your passport. Non-US citizens can check visa requirements to Spain for their nationalities.
5. Buenos Aires, Argentina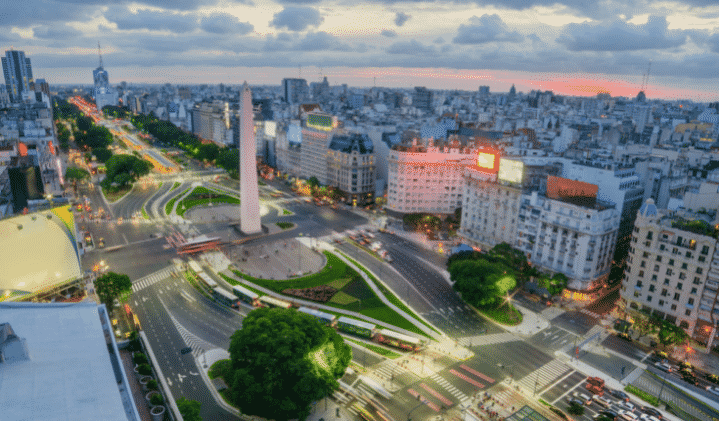 Very affordable food and drink, equally affordable accommodations, lovely parks, and monuments to visit. That's what Buenos Aires, the capital of Argentina has to offer you if you're planning a workation. This famous city of South America is also famous for its hospitality towards foreigners.
If you can manage the time difference with your office hours, Buenos Aires presents an excellent workation either solo or with your family. The city is lively and there's a lot happening both during the day and the night. So, you can pick and choose the attractions that you'd love to visit during your stay in the Argentine capital.
At any point in time, Buenos Aires has moderate weather. Also, you can get superb Internet connection and excellent, tranquil accommodations at homes or lodges too. I would recommend you finalize your date and place of stay before arriving in Buenos Aires since the city receives visitors all the time.
Budapest, Hungary
If you're not worried about visiting a country and city where English isn't really very common, Budapest in Hungary is the best place for your workation. However, the Hungarian people more than make up for their limited knowledge of English by making you feel at home with their amazing hospitality.
Budapest is a cultural capital of sorts in East Europe. You can visit orchestra performances and lots of evening entertainment in the Hungarian capital. The cost of living in Budapest is very low compared to other European cities. Despite years of being behind the Iron Curtain during the Cold War, the Hungarian people are always welcoming to foreigners.
In Budapest, you can find some really inexpensive food and drink. Accommodations are very safe and don't cost a fortune. Internet speeds are very high and you can easily get free Wi-Fi at a lodge or hostel. Budapest is also ideal for rest and recreation after your work hours.
Mumbai, India
Mumbai, India is one of the cities that makes it to the list of top 10 best spots for a work from home vacation. And not without reason. Mumbai is the financial center of India, the fifth largest economy in the world. As a result, you can expect world-class infrastructure in Mumbai. And that too at very reasonable prices.
Finding inexpensive accommodation in Mumbai is very easy: there're plenty of websites where you can actually look for and book a wonderful place for a workation. Internet services are extremely cheap as compared to anywhere in the world. You can get full 100 mbps broadband or higher for less that $10 per month, though most accommodations include free Wi-Fi for their guests.
If you're thinking of food, then perhaps no other city in India has as much diverse cuisines to offer as Mumbai. Here you can find all the global brands of quick service restaurants as well as local diners that serve superb Indian fare, all at prices that beat anywhere else in the world
Local transportation is superbly organized though it can get crowded in local buses and trains. And there's no shortage of attractions to visit during the day or nightlife in Mumbai. Being an international city of India, there're direct flights from most parts of the world to Mumbai. The city is well connected to rest of India by rail and road too.
Istanbul, Turkey
Sitting on the crossroads of Asia and Europe is this wonderful city in Turkey. The Bosporus cuts through the city joining the European and the Asian quarters. And you can take a river cruise along the Bosporus and see best of both sides of the city. And Istanbul being a historic city as well as a modern one, you have lots to see. In fact, you might have to bother about not missing anything that the city has to offer.
There're lovely local restaurants all around Istanbul where you can enjoy local as well as Mediterranean cuisine at very affordable rates. You can choose to stay at any of the inexpensive lodges and hostels in the eastern quarter or go for the slightly pricier ones in the western quarter. The price difference isn't much anyways.
Istanbul also has a lot to offer for a workation: superb accommodation, modern infrastructure, cheap food and drink and lovely places to visit. This is a place to go if you're planning a long workation. Because you won't ever get bored of Istanbul.
Bucharest, Romania
Bucharest is yet one more place that you could consider for a vacation. This is a historic city and the capital of the East European country, Romania. You will be amazed at the architectural wonders of Bucharest. The city's infrastructure compares well with any in western Europe too. Cheap food and drink as well as inexpensive accommodation are all up for grabs here.
Over the years, Bucharest has seen a steady influx of some of the largest foreign corporations wanting to set up base in Eastern Europe. As a result, you will find world class infrastructure in this city. As a matter of fact, there's nothing that Bucharest leaves to be desired.
However, check visa and work regulations for Romania. Though Romania now is a part of the European Union and Schengen visa rules apply here, there's some ambiguity whether foreigners can work from home from this country.
Phuket, Thailand
Phuket is a small island off the coast of Thailand, in the Andaman Sea. The island is geographically closer to India than to Thailand. However, this is an amazing place if you're looking for a workation by the sea. There're just countless activities including watersport that you can indulge in this city.
There's an amazing show in Phuket too, which you'll never get tired of watching. Known as the Phuket Phantasy, this show makes all characters come to real life. However, if you're there for a workation, you might be interested in the cost of living and other details.
The cost of living in Phuket compares well with Bangkok, the Thai capital. However, accommodations in Phuket can be slightly pricier than Bangkok considering that this is an island resort. At the same time, it's fairly easy to find cheaper accommodations here.
Food and drink in Phuket are fairly inexpensive too. And Phuket is a place where you can take your entire family during tour workation.
Rules for Work from Home Employees
According to travel industry sources, there's a lot of demand for places where people can go for a workation. That's because employers are now aware that their employees are fed up of being cooped in at home and need a vacation desperately.
The stress that remaining indoors and the negative news about Covid-19 is already affecting the performance of a lot of employees. Therefore, most employers are now more open to giving a workation to their remote workers.
However, companies usually ask an employee to specify the place where they're traveling and give workation for limited periods only. Some companies however allow it for a maximum of 90 days, which is fair enough by all standards.
In Conclusion
If you're feeling low because of staying indoors and working from home, consider a workation to any of these 10 best places. As a matter of fact, the Holidu.com list also features some American cities that're best for workation. That way, you needn't travel abroad.
However, none of the American cities in the list are in the top 10, though Los Angeles makes it at No-40. Yet, taking a workation in America might prove worthwhile if you're averse to traveling abroad for working from home. And if you like, consider these top 10 places for your workation.