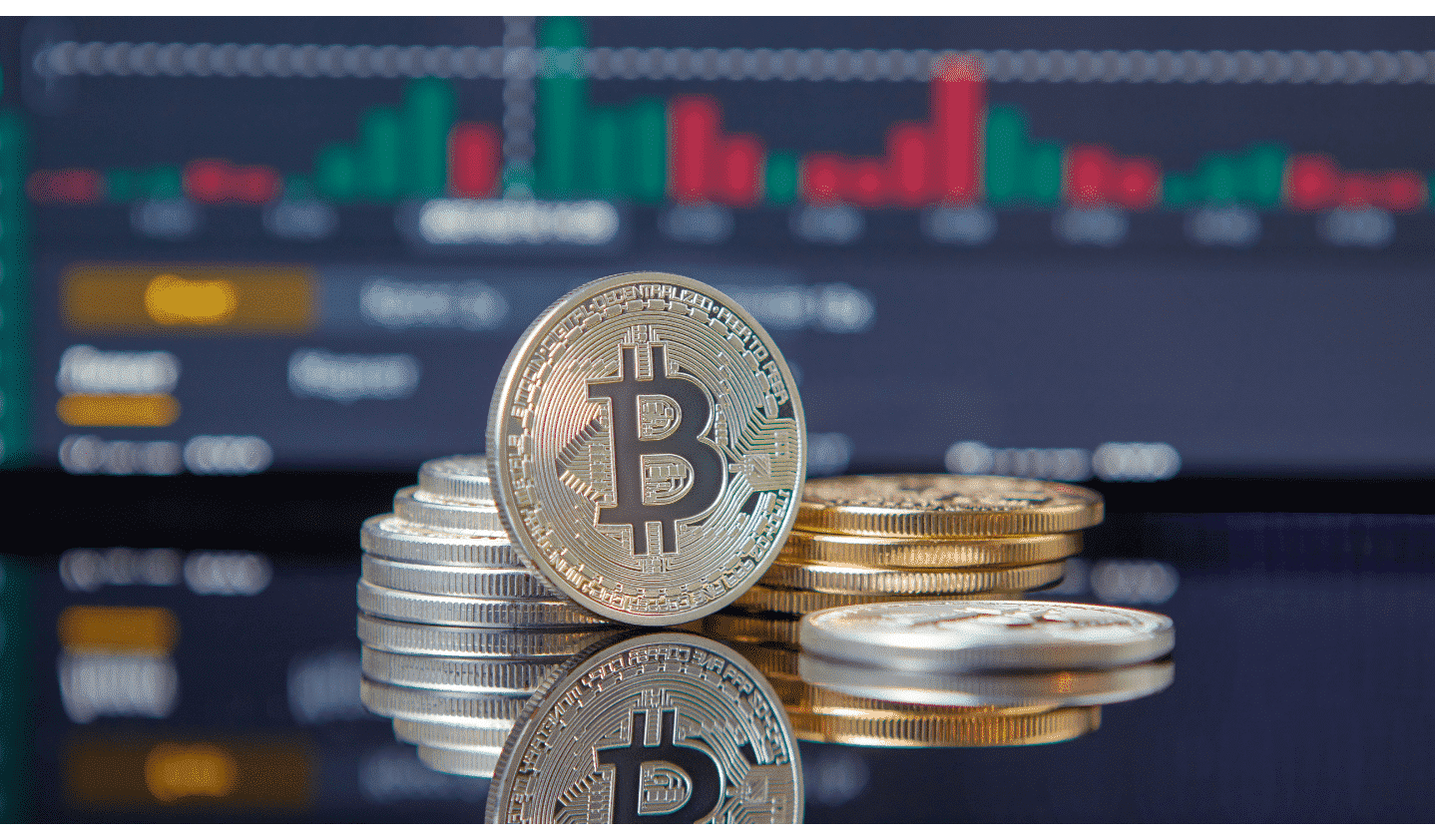 Over the years, cryptocurrencies are emerged as one of the favourite ways of investing money. Furthermore, an increasing number of businesses now accept cryptocurrencies, such as Bitcoin and Ethereum, among others, as payments for goods and services.
Thanks to the widespread popularity of cryptos, it's now very easy to buy or sell them. All you need to do is go to any of the best crypto exchanges in the world and transact. These crypto exchanges offer full anonymity of your transactions, too. You can also find crypto exchanges with the lowest fees.
At the same time, with several crypto exchanges coming up around the world, it can prove a bit difficult for us to select the best ones. Therefore, in this guide, I will discuss the 15 best crypto exchanges in the world. All these crypto exchanges are legit and have a proven track record of providing excellent service to customers. Therefore, you can transact through them online safely and without much fear of your crypto wallet or account being hacked.
Top 15 Best Crypto Exchanges in the World
I'm listing the top 15 crypto exchanges in the world. As you will see, all of these crypto exchanges have been operating over a period of years and have an excellent reputation. Therefore, you can deal with them safely.
1. Binance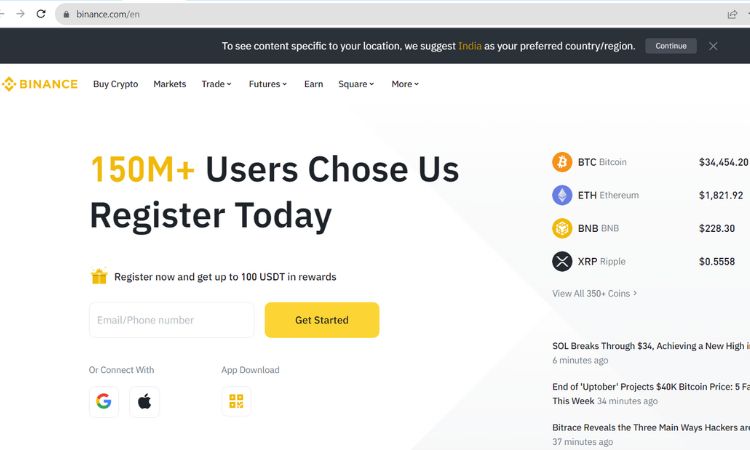 Binance was launched in China in 2017. It is now based in Malta in Europe. Additionally, Binance also has a dedicated exchange for crypto investors and traders in the US, which is based in San Francisco.
There are several reasons why I rank Binance at the top of this list. Binance is known for being the best Bitcoin exchange platform. Binance charges only a 0.1 percent commission on all crypto trades. This crypto exchange supports every major cryptocurrency in the world, including Bitcoin, Ethereum, and Litecoin, to name a few. They list over 50 cryptocurrencies for trading and investment.
For investors in cryptocurrencies, Binance offers you the option of earning interest on your holdings by staking the cryptos for some time. That means you can earn more cryptos simply by retaining your cryptos with Binance. They usually pay an interest of 0.5 percent to 10 percent per month on your cryptos. This gives you a wonderful opportunity to earn free cryptos without additional investment.
Through Binance, you can buy cryptocurrencies through bank transfers, credit cards, and debit cards as well as other online payment methods. However, they charge a 4.5 percent fee on all crypto purchases made with credit cards and debit cards.
2. Coinbase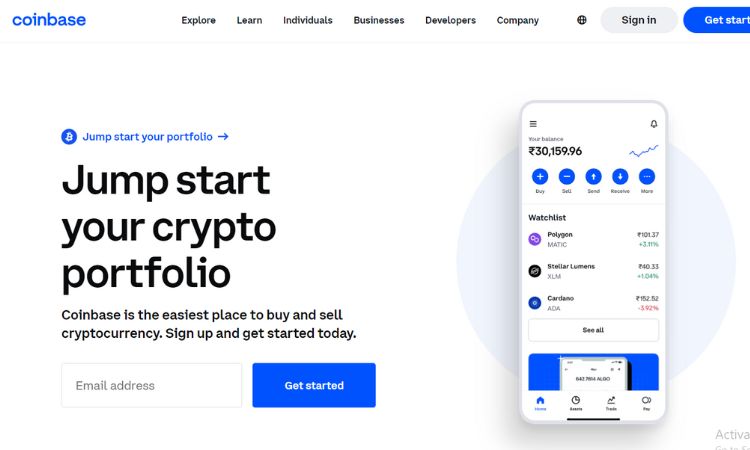 Coinbase is based in San Francisco, California. They have more than 40 million users around the world, spread over some 110 countries, which makes it one of the largest crypto exchanges on this planet.
If you're a beginner in crypto trade and investments, Coinbase is perhaps the right crypto exchange for you. What makes it the best crypto exchange for beginners? They actually provide a lot of tips and advice in crypto investments and trade through their website once you become a customer. These tips, guidelines, and insights can help you to invest in the right cryptocurrencies without having to do much study yourself.
You can buy cryptos from Coinbase through direct bank transfers, PayPal as well as with your credit card and debit cards. Their fees for buying and selling cryptos are, however on the higher side. For example, the charge between $0.99 and $2.99 for crypto purchases under $200 and an additional 0.5 percent service fee depending on the number of cryptos you trade.
However, one major advantage of dealing with Coinbase is that they have Financial Deposit Insurance Corporation (FDIC) insurance for your crypto deposits. That means that even if Coinbase closes down or faces any issues, you can still get 98 percent of your money as compensation. And with crypto prices always on the rise, you won't really face any losses in case that happens.
3. Kraken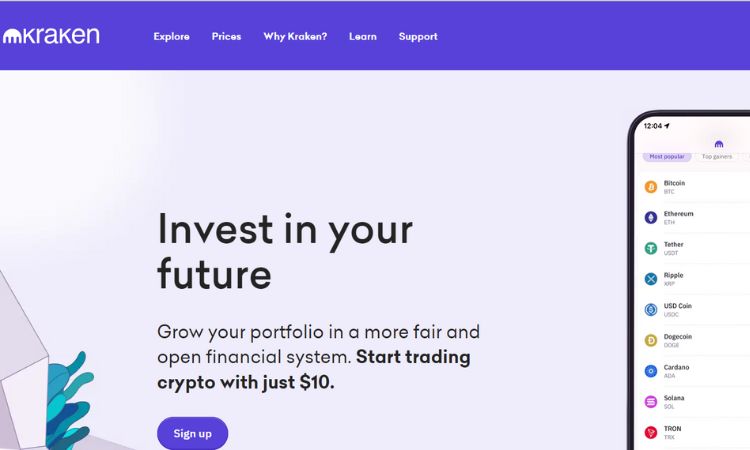 Kraken is a US-based crypto exchange that's been functional fully since 2011. It's a top cryptocurrency exchange platform. They offer almost the entire range of cryptos for trade, which is over 50 popular cryptocurrencies. Therefore, you can actually create an amazing portfolio of different cryptos, such as Bitcoin and Ethereum, among others, by trading through the Kraken crypto exchange.
Additionally, Kraken is also a superb crypto exchange for traders at all levels. They offer three packages for crypto investors: Starter, Intermediate, and Pro. The starter account enables you to deposit, exchange, and withdraw cryptos without hassles. You can also switch between your crypto holdings seamlessly. 
The fees that Kraken charges on crypto trades are fairly reasonable. For example, they charge between 0.9 percent and 1.5 percent of the value of your trade. These are some of the lowest rates that you can get from a crypto exchange that has a time-tested and proven history of reliability and ranks among the best in the world.  
To trade on cryptos through Kraken, you have to provide a valid ID such as a passport, Social Security number, or other documents for any deposits. Kraken will verify your identity, which offers you added security for trades and holdings. They accept trades in seven different currencies, such as the US Dollar, Japanese Yen, Swiss Franc, Canadian Dollar, UAE Dirham, and the UK Pound Sterling, among others. They're also in the process of adding more currencies for buying cryptos.
4. eToro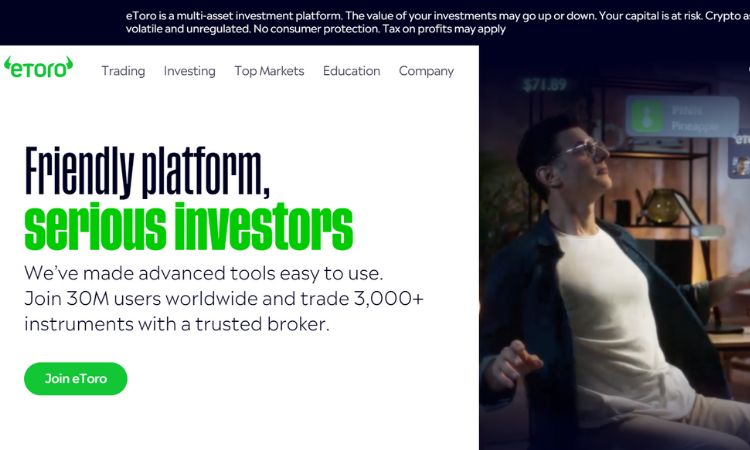 eToro is around since 2007, when the crypto exchange was established in Tel Aviv, Israel. Now, eToro operates from London as its headquarters. According to the latest statistics, they have over 15 million customers for their cryptos spread over some 120 countries. In fact, eToro is the preferred crypto exchange in countries where the crypto trade didn't exist earlier.  eToro offers six different cryptocurrencies for trade. These include Bitcoin, Bitcoin Cash, Ethereum, XRP, Litecoin, and XLM for investors.
Though they don't offer a very wide choice like others, it's worth knowing that these six cryptos are the ones that have the maximum trade and customers. Therefore, if you're looking for a crypto exchange that offers hassle-free choices, eToro is the best.
However, eToro fees can prove a bit expensive. They charge between 0.75 percent and 2.90 percent as their trade fee, depending on the trade volume and amount.
At the same time, there are some flipsides of eToro, too. For example, your deposits could take as many as seven working days to be cleared. And eToro deals only in US Dollars. That means if you wish to buy cryptos in any other currency, you'll have to first convert it to the American Dollar before trading on eToro. At the same time, eToro is a very reliable and secure crypto exchange in the world.
5. Crypto.com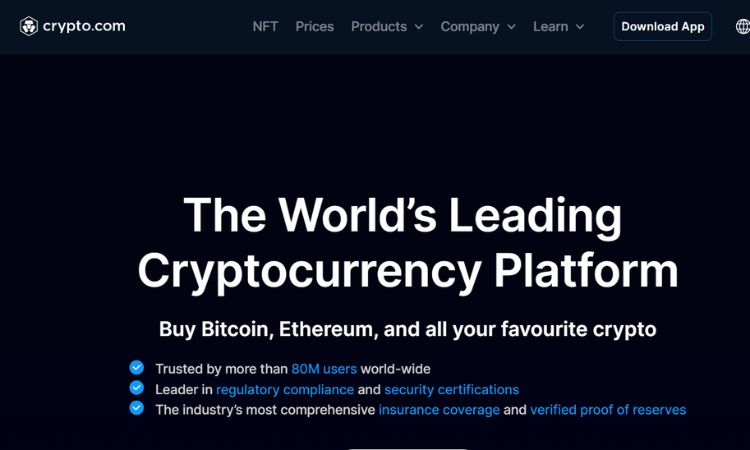 Crypto.com was founded in 2016 in Hong Kong, where this top crypto exchange in the world currently operates. Crypto.com is a very popular cryptocurrency platform among crypto trades. It allows you to trade, buy, sell and also spend cryptocurrencies for goods and services, which is something unique for a crypto exchange.
One of the salient features of Crypto.com is its low fees. They charge only between 0.04 percent and 0.20 percent for all trades in cryptos, which is far lower than what other crypto exchanges take.
Crypto.com has a feature known as a non-custodial De-Fi wallet, which operates as an independent app. You can use this app to link your crypto trading account with Crypto.com and enjoy easy transfer of funds.
Additionally, Crypto.com also offers a superb program known as Crypto Earn. Here, you can retain your crypto holdings in the form of a fixed deposit scheme that's similar to conventional banks. The period of such deposits is between one and three months.
They pay an interest of up to 12 percent on your holdings, which provides you with an excellent opportunity to earn more cryptos without actually buying them. Crypto.com operates only as a mobile app available for Android-based smartphones and iPhones, which can prove a bit inconvenient to some users.
6. Coinmama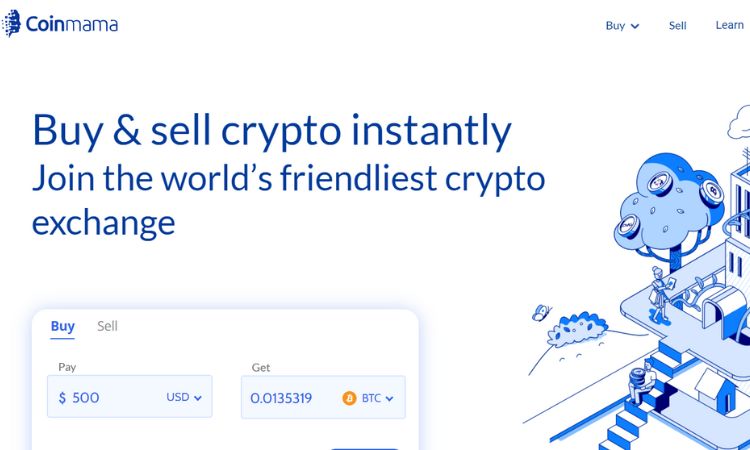 Coinmama was launched in Tel Aviv, Israel, in 2013 and has some three million users in over 180 countries. This is one of the topmost crypto exchanges in the world if you're interested in trading with Bitcoin. They offer you a selection of only 10 top cryptos in the world, such as Bitcoin, Ethereum, Litecoin and others.
This limited selection makes it easier for users to make a superb portfolio of cryptos. They also offer cryptos at very competitive prices, which is an added attraction for both investors and traders.
On Coinmama, you can buy cryptos using direct bank transfers, wire transfers, credit cards or debit cards as well as Apple Pay. However, they charge a fee of five percent to 5.5 percent on all deposits and purchases.
Coinmama also offers you a private crypto e-wallet with a key that protects you against any unauthorized access to your holdings. This crypto e-wallet is highly secure, so you can be assured that no hackers can access your cryptocurrencies.
7. Huobi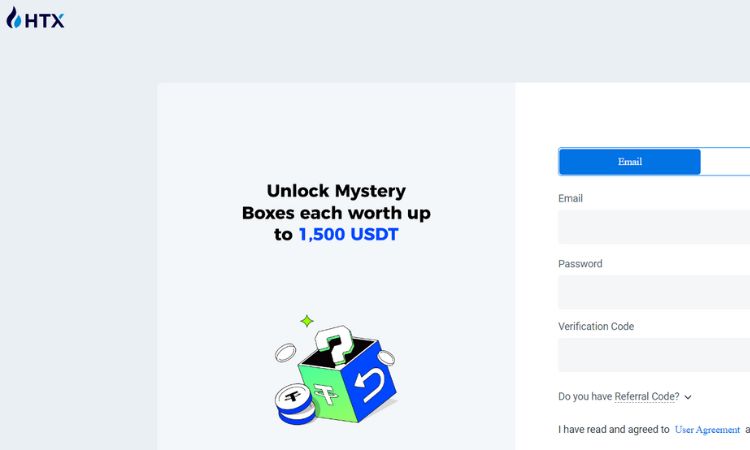 Huobi is like a big playground for buying and trading over 700 types of digital money, like Bitcoin and Ethereum. They have cool learning events where you can earn a bit of money just by learning new things! If you sign up and start trading, you even get a little gift of 2 USD.
Huobi offers ways to buy and sell digital money right now (Spot) and make deals for the future (Futures).

They have a special program ('Earn') with great savings rates and a fun Rewards Hub where you can do tasks and earn more. Whether you use an iPhone, Android, or computer, you can trade anytime. Huobi is like a busy digital marketplace, always buzzing with activity!
8. Robinhood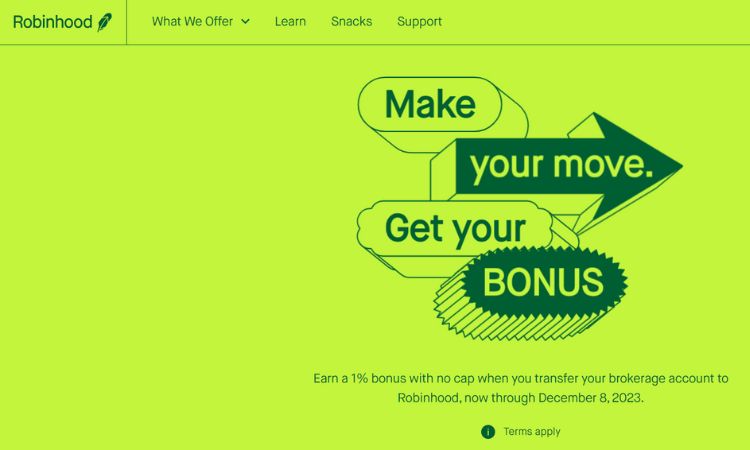 Robinhood is one of the best crypto exchanges in the world because it allows almost everyone, including people with very small budgets, to trade on cryptos. Typically, you can invest with as low as $5 on a crypto. For that amount, you can buy fractions of a Bitcoin or other cryptocurrencies. As you go adding funds, you get more and more fractions, which all add up to fetch you one unit of the cryptocurrency.
It's free to use Robinhood. They operate as an app for Android-based smartphones and iPhones. However, they have one flip side: you cannot transfer cryptocurrencies directly if you wish to make a purchase or transaction. Instead, you have to cash in your cryptocurrencies in fiat currency, which is the US Dollar. However, Robinhood is a very attractive app and crypto exchange for beginners who want to deal in cryptocurrencies with a small amount of money at hand.
9. Trade Station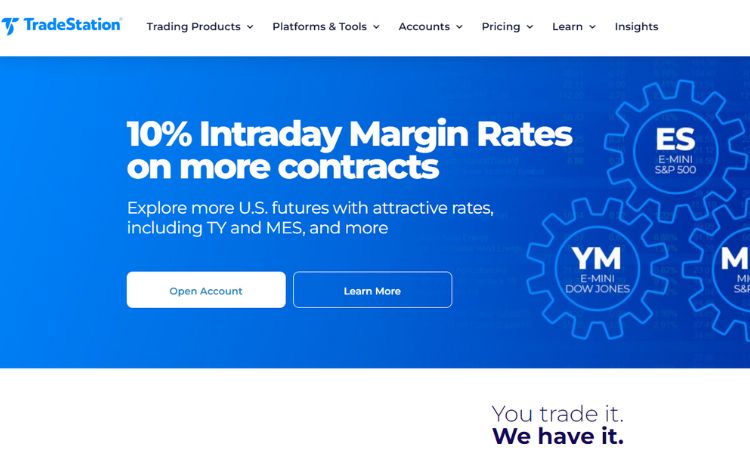 Trade Station is based in Florida, US and has been operating since 1982. Over the years, it has gained the reputation of being one of the oldest surviving crypto exchanges. That makes it ideal for intermediate level and advanced level crypto traders and investors.
Trade Station is mainly a stock trading platform. However, they also have the option of investing and trading in cryptocurrencies. They have a small selection of cryptos that include Bitcoin, Bitcoin Cash, Litecoin, and USD Coin.
However, a superb feature of Trade Station is that they offer you a six percent interest rate, accruing daily and paid monthly on your crypto holdings. You can deposit and trade as much as you like while getting interest on daily holdings.
Trade Station functions as a mobile app. They have an easy-to-use interface that allows you to customize your preferences easily.
10. Gemini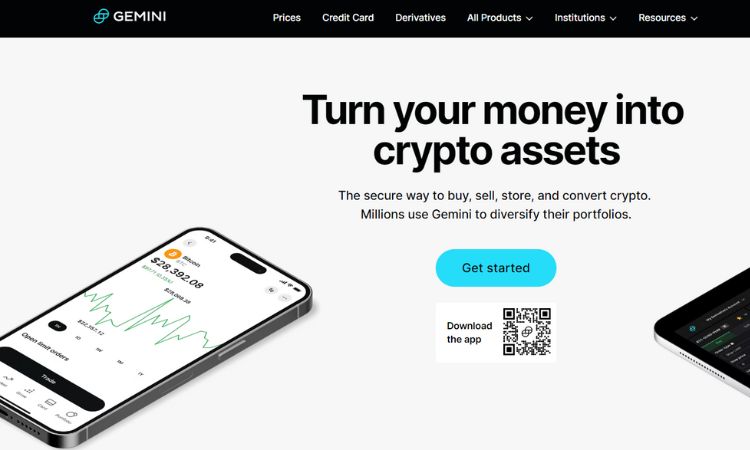 If you're based in the US, then Gemini is perhaps the best crypto exchange that you could use. Gemini has been around since 2014 and has headquarters in New York. They offer 20 cryptocurrencies such as Bitcoin, Litecoin, Ethereum, USD Coin and others. And they also allow you to trade in 25 major fiat currencies.
Gemini provides a bonus of $10 when you buy Satoshi, a fraction of Bitcoins worth $100. Their Gemini Earn plan enables users to earn up to 3.5% interest with Bitcoins when they save crypto.
The flip side is that Gemini accounts come with a $5,000 daily deposit limit and a $30,000 monthly deposit limit. Therefore, it isn't a crypto exchange if you're looking at high value transactions. All your funds and crypto holdings with Gemini are insured by the FDIC. Therefore, your holdings are covered against any potential losses.
Gemini charges a fee of 0.50 percent on trades and between 0.99 percent and 1.49 percent on transfers of cryptos. These rates compare well with those charged by other bigger and best crypto exchanges in the world.  
11. PrimeXBT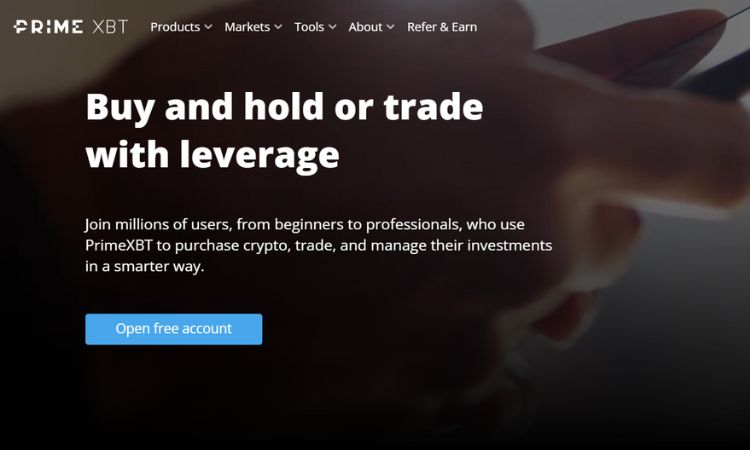 PrimeXBT allows users to access multiple markets from a single account. It offers easy access to cryptocurrencies, stocks, Exchange Traded Funds, fiat currencies and commodities from a single account. Some of their features include copying their trading activity and getting good results.
You can leverage your crypto account for switching between investment options, too, such as stocks and currencies or commodities. PrimeXBT operates as an app and is available for both Android-based smartphones and iPhones.
12. Bittrex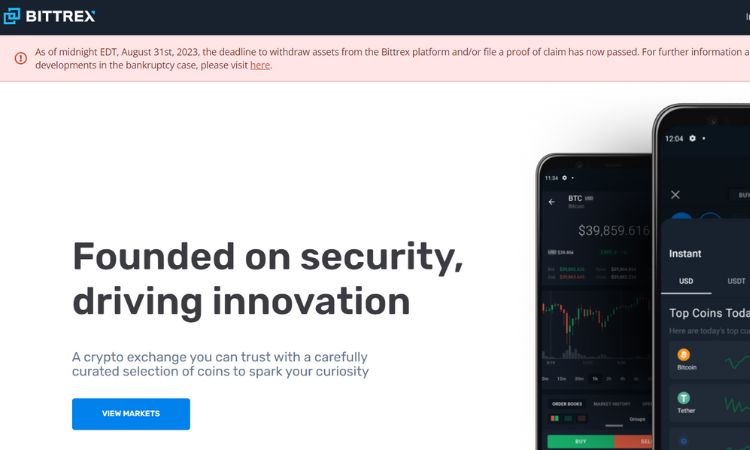 Bittrex is a place where you can trade cool digital coins like Bitcoin and Ethereum. Three smart people who know a lot about keeping things safe online started it. Bittrex is really safe, like a superhero for your trades and digital money.
There are many different coins at Bittrex you can look at and trade. You can even trade from your phone with their app. They make sure to follow all the rules so everything is fair and safe for everyone.
Bittrex isn't just for trading. They help people all over the world make new kinds of digital coins. These coins could change how we buy things and do business. Bittrex has fast and strong technology, so you can trade quickly and without worry.
13. Cex.io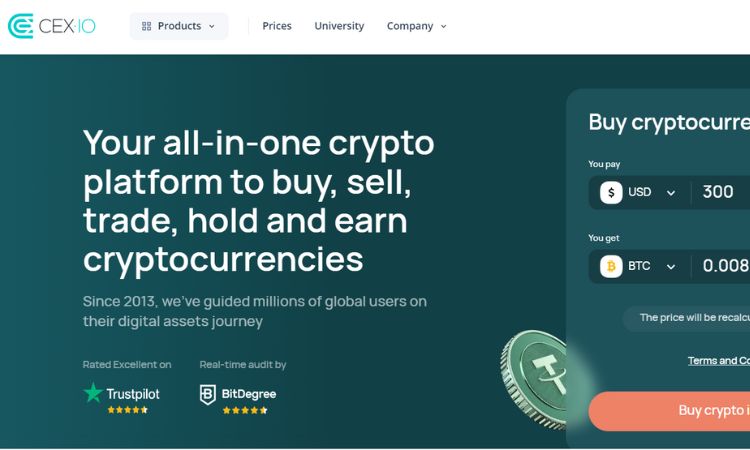 Cex.io is the best app to buy crypto if you're looking at crypto trades in Bitcoin and a few other cryptos only. They accept various forms of payments for Bitcoin and its fraction, the Satoshi. You can pay with a credit card, debit card, PayPal or direct bank transfers and wide transfers. Some of the cryptos that you can deal with on Cex.io include Ethereum and XRP, as well as Litecoin.
The systems of Cex.io are very secure. This means you can be assured hackers cannot get access to your holdings. And you can trade with ten times the volume of your holdings without creating an extra account. However, on the flip side, Cex.io offers services only in 35 states of the US due to local rules and regulations over cryptos. You can get downloadable reports and real-time balance and trade sheets through their app.
14. Acorns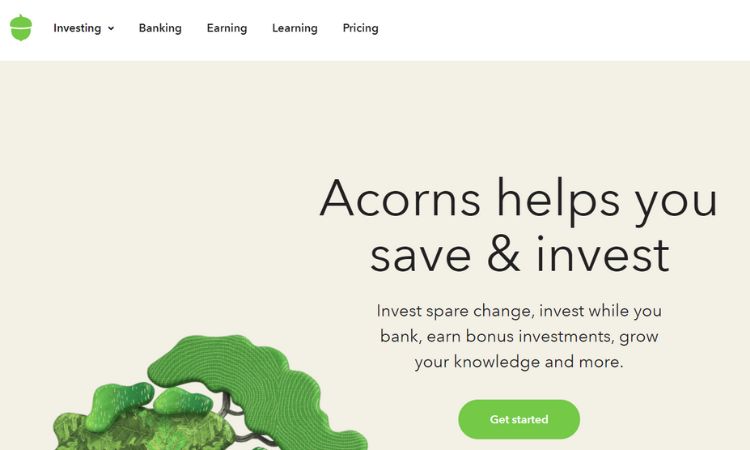 Acorns is an investment app that allows you to invest in cryptocurrencies, stocks, ETFs, currencies and commodities. You can consider it as the best app for crypto. It is best suited for beginners in the crypto trade. For example, a beginner can start investing in Bitcoin or other cryptos with as little as $10 and buy fractions. By making small investments, they can continue buying fractions till their holdings reach a specific amount or result in one full unit of crypto.
Bitcoin, XRP, Litecoin, Ethereum and seven other cryptos can be bought over Acorns. Actually, Acorns operates as an app. Their trades are very fast and hence, you can get the best rates when crypto prices actually go down. They also provide handy tips for newbies to get the most of their crypto trading.
15. BitFlyer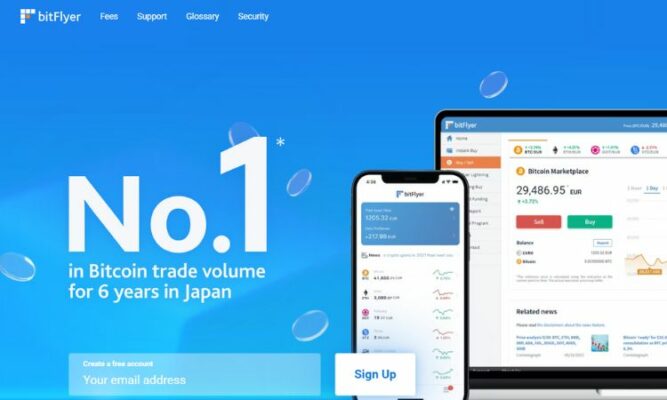 Do you want to trade digital money like Bitcoin? Try bitFlyer! It's easy and safe. In Japan, people have loved it for six years. You can start with just one coin.
bitFlyer is very simple. You don't pay extra for buying or selling. They keep your money safe; no one has stolen anything in seven years. To start, just sign up, show who you are, and put in money. They even have a cool card that gives you Bitcoin when you buy stuff.
For those who know trading well, bitFlyer Lightning has special tools and strong safety. bitFlyer is great for both beginners and experts.
Crypto Exchanges and Crypto Wallets
A lot of exchanges don't provide their own e-wallets and online wallets for cryptos. This means you might have to subscribe to one separately. And sometimes, that costs money. For example, Bitcoin has its own secure cryptocurrency wallet, which is free to download and use. However, this wallet doesn't support certain other types of cryptos.
If you're serious about trading in cryptos, also check the various e-wallets and physical crypto wallets. Generally, the physical ones offer a higher level of security than e-wallets. However, the flip side is that you might lose your crypto holdings if your smartphone or physical crypto wallet is stolen.
Look for exchanges that offer Two Factor Verification for accessing your holdings. That way, you have added security against hackers and unauthorized access to your cryptos. In any case, most exchanges offer a high level of security, and therefore, you can use any of these 15 top crypto exchanges in the world for your trades.
Conclusion
These 15 best crypto exchanges in the world have been in the market for several years. All of these 15 crypto exchanges are legit, and hence, you can trade through them safely. Some of them also offer an app which you can use for trading even while you're on the go. Since cryptos are a major form of investment nowadays, you can make a lot of money by trading through any of these best crypto exchanges in the world. However, I suggest you read their terms and conditions carefully before signing up for any crypto trading exchange and platform.