There's a lot of money to be made by stock trading. Maybe you know that stock prices shoot upwards or swing downwards during the day trading on US stock exchanges.
Therefore, you need to be alert to these changes and make the best trades. That could ensure you don't lose money but earn at least some decent profit during the day- meaning- during the work hours of stock exchanges.
While US laws allow people to buy and sell stocks, there's one rule. That all such stock trades have to be done through proper stockbroking platforms. Thankfully, the US has plenty of such stock trading platforms that could meet your needs.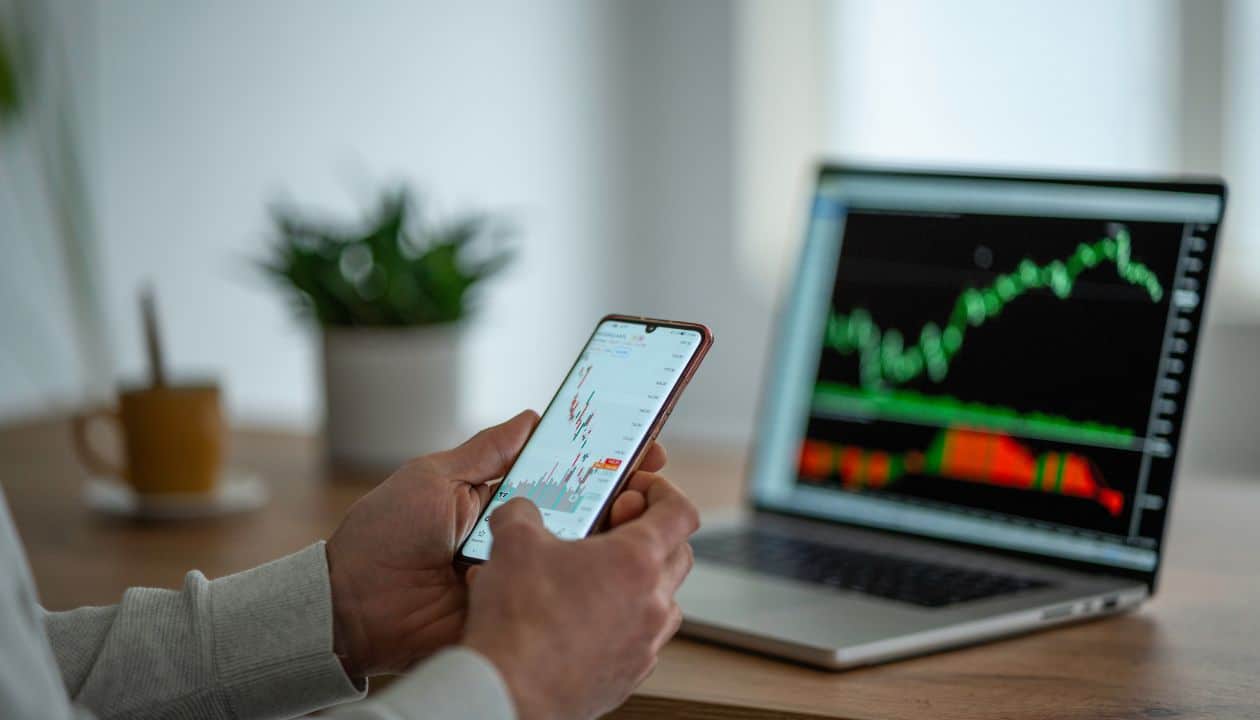 How Do Stock Trading Platforms Work?
Basically, stock trading platforms are like a mix of a scoreboard and an online store. The scoreboard-like feature shows the ups and downs of stocks during trading hours. The online store feature allows you to buy or even sell stocks or futures and options during trading hours on stock exchanges.
Lots of Americans don't do stock trading on their own. Instead, they pay some commissions or fees to persons that are experts in the field to make money. This is fair enough if you're willing to pay a large sum of money.
At the same time, there's a growing number of Americans that believe in Do-It-Yourself stock trading. This involves studying how stock markets work and identifying the best stocks to invest in either through direct buy and sell or through futures and options.
Normally, a professional stockbroker would know which day trading platform to use effectively. However, things are different for a beginner. As a beginner or fresher to stock trading, you need a trading platform where you get the best prices, some good information about the stock movements and advice, as well as the ability to buy, hold or sell quickly to ensure profits and avoid losses.
If you're one such a beginner or fresher to stock trading and would like to make money with day trades, continue reading further. In this article, I will discuss some of the best stock trading platforms for beginners.
Also Read:10 Best Brokerage Accounts for Beginners
Features of Best Trading Platforms
Before we begin, here're some important features you should look for in a day trading platform. That could help you make the best of stock trading during the day and make enough profits.
Low buy and sell commissions
Fast execution of buy and sell orders
Daily advice on investments
Quick display of swings in stock prices
Ability to invest small amounts
Immediate or faster credit and withdrawals of funds
Low annual subscription rates
Facilities to invest in Exchange Traded Funds, Mutual Funds, Bonds, Currencies and Cryptocurrencies, as well as Commodities.
I emphasize these features because stock trading requires lots of expertise. Unless you're a skilled and professional stock broker, day trading can cause severe losses if you bet on the wrong shares.
Therefore, I suggest you start as a beginner and learn these skills over a period of time before moving on to intermediate and, later, professional stock trading platforms. That way, you can invest smaller amounts of money and don't need to worry about major losses due to a wrong decision.
15 Best Day Trading Platforms In 2023
Therefore, you might wish to consider one of these best-day trading platforms for 2023. Read the terms and conditions before subscribing to any of these day trading platforms.
Pay a lot of attention to the features they offer because these will prove critical or vital in your ventures to make money from day trades on the stock markets while nulling losses.
1. Robinhood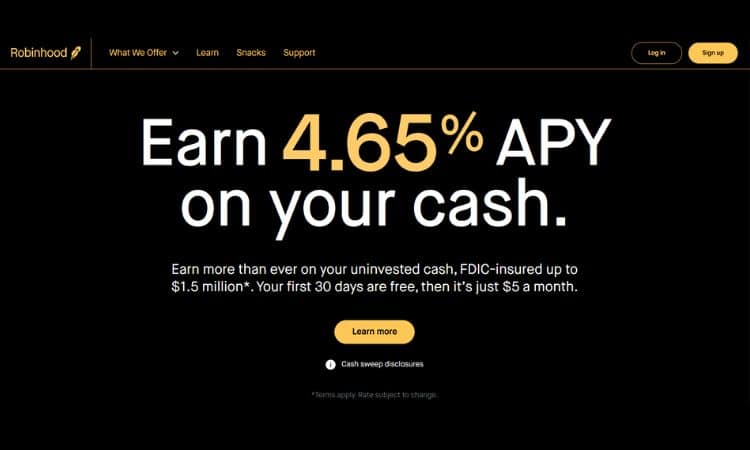 Robinhood is the best day trading platform for all beginners in stock investing. That's because you can begin your day trading journey with investments of as little as $5 to $10 only. Additionally, Robinhood often gives a welcome bonus of $5 when you make your first investment.
They offer simple investment tips daily and some advice to make your investment and day trade journey easier. You can quickly learn the ropes of day trading with this app. This app also allows you to buy and sell fractions of stocks that're very pricey. This makes Robinhood ideal for beginners.
2. Acorns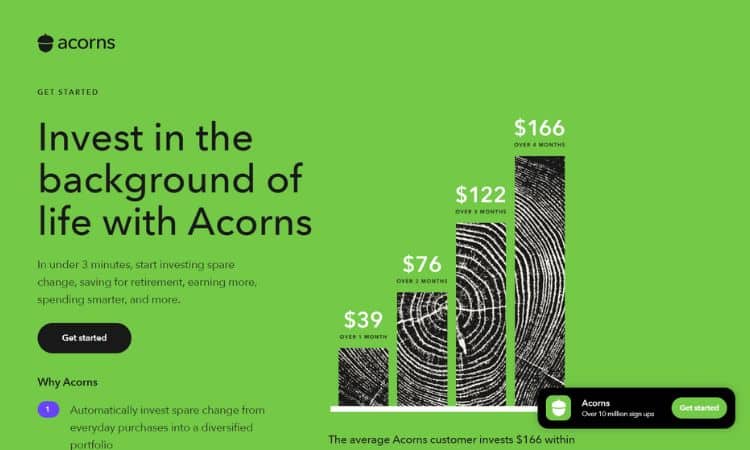 According to available information, Acorns, a day trading and investments app, has some eight million customers across the USA and holds assets worth more than $8 billion at any point in time. The Acorns app has a simple interface that swings into action when the stock markets open for day trading.
It displays ups and downs instantly and executes your day trades with deadly accuracy and speed. This reduces your chances of losing while boosting opportunities to make money on day trades. You can begin investing with as low as $5 on Acorns and get a welcome bonus of $5 on the first trade.
3. Plynk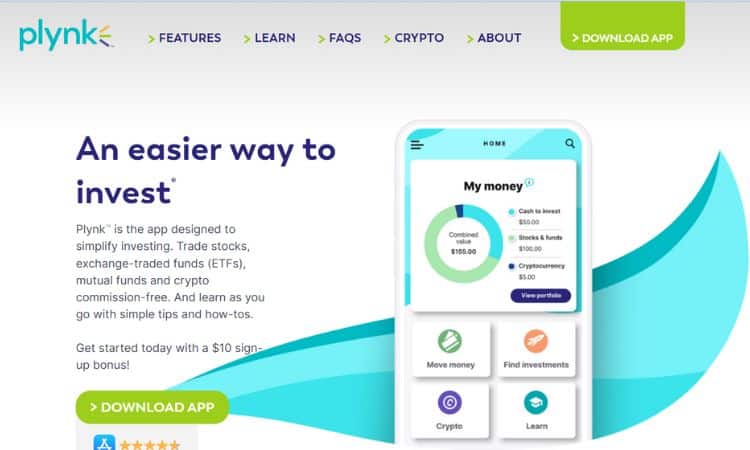 Plynk is another superb day trading platform that comes loaded with features. However, some of these features aren't free to use. Instead, you can access them for as low as $2 only per month, which is fairly reasonable considering the facilities that you can get. Plynk is specially designed for beginners in stock trading and helps you a lot in day trades.
The app displays live all the swings in the stock market and shows the positions of your holdings. You can buy or sell quickly or even hold stocks in your portfolio as long-term investments. There're also facilities to invest in ETFs, Mutual Funds and other assets on this app.
4. SoFi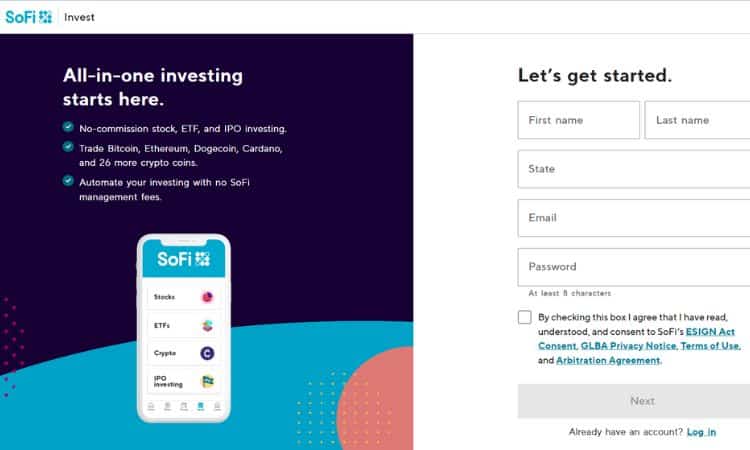 For automated day trading and safe investments, try SoFi. They also have lots of welcome bonuses and other rewards for users of this app. You can engage in day trades easily using their automated trade functions. This means you can set the buy and sell price and focus on work and other things.
Ensure you have enough funds in your account for these trades when the prices of a stock drop, SoFi's automated trade feature will buy at your selected price and sell when the prices rise to your expectations.
5. Public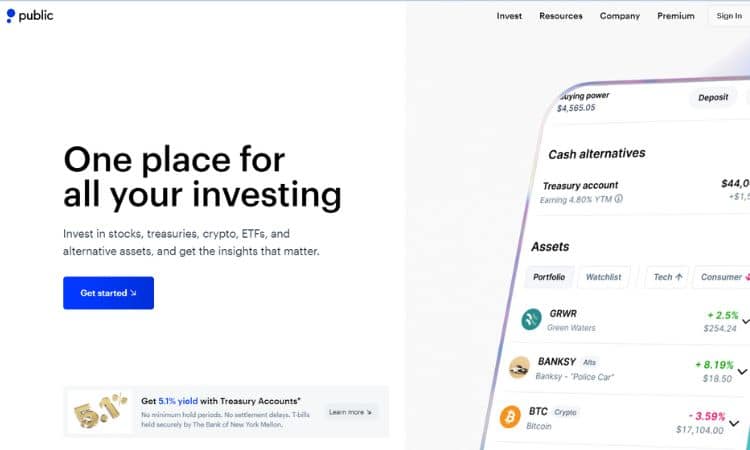 Public.com comes loaded with freebies. You can get free stocks worth $3 to $3,000 simply for signing up and funding your Public.com account. This is a social theme-based investing and day trading platform that strives to minimize your risks of losing on day trading.
They do this by providing the right kind of advice on stock movements and projections for the day, based on various factors that affect stock markets in the world and especially in the US. As a beginner, you might wish to benefit from their zero commissions feature and make some money by investing small amounts of money on day trading.
More Day Trading Platforms
In addition to these top five-day trading platforms I mentioned above, you might also wish to consider any from this list. However, these day trading and stock investment platforms are for intermediate to advanced or professional investors. They offer more features but could cost some money.
Some of these day trading platforms also require you to invest large sums of money. Therefore, I suggest you read the terms, conditions and other details carefully before signing up. There's no point in subscribing to a superb platform but investing small amounts or trading without proper knowledge of stock trading.
Learn Day Trades & Stocks Investing
One more thing that you could do is learn day trades and stock investing by attending a short course. These are available online or even as classroom courses. Here, you will learn the basic and advanced skills that could help you to make a lot of money in stock trading, especially through day trading on US stock markets. Some platforms also give access to global stock markets that welcome American investors.
One more benefit you can get from these courses is that you learn how to hedge your investments both, during day trades as well as futures and options trading. That increases your chances of making more money and preventing any losses due to wrong judgments on stocks.
Beware of Trading Addiction
Yes, beware of addiction to day trading on stock markets. As a matter of fact, thousands of Americans indulge in day trades as though they're gambling. They don't pay attention to market movements or advice and instead, are interested only in quick profits.
That's fine as long as you're making a profit. However, a lot of Americans try to cover their losses by investing more and more and continue to lose due to wrong trades and faulty trading decisions. This develops into an addictive pattern, similar to gambling and can wreak havoc on your personal finances.
Conclusion
The US has very vibrant and dynamic stock markets where some of the topmost companies of America and the world are listed for trading. With proper knowledge, skills and a good day trading platform, it's possible for everyone to make some money through day trades. Begin as a beginner and advance further as you gain knowledge of day trades and stock trading.