E-commerce is booming in India and one of the top e-commerce site Flipkart has sold merchandise worth of over $1 Billion last year alone.
Flipkart has over 3 crores registered users and they ship more than 7 to 8 million shipments every month.
Hence you can make out there is a great business opportunity for individual sellers or small business who want to grow the sales of their products.
The market size is increasing day by day so you can take a plunge and expand your own business like never before.
In this article we tell you how you can sign up for Flipkart Seller account and start selling your products online as a seller.
What a Flipkart seller have to gain?
If you are a small business and want to sell your new or existing products then you could tie up with a giant like Flipkart and leverage its enormous brand power.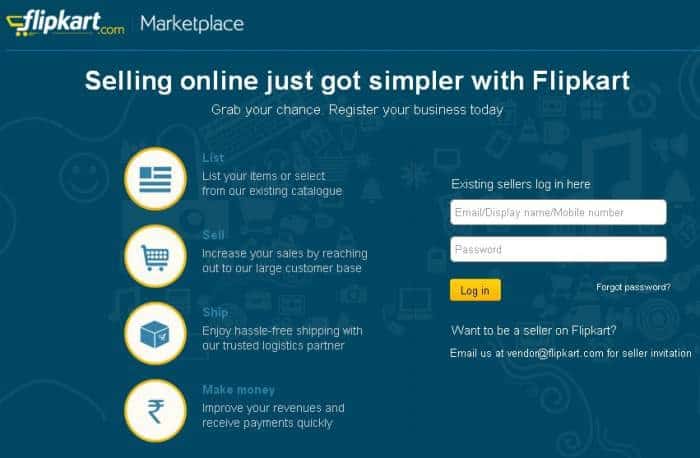 With the help of Flipkart you can build a brand of your own business.
Flipkart gives you support from getting off the ground to helping inventory levels and managing cash flows.
Your own online business would increase manifold. In fact it is a mutual win-win situation for both.
So grow your own business on the back of Flipkart.
Here is the signing process.
Signup process to become a Flipkart seller
Let us begin with how to become a Flipkart Seller. Flipkart do require certain details and documents.
The registration process is fairly simple. Two entities can sign up one is individuals like you and other one is business houses.
But in this article we will focus only on individuals not businesses.
It is easy 3 steps process.
Step 1: Account Creation
Visit https://sellers.flipkart.com/. Give your name and email address and submit it. Flipkart would send you an email for confirmation.
Step 2: Verification of Details
Here you click on the link that you got in your inbox and confirm it. Then you need to verify your mobile number, provide the complete address & select the products you want to sell on Flipkart.
Step 3: Seller Information
Completing Step 3 requires some effort. In order to complete the registration process you have to give some details. These details are mandatory.
Business Details
Business Name: This compulsory and come up with some name.
PAN: PAN number is also compulsory
TIN: Leave it Blank (if you don't give the TIN then you will get to sell only books and unstitched clothing, so make a decision) I recommend to give the TIN (or apply here) because you get to sell Fashion & Lifestyle products which is the mainstay of any online ecommerce website.
TAN: Leave it Blank
Bank Details
Account Holder Name: Your Name
Bank Account Number: Give You Bank Account Number
Retype Account Number: Retype it
IFSC Code: IFSC code is necessary, ask your bank if you don't know
Bank: Not Necessary but you can mention
City: You Can Skip
Branch: If you like mention it
Store Details
Display Name: Display Name is compulsory
Store Description: It is also compulsory to come up with something to write.
That's it after you have completed the step 3 now wait for approval by the Flipkart. You need to wait until Flipkart responds you. Till then your account status is pending.
List of Documents Required (as an Individual)
Identity Proof
Signed declaration that individuals owns and manages the bank account in the name of business
Bank Statement for Flipkart payment gateway.
Passport, PAN Card, Voter ID etc
Address Proof
Telephone or electricity bill
Ration card etc
Here I would like to caution you don't take it lightly because if details are not correct or misleading then Flipkart won't approve your account.