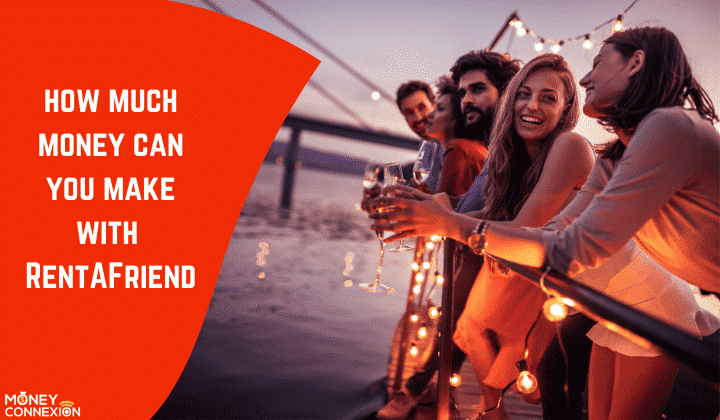 There's a rather rude but fairly true quote that I once read. It reads: "Fake is the new trend and everyone seems to be in style." I bore the full brunt of this fact when I found that quite a few of my so-called friends were only what're known as "fair weather friends."
When you run into unexpected doldrums and seek support, most of these "friends" suddenly seem to vanish, get too busy to take your calls or respond to emails or just shun you outright.
It was perhaps these experiences that made me look for friends who would spend some time with me. That's when I found RentAFriend, a website where you can actually pay a person to give you some companionship and help enjoy life better.
Why Rent a Friend?
You might wonder why would a person like me who's fed up with fake friends actually pay to rent a friend? There're many reasons. For one, you can find a companion or friend in most cities of the world. Secondly, most people that rent their friendship are also lonely and sometimes, sad. Thirdly, I don't have much expectations from a rented friend: means, there're no disappointments. 
I would rather spend money to rent a friend than splurge on friends that are fake.
Surprisingly, I found I'm not the only one who's looking to rent a friend. Indeed, there're millions of women and men of all ages and nationalities as well as age groups who look for healthy companionship.
Therefore, I decided to offer my friendship on rent and see how the system actually works. The below narrative is from my personal experience. And of course, I do make some money by renting my friendship, though it's not as much as I would expect.
At the same time, I sometimes "buy" friendship too. And the experience is worth every penny.
If this sound tempting enough and you would love to make some money on the side, here're some tips on how to make money by being a friend through RentAFriend.com
Making Money on RentAFriend.com
Before I tell you about how to make money on RentAFriend.com, here's something important to remember. The process of selling your friendship isn't all that easy and often, you may not make as much money as you would expect.
Obviously, you're not the only one selling your friendship on RentAFriend. There're countless other people of all ages.
The minimum you can get from RentAFriend.com is $10 per hour. And you can demand as much as $50 per hour or even more. However, clients will choose you on basis of your interest and activities.
For example, outdoor activities such as trekking and camping would fetch more money while mere companionship to help your 'friend' explore a city fetches lesser.
So, let's start by exploring the various steps on how to make money by being a friend and renting your companionship on RentAFriend.com
Steps to Make Money on RentAFriend.com
Actually, it's very easy to make money by selling your friendship on RentAFriend.com. All you require is a couple of good pictures that you can upload on their website, a valid email ID and a mobile phone number.
Now, let's look at the various steps to sell your friendship on RentAFriend and make money.
Step-1: Read Rules & Regulations
Unfortunately, there're lots of misunderstanding about renting your friendship to make money. A lot of people mistake RentAFriend.com to be some sort of an escort service that provides women and men for sexual pleasures. That's absolutely untrue.
Therefore, you need to fully understand what RentAFriend.com is all about. In brief, it is a platform where you can meet people from within your city, country or even foreign travelers and share some time with them.
Also Read: How to be a Sugar Baby & Find a Sugar Daddy that Makes you Rich
Step-2: Read Online Reviews & Experiences
Also read honest reviews and personal experiences of people that are making money on RentAFriend.com or paying to buy friendship. This would give you good idea of what you can experience and what you can expect. Remember, this is a very important resource because you'll be dealing with perfect strangers and you don't know what to expect.
While most people who will buy your friendship are generally well meaning. Often, they're strangers to your city and want someone reliable to take them around the town. They wish to cherish memories of the visit and hence will rent your friendship.
But there're others that may have some other motives. Therefore, you'll need to be very cautious while dealing with them.
Step-3: Register Online
Once you understand the pros and cons of selling your friendship through RentAFriend.com and wish to go ahead, register on their website. The online registration form is rather simple. It asks you to assume a nickname or online identity and provide some basic details.
Your date of birth is very important because that decides who wants to rent your friendship. And you can select the gender of the what type of people can rent your friends. Understandably, RentAFriend.com also caters to the LGBT community. So be careful when you're selecting the type of people who can hire your friendship.
Indicate what activities or like and dislikes you have. This makes it easier for a client to choose you as a rented friend. A word of caution: don't opt for any activities that you're unaware of or have no experience.
The final step is to upload a couple of pictures of yourself. I uploaded two pictures. These pictures have to be four inches wide and six inches tall. You can crop the pictures online.
Step-4: Two Factor Verification
RentAFriend.com asks you to verify your account using two different factors. One of them is by giving your mobile number. It is mandatory to mention your mobile number since that's where clients that wish to rent your friendship will contact you. A six-digit One Time Password will be sent by SMS on your mobile number. You have to key in this number to verify your mobile phone.
The second is email verification. RentAFriend.com will send you an email to your registered email ID. Click on the link to verify and activate your account. Once these two kinds of verification are done, you can start renting your friendship.
Step-5: The Contact
The client will contact you by email, phone call or SMS. They will provide their RentAFriend.com credentials so you can get to know who is trying to rent your friendship. There're no obligations or compulsions on accepting a friend request.
You can turn down any request, should you be busy or have some misgivings about the person. However, be careful of turning down too many requests. This can lead you to lose your RentAFriend.com account and you won't make money.
Step-6: Getting Paid
Joining RentAFriend to sell your friendship is 100 percent free. However, anyone that wants to hire your friendship pays a small fee to RentAFriend.com to find friends and contact them. RentAFriend.com also doesn't charge you any commissions on your income.
The client will pay you directly for the number of hours they rent your friendship. Often, they will send some money as a retainer and the balance will be paid during the course of time you spend with them. You have the option of giving your friendship free too.
Step-7: Should I Charge?
This is a dilemma I face often. A kindly and very attractive woman from abroad once took me to some of the most expensive restaurants and other places in town. In fact, I would feel guilty at the amount of money she was splurging on me. Hence, I decided not to charge though she was generous enough to offer me money for a full 10 hours plus a tip.
But others are down-to-the-earth and won't offer anything more than some food and drink. While few others won't even bother to ask if you're thirsty or hungry. In such cases, I'm left with no option than to charge.
Usually, the person will pay you the hourly rate for your friendship. But you have the option not to charge if your client will take you to some very expensive place and bear all your expenses. These could be anything from a museum to sites of historical interest, latest movie or a shopping spree.
Wrap Up
Before concluding, I'll remind you again that it's not as easy to sell your friendship as you may believe. RentAFriend.com isn't a dating website or an escort service. It's only for purely Platonic friendships where someone pays you to spend time with them.