Becoming a real estate agent or broker is one of the hottest business now a days. Real estate prices are at all time high and people are investing money in real estate like never before. There was no better time than now to become a high paid real estate agent.
What does a Real Estate Agent or a Real Estate Broker do?
A real estate agent is someone who bridges the gap between a property buyer and a property  seller. People around the world search for properties either through popular real estate sites or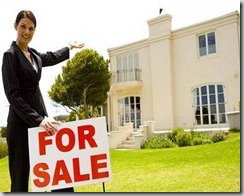 through trusted brokers.
For many of the people a local estate agent is much better choice than going through a site. There are many advantages for buyers if they book a property through a real estate broker. They can even help the buyer and seller to finalize the registration process and other formalities.
In simple words, more than 75% of the properties are booked and leased through real estate agents. And here is the golden opportunity comes to earn money through this business.
How much real estate agents earn?
You will not believe but real estate business have made many people millionaires. People earn anywhere from $500 to $50000 per month through this business. The earnings for a real estate agent comes through brokerage either from a buyer or seller or from both the parties. In most of the cases, he receives the brokerage from both seller as well as buyer.
A real estate agent charges anywhere from 1% to 2% of the sale value of the property and if there is lease agreement, they charge 1 month to 3 months rent depending on the tenure of the agreement. A single deal can make you earn anywhere between $200 to $10,000 depending on many factors.
How to become a real estate agent?
Its very easy to become a real estate agent and you don't really need an office in case you can't afford this. Many of the estate agents work from home but office give many advantages over home.
The first thing you have to look at is supply. If a client comes to you for the need to buying or renting a property than you must have enough properties in your hand to show to your clients.
You can either give a local ad or distribute handbills in your area so that people know about you and if anybody who want to sell or lease their properties like flats, office, bungalow etc. they can come to you. You can give other advantages to your clients over others agents in your area so that they can give you more preference.
You can even contact all other estate agents and property dealers in your area and tell them you have started this business recently and you have got many enquiry from other clients. If they have any requirement they can contact you OR even if you have any requirement they can contact you and share the profits.
There are many things you can think about to expand your real estate business like marketing online or in newspaper or in your local cable channel, getting a stylish visiting card, creating videos of all available property etc.
All you need is a complete dedication to your profession, good communication skill & good relation with people. Some of these tips can help you to become a better real estate agent and you can make big money through this career.