To be honest most of celebrities' marriage is just a matter of convenience. They really do not take it seriously as average folks like you and I would.
Many wannabes aspire to be like them. Although you know things about them that is out in media but you tend to ignore the dark side.
No one wants to talk about their underbelly or personal lives. So in this article we decided to write about 10 most expensive divorces in the world.
Most of these public figures are either movie stars or business tycoon. These men paid through their teeth to settle their divorces.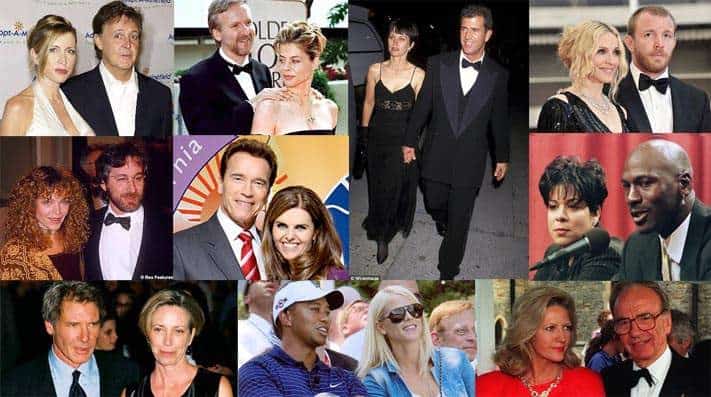 Most Expensive Celebrity Divorces
You simply can't imagine how big the amount is. So here is the list of 10 most expensive divorces in the world.
10. Paul McCartney & Heather Mills for $45 Million
Beatles was one of the greatest music bands in the history. Paul McCartney was one of them.
He divorced his wife Heather Mills for $45 Million. They got married in the year 2002 and just after 3 years they decided to split.
The divorce was very painful and some even say ugly. Gossips suggested that Heather was about to walk away with $100 million in settlement.
However she got only $45 million in the divorce settlement. She also gave birth to a baby girl the year after their marriage.
9. James Cameron & Linda Hamilton for $50 Million
Number nine is James Cameron and Linda Hamilton. You know James the guy who made Titanic, Terminator, Avatar etc.
James married Linda in the year 1997. Unfortunately their marriage lasted for just 18 months.
The divorce was really ugly and she called Cameron a "miserable man" because of his affairs.
An official settlement was reached between these two for $50 million.
What is interesting is Cameron got a paycheck of $100 million for the movie Titanic and half of the amount went to Linda.
8. Harrison Ford & Mellissa Mathison for $85 Million
Harrison Ford and Mellissa Mathison were married for over 20 years.
Mellissa knew Ford before he was a star. A final settlement was reached between the two.
As a part of deal Mellissa would receive future earnings of his unreleased movies while they were still married.
But finally she decided to walk away with a total amount of $85 million. So it allowed Ford to pursue his career freely as he would like to.
7. Madonna & Guy Ritchie for $92 Million
You would be surprise to know that here a woman paid to a man for the divorce settlement.
Madonna had to pay $92 million to the director Guy Ritchie who was her husband. Her husband is a British film director and Madonna claimed that her husband is not very fond of her music.
Some are saying that the settlement amount was not $92 million but only $72 million.
So you can't be sure for the amount he received.
6. Steven Spielberg & Amy Irving for $100 Million
Steven Spielberg you all know him. No one can forget Indiana Jones and Extra terrestrial.
Do you know that he lost half of his fortune because of the divorce with Amy Irving in the year 1989?
He had to pay $100 million that time. The couple remained married for only 4 years. The divorce took a financial toll on the Spielberg.
But he moved on and now he worth over $3 billion.
5. Tiger Woods & Elin Nordegren for $100 Million
As you all know when it happened it was all over the news.
Tiger Woods and his affairs with adult film stars were out in public's eye. In fact he had to come and apologize for his behavior.
However it was too late and her wife Elin Nordegren decided to end their marriage in the year 2010 with a settlement of $100 million. The marriage was only 6 years long.
His wife and ex model will receive the money for taking care of their children.
4. Michael Jordan & Juanita for $168 Million
The basket ball legend Michael Jordan played for Chicago Bulls and then Washington Wizards.
After 17 years of the marriage he splits from his wife Juanita with a settlement of $168 million.
She also received homes in Chicago and custody of three children along with the divorce money.
As you know Michael Jordan is a great athlete and according to the Forbes he worth over a $1 Billion.
Perhaps he is the richest sportsman alive.
3. Arnold Schwarzenegger & Maria Shriver for $250 Million
The terminator guy and governor of California had to pay $250 million to his wife Maria Shriver.
After the marriage of 25 years they were separated in the year 2011.
She received half of what Arnold had that time.
2. Mel Gibson & Robyn Moore for $450 Million
You will be surprised to know they remained married for over 30 years. They have seven children from their marriage.
However in the year 2006 they decided to get separated and in 2009 she filed for the divorce.
The reason was Mel Gibson was having an affair with other woman.
Robyn Moore was given $450 million in the settlement. She also got the half of any film residuals Gibson received.
By the way I liked his movie Brave heart. Now he is married to Oksana Grigorieva.
1. Rupert Murdoch & Anna Maria Torv for $1.2 Billion not Million
The first one in our top 10 list is the divorce of media tycoon Rupert Murdoch and Anna Maria Torv.
Rupert is well known and if you don't know him then you definitely know the Fox News. He is the owner of this cable news network.
Rupert a media tycoon had a net worth of $8 billion when the divorce took place with Maria.
After the marriage of 32 years they got separated in the year 1999. As a settlement Maria received over $1.2 billion. Yes it is billion not million.
Although there are many others but we included top 10 which are most famous.