If you have allergies, you're not going to like this idea to make more money, but for anyone else who has cared their lawn, it is a viable option.
It can be as simple as mowing a few extra lawns in the neighborhood on your Saturday off to having a large landscaping business that offers all sorts of different services.
A lawn care business is another type of business that can start out small and grow fast. It's a competitive industry, but it's not impossible to break into.
If you love gardening and landscaping, you will enjoy this business even more. If you do landscaping for an organization as your day job, this can be a great part-time business.
One of the easiest businesses to start is a lawn mowing business. However, because it's easy to get started, there is more competition making it harder to get clients.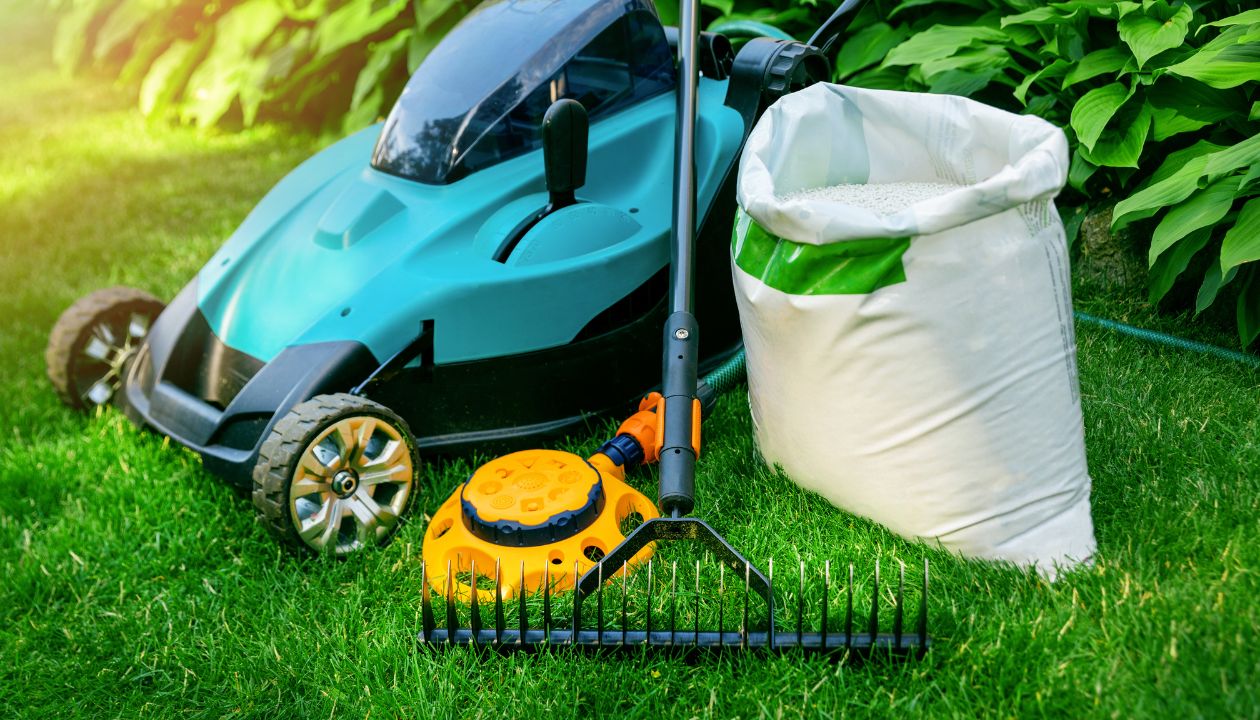 Table of Contents
How to Start a Lawn Care Business?
If you can set yourself apart from the crowd, you can start a lawn care business that is successful.
Getting Started: Tools and Equipment
Before you can start anything, you have to have the right equipment to cut the grass. You may already have a lawn mower, but there are a few other things you'll need, in addition, to clean up the yard after mowing and take care of other foliage.
Vehicle for transportation (the truck is best)
Blower
Trimmers
Mower
Hand tools including rakes, shovels, etc.
Edgers
Safety equipment such as gloves
If you plan to start with just a few yards, this should be fine. However, as your business grows and jobs get bigger, there are other things you may need, too.
Trailer – to carry extra tools
Chainsaw
Landscaping materials
Over time you may also want to upgrade your equipment such as adding a larger trailer to hold extra tools, getting a commercial riding mower, or adding other landscaping features such as pest control, fall cleanup, etc.
You may also want to expand your business in the winter to include snow and ice removal.
Map Out a Plan
Unless you only plan on mowing a couple of your neighbor's yards every now and then for a few extra bucks, make a business plan. A plan will help to ensure your business is as efficient as possible.
Who will you market to? – How far are you willing to drive?
What services will you offer? – Cutting grass, landscaping, clean-up, etc.
When will you complete your services?
How will you schedule your jobs to be most efficient?
Get Clients
You won't get any work or money if you don't find clients. The best way to stay in business is to build a strong client base that stays with you for years. It's easier to keep a client than to get a new one.
However, if you don't get clients to start, you'll have no clients to keep. Start by spreading the word about your new business. Tell friends, family, and neighbors, put an ad in the paper, send out flyers, make a Facebook page and tell all your friends, etc.
The best way to start is with word-of-mouth. If you can get a couple of neighbors or friends to hire you and you do a good job, they'll tell all their friends and so on. The more they like your work, the more work you'll get.
How will you Charge Clients?
There are several things to consider when it comes to charging for your services including:
The location
How many other clients are in the area
The clients expected quality
The size of the yard
The number and types of obstacles in the yard
Get a base price to start by asking other contractors. Be sure to charge more for added services such as trimming, debris pick-up, etc.
Be willing to work on the price with each client instead of being too strong with a price, especially in the beginning when work is work even if it pays a little less.
As your business grows, you'll have the experience and testimonials for bigger jobs and possibly be able to talk clients into adding services.
Stand Out from the Crowd
Since the lawn care industry is so competitive, it is important to stand out from the crowd. This can be done in several ways, and by doing these things, your clients will prefer your services and tell all their friends why you're better.
You might even get new customers who were unhappy with their old mower. Use these lawn-caring business tips to gain an edge.
Offer other services such as fall clean-up, bagging cutting grass, trimming, tree removal, weeding, pest control, etc.
Be flexible. If a client only wants you to mow every other week, give them that option, but since it's harder to cut taller grass, you can charge a little more. If they are planning a party for the day you normally mow, be willing to come the day before so that it looks ready and your not bothering their party.
Always get the job done when you said you would do it. Reliability is important, especially with cutting grass. Coming 3 days late could leave their lawn looking unkempt, something they were trying to avoid in the first place by hiring you.
Go the extra mile. If you see an old tree trunk or other debris, ask them if they would like that removed too, and quote a low price. If it's a small job that needs to be done and will only take a little extra effort and time, do it for them as a bonus. Of course, this is only for small, obvious problems. Some clients might be upset if you choose to cut down a blueberry bush or something else important.
Lawn Care Business Size
A lawn caring business can be as small as mowing 3 lawns every weekend or as large as having a truck, trailer, several employees, and constant, full-time work.
I recommend starting small, and if the business takes off, expand. However, there is nothing wrong with staying small either.
For more detailed information about running a lawn mowing business, refer to the following popular books/ebook guide from Amazon.in
Conclusion
Starting a lawn care business comes with many responsibilities and considerations. It is important to have a clear business plan, the proper resources, and a good understanding of the industry. Additionally, it is essential to make sure you are properly licensed and insured in your state. With the right planning and preparation, anyone can start their own successful lawn care business. Now that you know how to start a lawn care business, why not get out there and get started today?
FAQ
How profitable is a lawn care business?
Lawn care businesses can be quite profitable, with an industry revenue of $96 billion in the US in 2020 and an expected annual growth rate of 2.3%. Profit margins can be high, but starting and running a business can be challenging with expenses such as equipment, labor, and marketing. To maximize profitability, businesses should focus on providing a wide range of services and developing a strong marketing strategy while keeping costs low. However, profitability can vary depending on factors such as location and competition.
Is a lawn mowing business a good idea?
A lawn mowing business can be a good idea for those who are looking to start their own business or for those who are looking for a part-time job that can provide a steady income. The demand for lawn care services is high, and with the right marketing and customer service, a lawn mowing business can be successful. It requires minimal startup costs and offers flexibility, but it's important to be aware of the challenges that come with starting a lawn care business, such as competition and weather dependency.
How can I grow my lawn care business fast?
Growing a lawn care business quickly can be done by developing a strong brand, focusing on customer service, leveraging social media, networking and building relationships, offering additional services, and investing in marketing efforts. Building a loyal customer base through excellent service, expanding services, and reaching out to new customers through networking and marketing efforts will help you grow your business quickly.
What makes a successful lawn care business?
A successful lawn care business requires providing high-quality services, building a strong customer base, utilizing effective marketing techniques, implementing efficient business operations, and keeping up with industry trends and regulations.
Is it hard to get lawn care clients?
Getting lawn care clients can be challenging, but it is not impossible. The difficulty of getting clients depends on factors such as the level of competition, quality of service, and marketing efforts. It is essential to differentiate oneself from competitors, provide high-quality services, and actively promote the business to increase chances of attracting new clients.