Anyone that wishes to start a business needs a proper business plan. There's an old adage that says: "Failing to plan is planning to fail." Indeed, this axiom holds true for every element of life including entrepreneurship and business.
There're several reasons why a business plan is essential to open any enterprise. Furthermore, there're several types of business plans too.
Importance of a Business Plan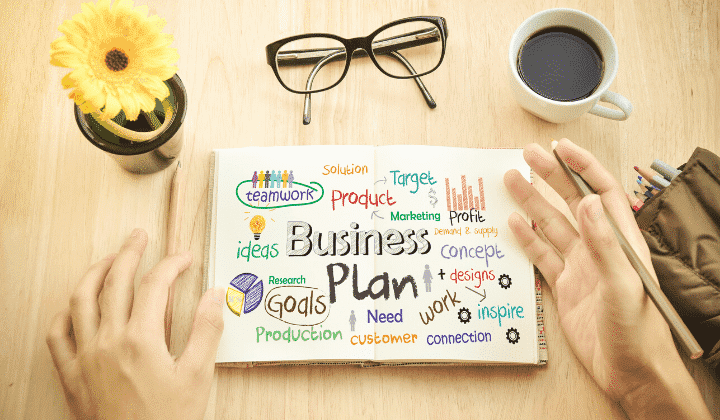 Let's begin with discussing why a business plan is important for your business.
A business plan, however simple or complex, forms the backbone of every business. It clearly identifies various vital elements that could make a business successful and flourish further. A good business plan highlights goals that any enterprise aims to achieve.
Unless you have a business plan, steering the business through its various ups and downs can prove extremely difficult. Whether you're a one-man business or will have other partners and staff, a business plan defines the role of each player and responsibilities.
And most importantly, a business plan also speaks about investment and returns.
Types of Business Plans
The above points are something that almost every business plan will contain. Understandably, there're several more elements too, which we will discuss later in this article.
You might wonder about the different types of business plans that can be seen around the world. Therefore, I will provide a glimpse into these business plans.
Business Plan to Attract Investments: These typed of business plans are useful when seeking Venture Capital or crowdfunding to finance your startup. They show how investing on the startup would benefit both, the financers or investors and customers or clients. These are very elaborate business plans and contain Resumes of startup owners and core leadership team, market research and analytics, future projections and lots more.
Bank Loan Specific Business Plan: As the term suggests, such a business plan has single purpose: to get a bank to provide loans or top-up existing credit facilities for expansion. When you apply for a business loan, the bank will want to make sure that you'll be able to repay within the period. Such business plans also contain details of the business, Resumes of core leadership, future projections, credit scores of single or more owners and repayment schedules.
Business Plan for Government Funding: Some enterprises are eligible to get funding from a government or a specific department. Generally, these are businesses where you'll require visas to operate in a foreign country, permits and funding. Other than the key information about the owners and business model, these business plans should also mention how the venture would help the people, generate employment and sometimes, exports.
One Page Business Plans: A one page business plan is usually written as a precursor to a complex one. Or it can be written for a business on which you'll invest own money or with funds from family. A simple, one page business plan is usually to remind self about the objectives and other information that serves as daily reminder to the owner.
Elements of a One Page Business Plan
Regardless of the type of business plan you're writing, these are some essential points you'll need to include. Obviously, the amount of information and its nature would depend upon the type of business plan.
However, as a rule, all business plans must include the following important elements that I have promised to mention. Here they are:
Synopsis of the business
Owners & their experience/ skills
Suggested investment amount
Products or services the business would provide
Target population
Cost of the product or service
Anticipated returns
Time necessary for business to make profits
Growth projections
Exit plan if the business flounders or fails
These are the top 10 essential elements to draft a superb business plan. Therefore, a one page business plan should also have brief mention of all these.
Writing Perfect One Page Business Plan
Before you get down to writing that simple and perfect one page business plan, prepare all the information on these 10 elements. That's because we'll have to merge two or more points under a single head. Remember that a one page business plan shouldn't be incomplete merely because of the small size.
Steps to Write Perfect Business Plan
Once you have the information ready, follow these simple steps to write a perfect one page business plan.
Step-1: Write Brief Synopsis of the Business
In just two or three sentences, summarize what your business is all about, location, nature of business and goals it will try to achieve. Mention a clear reason why you and other partners if any, are starting the business.
Step-2: Qualifications & Skills of Owners
Qualifications and skills of all owners come second on the list on a one page business plan. Here you needn't mention specific names. It would be enough to mention the main owner's name with the number of partners or stakeholders. And include the average number of years of experience and supporting educational qualifications.
Step-3: Capital or Investment
This is something you'll have to mention very clearly. Mention how much money other partners will invest with you. State contribution of each owner or partner separately and the percentage of stakes they'll hold in the business. This will decide how to distribute profits.
Step-4: Products, Services & Market
Since a one page business plan doesn't allow long descriptions, simply mention what're the products and services your business will offer and who are the target customers. Also add a line about why your products or services will find customers and a pricing policy.
Step-5: Returns and Growth
Now comes the time to write clearly about how much profits would your business actually be able to record within a year of operation. Be very realistic about this figure. Pitching for very high profits can prove disastrous because you're not sure whether customers will welcome your business. Be optimistic but not overtly overconfident.
Step-6: Time & Future Plans
Under this head, write how much time would be necessary for the business to establish itself on the market and future growth plans. Again, your research will prove handy when writing these vital elements. Writing about timespan for carving a niche and future projections indicate clearly that you're serious about the business.
Step-7: Exit Plan
This isn't really necessary for a one page business plan unless you're asking for funding, investments or loan. However, you need to have a clear idea on how you can stop this business and escape losses to self, investors and lenders, should the business fail for any reason. This assures lenders and investors their money is in safe hands.
Step-8: Review & Amend
And finally, it's also important to review and amend your one page business plan to make it perfect. That's the main reason I'm asking you to do a lot of research and keep all relevant information handy. A one page business plan is concise and short. However, it shouldn't be incomplete under any circumstances.
Closing Thoughts
When you write that perfect one page business plan, imagine you're writing it for own self. This tip helps you identify what elements are necessary and which ones aren't all that important. A well written one page business plan can open doors to wealth by ensuring your business booms and flourishes.