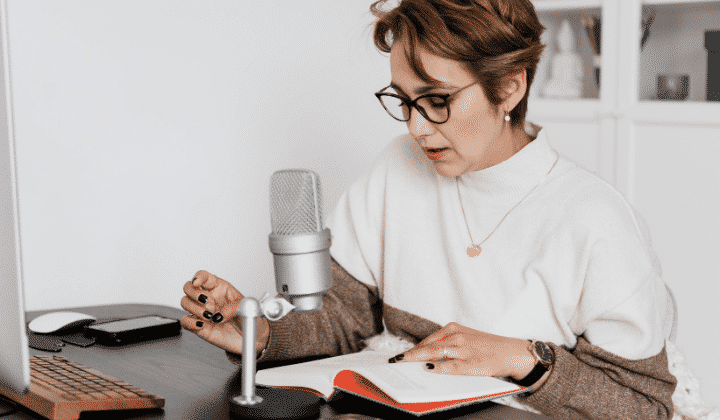 Do you have a clear voice and can pronounce words properly? If yes, then you can make a lot of money either full-time or side-gig as an audiobook narrator. Maybe you haven't heard about audio narration or know that it's very profitable work.
Continue reading this article. Because here I'll be writing about how to become an Audiobook Narrator in 2021 and make at least $33 per hour or even more.
Understanding an Audiobook
If you're wondering what's an audiobook all about and why you could work as a narrator, here're some answers.
An audiobook is like any other book. However, a person- female or male voices- narrates the book. That means, a person reading an audiobook actually listens to it like a story or lesson.
And similar to any other book, an audiobook is also useful for various purposes such as reading fact or fiction based stories, education, general knowledge, and much more.
While some audiobooks consist only of voice narrations, others and more sophisticated ones also have accompanying videos and graphics. This gives an audiobook reader the added pleasure such as watching a show or traveling through a city with a narrator speaking about the place or thing.
At the same time, an audiobook is slightly different from giving voiceover for movies or videos.
Audiobook Narrator v/s Voiceover
Basically, a voiceover is given by a woman, man or child to a movie or video. That's because a character in a video such as a movie might require a specific kind of voice.
Similarly, an audiobook is also narrated by many people- women, men and sometimes kids, to give the reader the feel of a story.
The only difference lies in the fact that an audiobook is in the narrative form while voiceover is always in the active voice or present tense.
Tips to Become an Audiobook Narrator
The basic requirement to become an audiobook narrator is a clear voice and proper pronunciation of words in the English language and preferably, a few foreign words too. If you meet these simple requirements, here's how to become an audiobook narrator.
Fine Tune Your Accent
All of us speak English with an accent. It could be an accent from your region of the US or something that comes naturally because you're a native speaker of another language. An accent is decided by a lot of factors.
The first thing to remember is that accent doesn't really matter to become an audiobook narrator. Because similar to voiceovers for movies, your voice would also be suitable for some character in an audiobook.
Therefore, fine-tune your original accent by speaking words a bit clear, since the pronunciation of a word differs also by accent. There are simple ways to do so. The commonest one is to listen to your own voice and try to find which words you can tune up a bit for your accent.
Read & Record
The second thing to do is start reading something aloud and recording it. You could read a story aloud to yourself every day and record the same.
The best way to read the story is by narrating it to yourself or someone else in the room. Some people use a mirror and narrate the story to their own image while recording it. This helps you observe facial emotions during narration.
Listen to your own recordings later. Do so at leisure because that would give you ample time to evaluate your own strengths and weaknesses. If necessary, you could also rope in the services of a friend or relative to listen to recordings of the narrations and give you some feedback to improve where necessary.
Memorize & Use Gestures
The third tip to become an audiobook narrator is to memorize a few paragraphs and use gestures while narrating. Because physical gestures help you to express emotions necessary for audiobook narration. Expressing and portraying emotions felt by a character in the audiobook is absolutely necessary if you want to be a successful narrator.
If possible, you can display the text you will narrate on the screen of a computer or even smartphone or Kindle Reader and similar devices.
The best way to narrate the story is to feel and behave like any of the characters. This requires a lot of practice. However, with sufficient training at home, you'll be able to get this vital skill ready in time.
Sign Up as Audiobook Narrator
And once you've done the three steps I mentioned above, you're all ready to sign up and become an audiobook narrator.  Understandably, it's not easy as one might falsely believe. Getting work as an audiobook narrator means you'll have to approach a few companies that require the skill.
Or you can sign up on a freelancing platform such as Upwork or FlexJobs.com and Fiverr. There're also some audiobook narrator vacancies to be found on LinkedIn. Below, I'll be listing some companies that hire audiobook narrators.
Apply with any of these. They have their own criteria and requirements for people to qualify for work. Read those carefully since you might also have to undergo an audition or test for your voice.
Places that Hire Audiobook Narrators
Here's a list of a few places where you can find a job as an audiobook narrator. You can apply at beginner or entry-level and move upwards as you gain experience in this field.
ACX: this is a superb company that also welcomes newcomers to the world of audiobook narration.
Audible.com: This service is run by Amazon, the largest online store in the world. They would hire native English speakers earlier. However, the company now also hires audiobook narrators from other English-speaking countries and speakers of a few foreign languages too.
Voices: One of the largest players in the audiobook narrations and voiceover industry, this is a fabulous company to work with. They also pay their audiobook narrators very well. Try finding jobs as an audiobook narrator here once you have a few months of experience in the field.
Upwork: As I mentioned earlier, Upwork is a large platform where freelancers showcase their talents and bid for contracts. They don't have any membership fees meaning you can create a free profile. The company charges between five percent and 20 percent of your earnings as its service fee.
Traditional Job Boards: You can find some audiobook narrator jobs on traditional job boards too. Try searching Indeed.com, Glassdoor.com, ZipRecruiter.com, Monster.com, and other top job boards for vacancies.
Freelancing or Fulltime Job
Whether to work as a freelance audiobook narrator or take a full-time job in this field is your choice. However, most audiobook narrators work freelance. The median pay for a freelance audiobook narrator is $33 per hour.
However, it's possible to earn as high as $76 per hour if you know some foreign language and meet the requirements. That's because a lot of books are now translated into Spanish and other languages. And there's a severe shortage of audiobook narrators that can narrate a book in languages other than English.
To become an audiobook narrator in a foreign language, you will require native or expert level fluency as well as good command of the English language. An audition test is compulsory and will be conducted by your employer before hiring an audiobook translator.
Equipment for Audiobook Narration
The requirements for equipment depend upon the nature of your work. If you'll be working full-time for a voiceover company or studio, then it's obvious you won't have to buy anything for the work.
At the same time, if you'll be freelancing, you'll need a superb computer with a high-quality sound card, microphone, noise cancellation equipment, and a silent place to work from. Make sure you also have superb audio recording software installed on the computer. The clearer your voice the higher your chances.
Use an external hard disk drive for creating backups of your recordings. They can also serve as a portfolio for future clients while you're freelancing.
Audiobook narration software is often provided by an employer. Hence, you needn't bother about it. The main requirement however is a superb computer and a high-quality sound card and microphones.
In Conclusion
Once you qualify and get some experience as an audiobook narrator in the US, it's also possible to get voiceover contracts for foreign videos and movies. Getting started as an audiobook narrator isn't really difficult. But your skills in expressing emotions and clear speech can help you become very successful in this field.