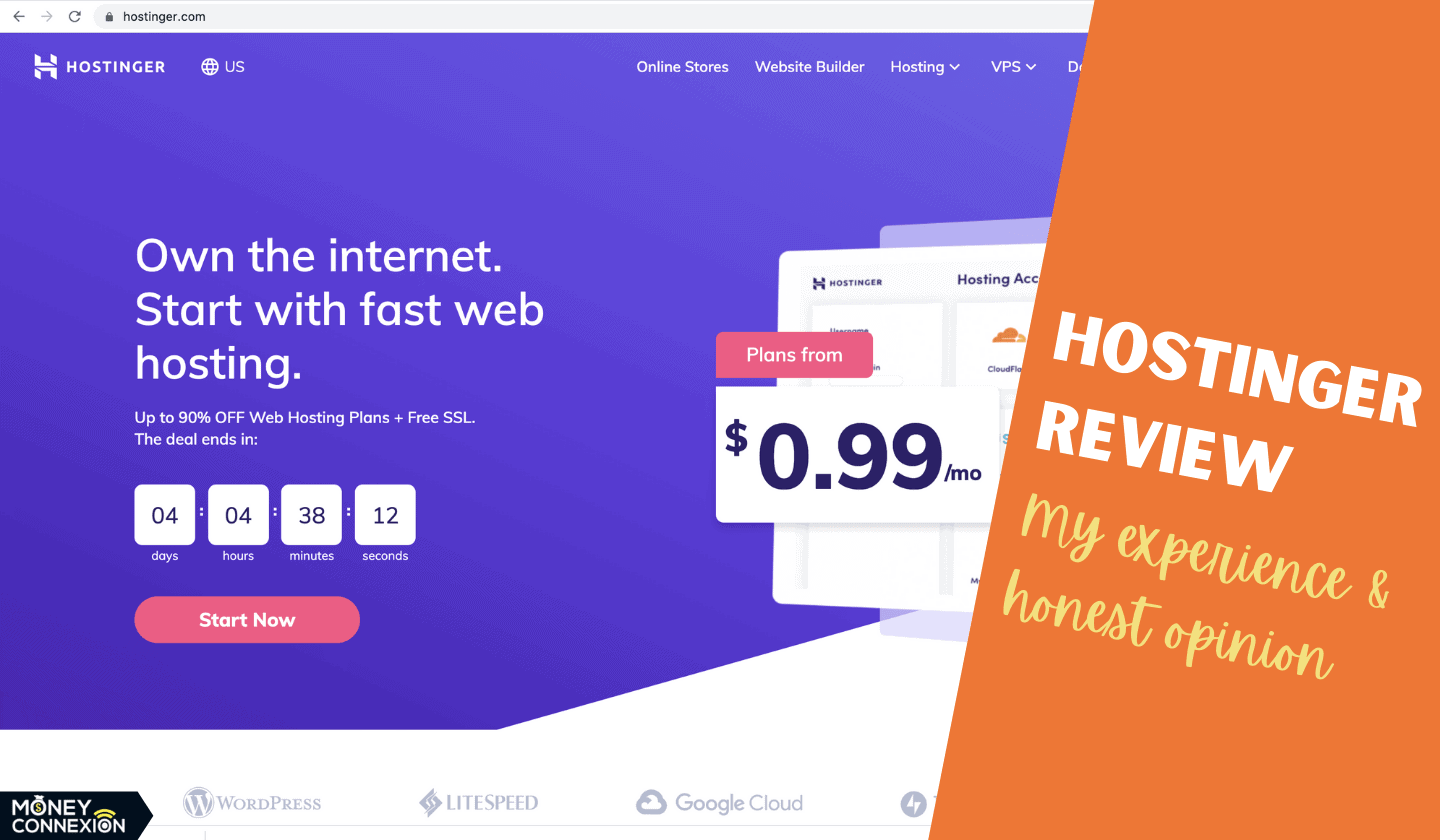 When I started my first affiliate website in 2004, I did not know there exist any other company than GoDaddy for buying domain and web hosting.
I used to target affiliate products from this website, so there was less traffic on my website but it was a targeted traffic. I did not have any idea about website uptime or page speed.
I continued with GoDaddy for almost 6 years. Even when I started my first blog technocian.com in 2009, I preferred GoDaddy.
But when I was learning about blogging, I came to know that web hosting plays an important role too, for the success of your blog. During that time, I came to know about various web hosting companies.
I read many bad reviews on various blogs and forums about GoDaddy web hosting. But still I continued with that.
But when I lost more than $5000 due to my web hosting company, I realized the importance of choosing a right web hosting company.
Soon I switched many of my websites to different hosting company.
Since 2010, I've worked on more than 100 websites including my blogs MoneyConnexion & SureJob and gained experience with over 30 web hosting companies.
Today, I will talk about one of the web hosting company that is perfect for a beginner. If you are starting a blog, affiliate marketing website, an e-commerce store or similar, this company is perfect for you.
Hostinger Review – My Experience & Honest Opinion
Hostinger is one of the most popular names when it comes to web hosting or any other related service. Ever since its inception in 2004, Hostinger introduced affordable hosting plans to people all around the world in more than 176 countries.
It has revolutionized affordable web hosting and changed the future of thousands of businesses around the world. Due to the cost-effectiveness and comparable services, it has become the prime choice of millions of people.
I have been using Hostinger on many of my niche websites with moderate traffic and I can say, it's perfect web hosting company in a budget. Some of important things that I like abut this company is 99.9% uptime, fast speed, excellent customer support and very affordable pricing.
I will discuss some of the best features and different hosting plans of Hostinger.
Hosting Plans and Rates
Hostinger offers some of the most affordable and advanced hosting plans that can possibly make your jaw drop. Before diving into the advantages section, let us try to compare the different types of hosting, and the plans included in them. 
1. Shared Web Hosting
It is probably the most popular type of hosting offered by Hostinger. You can get all the benefits of an independent website with unlimited visitors without paying too much price for the hosting. Hostinger offers three types of shared web hosting based on different prices, all of which are extremely affordable. You can choose any one of them and see what fits your requirements.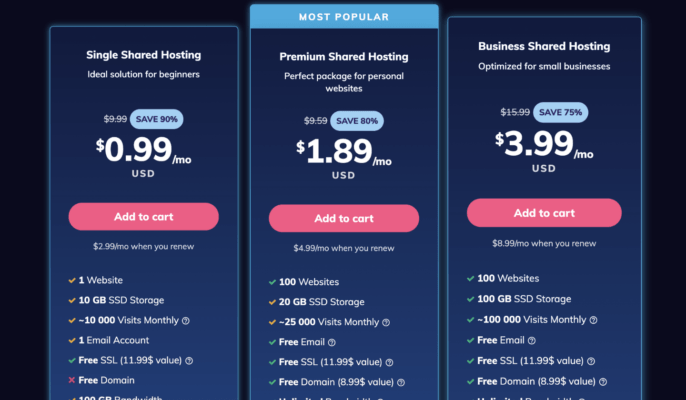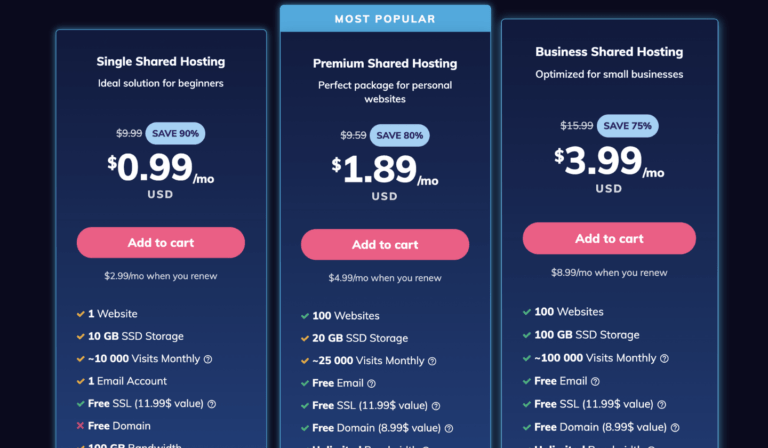 Single shared hosting
Price- $0.99/mo
Features
One website and one email account
10 GB storage
Free SSL certificate
Suitable for up to 10,000 monthly visitors.
WordPress support
Premium shared hosting
Price- $2.59/mo
Features
100 websites and free email accounts
20GB storage
Free SSL certificate
WordPress acceleration
Business shared hosting
Price- $3.99/mo
Features
100 websites and free email
Up to 100,000 monthly visitors
A free domain name and SSL certificate
Unlimited bandwidth
You can buy hostinger web hostinger from this link. This is my affiliate link that gives me little commission. You can get further discount through my coupon code PRITAMNAGRALE.
2. WordPress Hosting
If you want to start blogs or an affiliate website then I will strongly recommend you to buy WordPress hosting with hostinger. Not only that, you can start any type of business website or an e-commerce store with WordPress.
It's much easier to design a website through WordPress due to thousands of excellent free and premium themes. The plans are available at different prices and offer different resources that are optimized to meet WordPress requirements.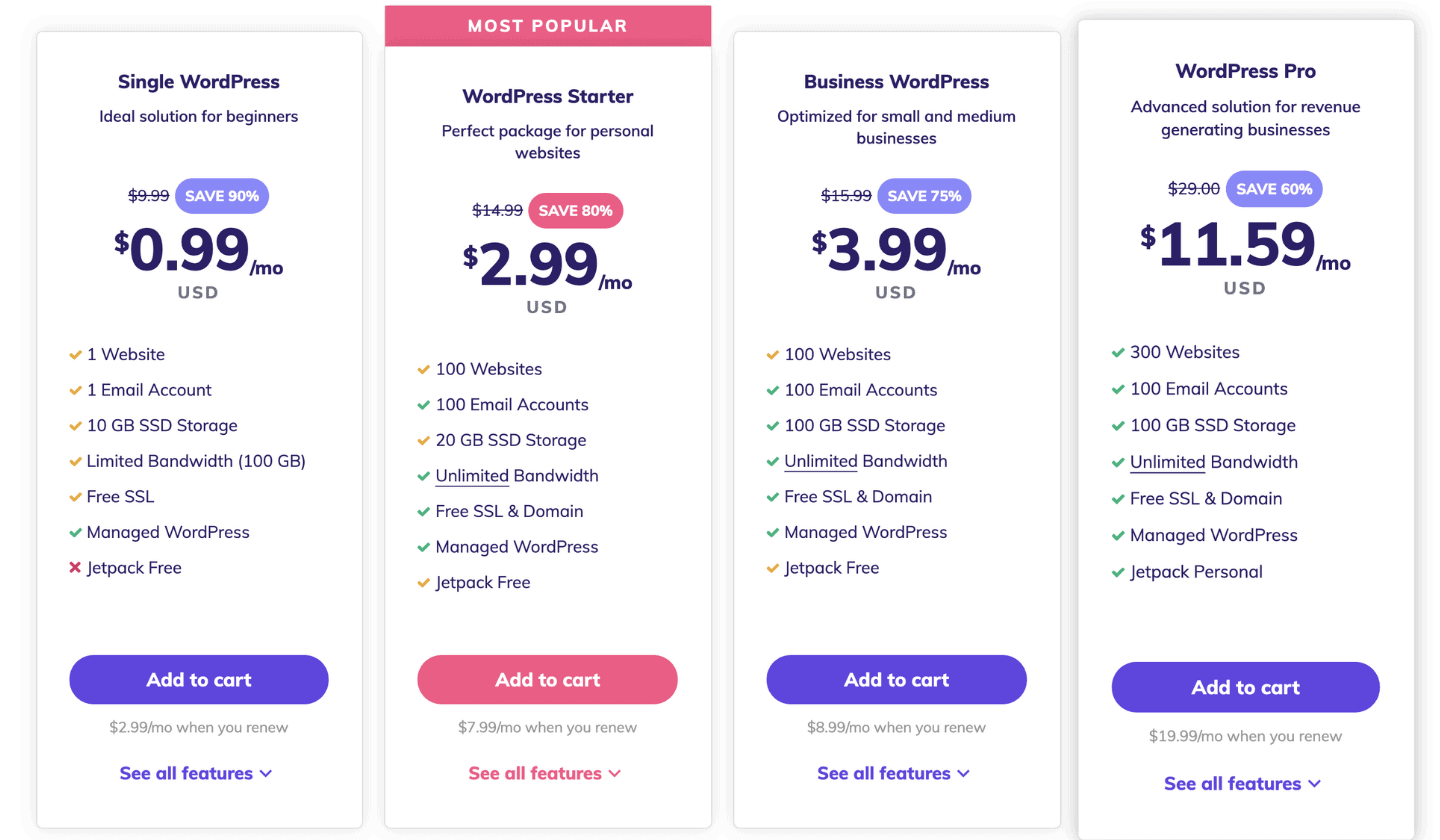 Single WordPress
Price- $1.99/mo
Features
Ideal for a single website with a free business email
10GB storage with a free SSL certificate
Pre-installed WordPress
Limited bandwidth
WordPress Starter
Price- $2.99/mo
Features
Ideal for 100 websites with 100 free business emails
20GB storage
Unlimited bandwidth
Free domain name along with free SSL certificate
Free Jetpack
Business WordPress
Price- $7.99/mo
Features
Ideal for 100 websites with free 100 email accounts
100GB storage
Unlimited bandwidth
Free domain and SSL certificate
WordPress Pro
Price- $11.59/mo
Features
Suitable for 300 websites with 100 free email accounts
100GB storage
Free domain and SSL certificate
Managed WordPress with personal Jetpack free
3. Cloud Hosting
Cloud hosting is an advanced level hosting that uses a connection of several devices to host a website. It is best for websites with high traffic and RAM requirements. Hostinger offers three different kinds of cloud hosting plans at different costs.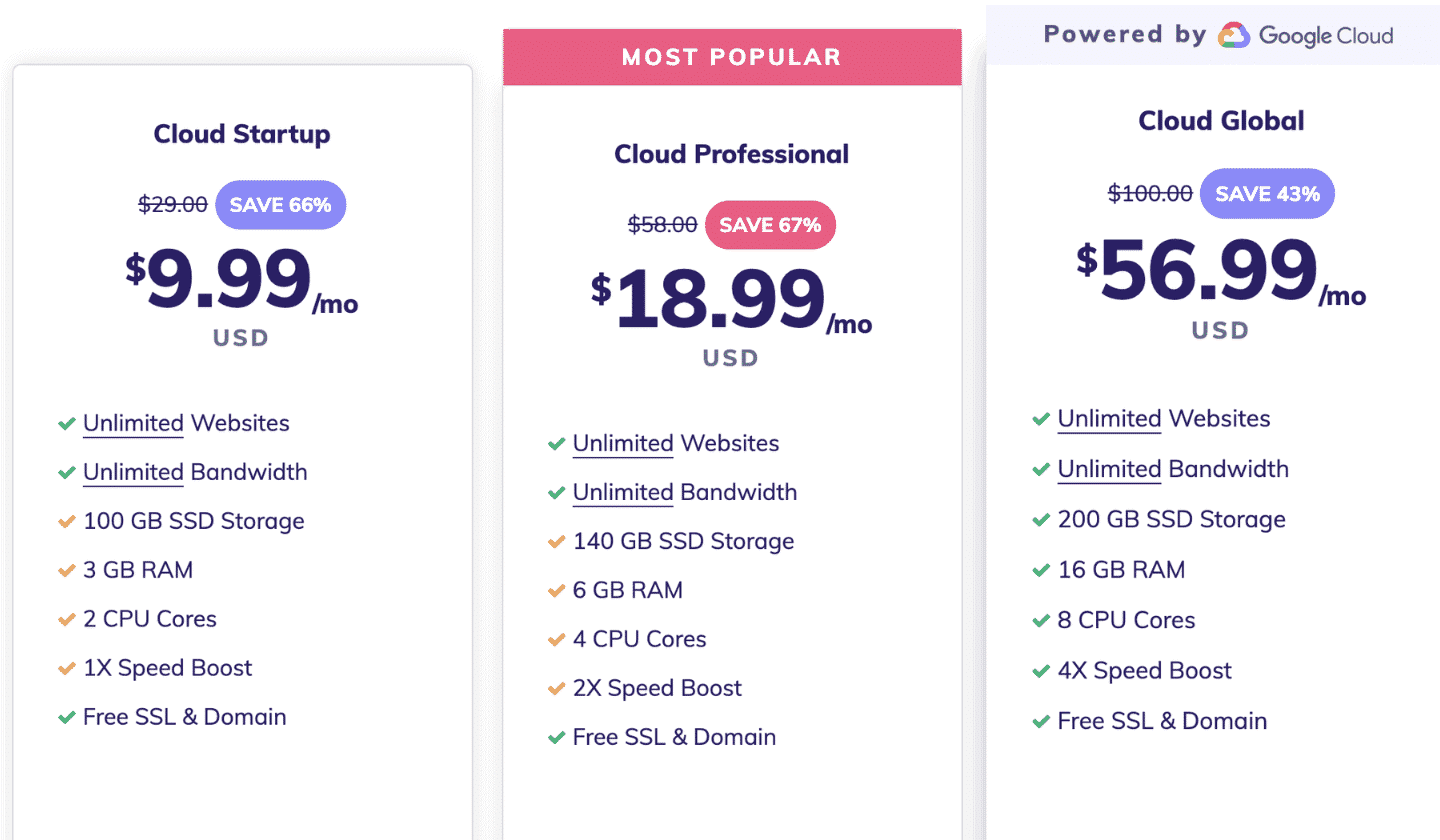 Cloud startup
Price- $9.99/mo
Features
Unlimited websites with unlimited bandwidth
100GB storage
3GB RAM
Free domain and SSL certificate
Two CPU cores
Cloud professional
Price- $18.99/mo
Features
Unlimited websites with unlimited bandwidth
140GB storage
6GB RAM
Two times speed
4 CPU cores
Cloud global
Price- 56.99/mo
Features
Unlimited websites and unlimited bandwidth
200GB storage
16GB RAM
8 CPU cores and four times the speed
4. VPS Hosting
Virtual Private Server hosting is for developed businesses that can no longer function well on a shared web hosting plan. It is similar to a dedicated server, except the fact that it provides better security and advanced features to a website. VPS servers only allow a limited number of websites to use resources like storage, RAM, processor, bandwidth, etc.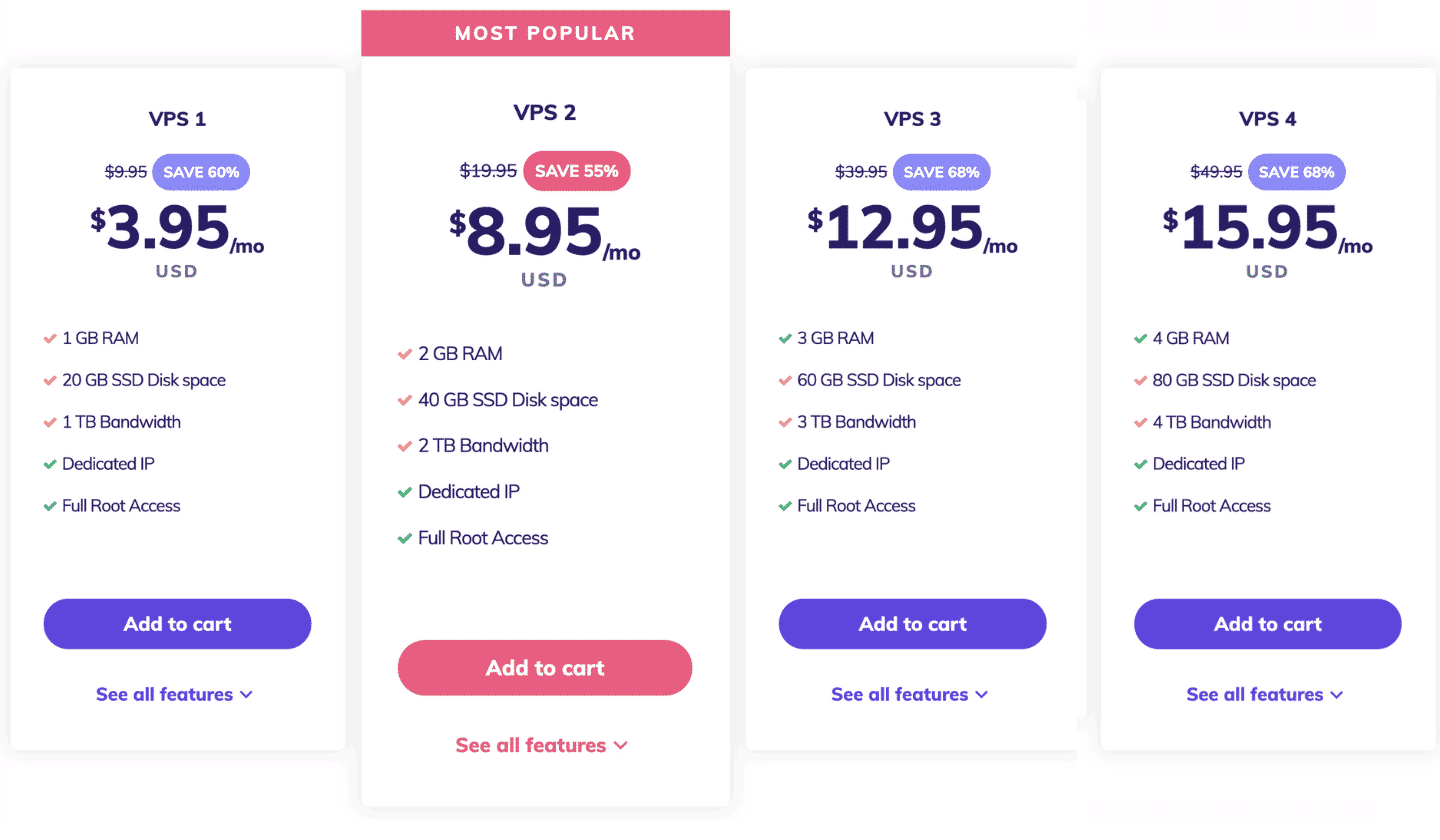 1 vCPU
Price- $3.95/mo
Features
1GB RAM
20GB storage
1 terabyte bandwidth
Full root access available
2 vCPU
Price- $8.95/mo
Features
2GB RAM
40GB storage
2 terabyte bandwidth
Full root access with a dedicated IP
3 vCPU
Price- $12.95/m0
Features
3GB RAM
60GB storage space
3 terabyte bandwidth
Full root access with dedicated IP
4 vCPU
Price- $15.95.mo
Features
4GB RAM
80GB storage space
4TB bandwidth
Full root access with dedicated IP
6 vCPU
Price- $23.95/mo
Features
6GB RAM
120GB storage space
6 terabyte bandwidth
Dedicated IP with full root access
8 vCPU
Price- $38.99/mo
Features
8GB RAM
160GB storage space
8 terabyte bandwidth
Dedicated IP with full root access
Windows VPS
It is an extended and cheaper version of VPS hosting. There are four different types of hosting packages in this type. It is suitable for budding businesses that don't want to spend much money and get benefits similar to VPS hosting.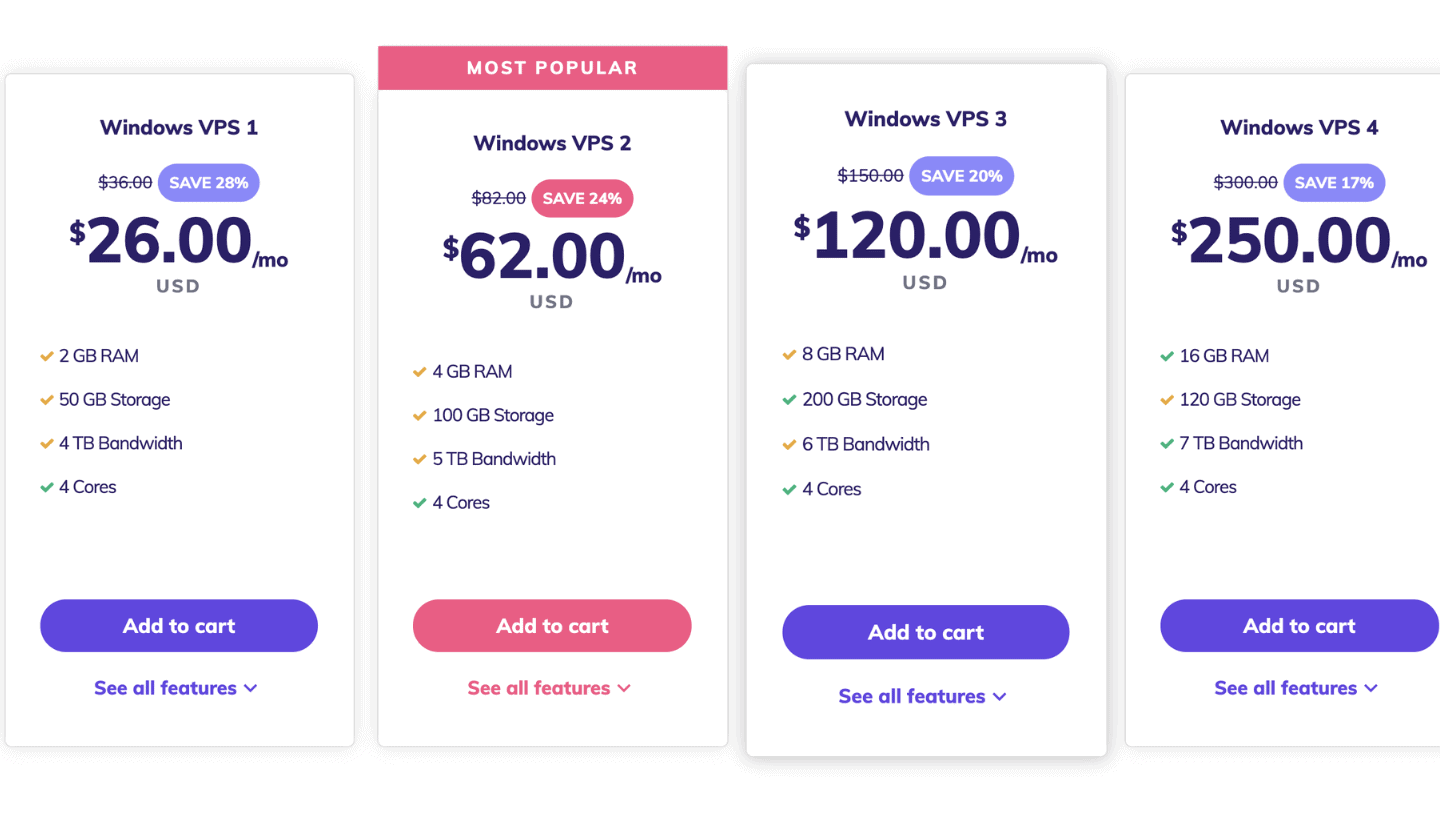 Windows VPS 1
Price- $26.00/mo
Features
2GB RAM
50GB storage
4 terabyte bandwidth
Windows VPS 2
Price- 62.00/mo
Features
4GB RAM
100GB storage space
5 terabyte bandwidth
Windows VPS 3
Price- $120.00/mo
Features
8GB RAM
200GB storage space
6TB bandwidth
Windows VPS 4
Price- $250.00/mo
Features
16GB RAM
120GB storage space
7 terabyte bandwidth
Benefits of using Hostinger Web Hosting
Now that you are familiar with the different hosting plans offered by Hostinger, it is now time to understand the different advantages of using it as a hosting provider. I have summarized all the pros of using Hostinger.
1. Uptime advantage
The market is filled with lots of free and cheap hosting services that boast about their offers. But, in reality, they don't function well and most of the time website is down.
This is why you should avoid those lucrative offers and try out Hostinger's affordable service. For the price you pay, Hostinger provides more than 99.9% uptime.
You can lose a considerable amount of money if your website uptime is less than 99%.
2. Website load time is fast
According to Google 'Improving your load time by 0.1s can boost conversion rates by 8%.' And if you don't care about page speed, I need to tell you that Google uses page speed as an important signal in the ranking of a webpage in Google search.
Hostinger is an amazing option for people looking for low-cost, as well as fast speed. When you purchase hosting on Hostinger, you can get a pretty high loading speed of the website.
Typically, the acceptable loading speed of any website is measured in milliseconds. You can expect between 40- 50 milliseconds. The number changes gradually when you change the hosting plan.
Plans that cost most at Hostinger, obviously, give better results.
3. All in one offers
In a package, you will get lots of offers that, otherwise, you have to purchase separately. For example free domain, free SSL for lifetime, free email IDs, analytics, and other features as well.
4. Money-back guarantee
With some exceptions, Hostinger offers a 30-day money-back guarantee. This is for people who aren't satisfied with the services and want to cancel the subscription. It means you can try out the services for free for a month. How cool is that?
The money-back-guarantee is usually an industry protocol that most companies follow to give their customers a time period in which they can try the services and make a judgment.
5. Simple and easy to understand interface
Hosting is probably the best choice for beginners and smaller websites that don't have a huge budget. After all, your audience doesn't care how expensive the hosting is; they just care about the convenience. Beginners can understand it easily, making it a fairly convenient thing even for a beginner.
After some time, you can easily upgrade your plans. You can even switch from the old hosting plan from a different company to Hostinger in minutes.
6. Everything unlimited
Hostinger offers a lot of incentives at a small price. As you can see from the above-mentioned prices. In total, you get a free domain name, free SSL certificate, unlimited visitors, free business emails, unlimited bandwidth, and much more. You can use all these free services in the development of your website.
7. Affordable 
This point needs no explanation. Hostinger offers web hosting at $0.99 per month only. What more could do you expect from a dollar? This is the reason why a large percentage of beginners start with Hostinger and continue using it for years.
You can expect some additional costs like backup costs and Cloudflare protection. To get the best price, you have to purchase an annual subscription or even a four-year-long contract.
8. Authentic customer support
Strong customer support is the backbone of web registrar companies, and Hostinger is no exception. Smooth customer support can potentially bring more customers solely on word of mouth.
I would personally choose better customer support over a free hosting service. The main reason behind this is the guidance people get at the time of purchasing the hosting.
Keeping this in mind, Hostinger offers live customer support to assist you on the go. Live customer support can substantially solve your problems and gives you sound solutions for them.
9. Free website builder and domain name
Hostinger also offers a free domain name and website builders in almost all of the plans they offer. It is the best offer for beginners and people having low experience in website building.
You don't have to spend extra money on buying a domain name, neither you need to learn to code. With the simple drag and drop features, you can easily customize your website according to your preference and requirements. 
10. Unlimited features
You can choose from a plethora of hosting packages.
Most of them are less expensive and offer amazing features like a free SSL certificate, unlimited users, etc. when it comes to expensive hosting plans, you obviously get better features and more flexibility with them.
Also, you can change the hosting plan anytime you want, which is a cherry on top for budding websites.
Conclusion
In this article, we discussed Hostinger's hosting services. As you can see, it is one of the best options available in the market. As a beginner, I strongly recommend you Hostinger.
Not only is it affordable, but also contains amazing offers that you wouldn't get elsewhere. It provides the perfect balance between affordability and quality. Therefore, when you think of starting a new business or a community, try out Hostinger, at least once.