Taking online surveys is one of the most favorite ways to earn some extra money. The world is witnessing an exponential increase in the number of websites that offer online surveys.
One similar but very popular website that claims to pay you money by completing online survey is Global Test Market.
There are thousands of people across the world who want to know if GlobalTestMarket is scam or legit and if they can make some good money from this website.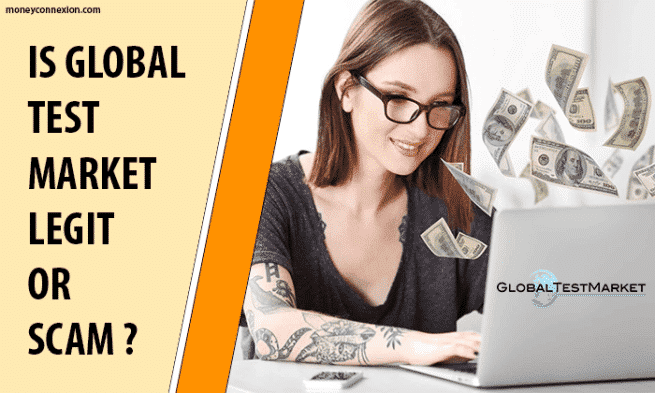 So today I am going to share my unbiased review on Global Test Market. We will look at this company from various aspects before making any conclusion.
What is GlobalTestMarket?
The website of GlobalTestMarket describes the company as: "Global Test Market was designed to give you the opportunity to get paid for directly influencing global market research. In partnership with top companies around the world, our online paid surveys offer you the ability to help influence the development of products and services that you use every day."
History of GlobalTestMarket
Global Test Market was founded almost two decades ago, in 1999. It is powered by LightSpeedResearch, which calls itself as "one of the world's leading providers of market research." LightSpeed claims to provide solutions to some 1,400 clients in over 60 countries. It "provides a global solution for companies that wish to conduct online consumer research across multiple countries," says the website.
GlobalTestMarket also boasts of a very high degree of user privacy. "This site was built to serve our participants around the world. Clients are only permitted to seek your opinions and preferences about relevant topics. Your contact information will not be shared and you will not be the target of marketing messages in any form as a result of joining GlobalTestMarket or visiting this site," its website further adds.
The company has about 5.5 million registered users around the world global test market reviews are very positive in terms of other online survey sites websites.
Payouts by GlobalTestMarket
GlobalTestMarket claims it gave away cash, incentives and other rewards to its registered users worth over US$30 million in 2016. These rewards are given in the form of cash payments via PayPal and checks, shopping vouchers for Amazon, Macy's and Kohl.
Additionally, users are also permitted to donate either full or part of their earnings to United Nations Children's Fund, a charity of very high repute that provides education, food and other humanitarian assistance to underprivileged children across the globe.
The highest you can earn is US$ 5 per survey. Generally, the reward per survey depends upon various factors. These include urgency, length of the survey and demographics.
The positives of Global Test Market
Comprehensive research on the Internet indeed reveals some startling facts about Global Test Market. A lot of these indicate GlobalTestMarket is a genuine paid survey website. Here is what we found:
Reputed websites including Huffington Post name Global Test Market as a legitimate company that helps people across the world to earn extra income. You can find hundreds of payment proofs on Google from real users.

Unlike several other online survey websites, you need not provide too many details to register as user on GlobalTestMarket. All you need to do is provide your name and email ID. Alternatively, you can also register at GlobalTestMarket using your Facebook or Twitter account. This helps you ensure privacy and protects your personal data from falling into hands of phishing scams and other unscrupulous users.

You do not have to provide your bank account, debit card, credit card details or Social Security and other government issued ID numbers or proof to register at Global Test Market. Generally, fraud websites seek such details to bleed their clients out of money or use their personal details for criminal purposes.

Registration on Global Test Market is free. Meaning, you do not pay any fees to enroll as member of the growing online survey community.

Surveys that will interest almost every consumer are available on Global Test Market. They include surveys about restaurants, hotels and food, movies and TV shows, common consumer products you use often, cars and other vehicles, medical services, banking and a lot more. This means, you can find and complete surveys of your choice rather than grapple with topics on which you have little or no knowledge.

Global Test Market allows people as young as 14 years to register and complete surveys. This means, students and teenagers who require extra cash can earn legitimately.

True to its name, GlobalTestMarket takes in users from almost every country on planet Earth. The company is said to have users from over 180 countries worldwide. However, you can take surveys that are relevant to your geographical location. This means, only genuine respondents can answer surveys. Such a policy helps prevent unnecessary Internet traffic on any particular survey.

GlobalTestMarket's reward system is based on something it calls MarketPoints. For every survey you complete, the company rewards MarketPoints. These are redeemable for cash, shopping vouchers or donations. You can choose to receive your payment in any or all of these forms, depending upon the value of your earnings.

The rewards system of Global Test Market is fairly simple. Depending upon the length and complexity of the survey, you can earn between 35 to 250 MarketPoints.

Rewards given by Global Test Market are indeed lucrative. A total of 23 MarketPoints equals US$1. Most surveys on GlobalTestMarket give you a minimum of 35 MarketPoints, meaning, you earn US$ 1.50. A few surveys also offer between US$5 and US$10 as reward.

You also get points for surveys you began but cannot complete due to complexity.

Among rewards offered by GlobalTestMarket is the option to enter Sweepstakes. This facility is however available for residents of the US and a few other countries, due to legitimacy issues.

The company allows registered users to post their reviews on the GlobalTestMarket website. This is regardless whether the review is positive or damaging to the company. This transparency in publishing user reviews is rare in the online survey industry. Users can also vent their grievances on the website, which serve as a guide for other prospective members.

Finally, as registered user, you also earn extra points for referring your family members and friends to join the online survey community on Global Test Market.

Alexa Rank of GlobalTestMarket is 3400 which means site is quite popular as compare to millions of other websites on internet. It shows site is trusted by people all over the world.
The flipside of GlobalTestMarket
Understandably, every online survey website has its own drawbacks. Consequently, even the most reputed website, at some point of time, seems like a fraud. We understand there are several issues that come into play here. However, we give details about why GlobalTestMarket appears as scam:
Account suspension is one of the major problems people encounter with GlobalTestMarket. Generally, all online survey companies suspend account of users that have given false or incorrect information about their age or location, withheld or tweaked vital facts. However, GlobalTestMarket seems to suspend accounts at random, leaving registered users in lurch and without any chance of getting the money they have earned.

Inability to register has often been cited as one of the reasons why prospective genuine users suspect Global Test Market as scam. Admittedly, there could be some issues with the servers of GlobalTestMarket, which causes this problem. Often, people spend several minutes trying to register on the website, only to find their efforts are in vain.

Possible discrimination based on geographical location is something that thousands of aggrieved, prospective users of Global Test Market suspect. Meaning, they believe their online registration is unsuccessful because the company does not require survey respondents from their particular area. Giving an alternative location is not possible since Internet technology makes it possible to track the place from which a person is registering. Further, providing false information can lead to abrupt suspension of your account, meaning, you lose your hard earned money.

Another reason often cited for GlobalTestMarket being branded as fraud is, rejection of registration based on topics users select for their surveys. While reasons for such rejection could be purely technical and without prejudice, people suspect the company does not take more respondents for a particular topic or topics. For example, if there are several users for surveys on movies from a specific area, GlobalTestMarket does not register more.

Long wait for rewards is yet one more reason why GlobalTestMarket is suspected as a scam. Unless you earn a minimum of US$50 or over 1,200 MarketPoints, which can take considerably long, the company will not pay you.

Processing of payments by Global Test Market is painfully slow. Some users complain, they got payments only after waiting for eight weeks- nearly two months- after making an online request. The quickest anyone has got payments is said to be four weeks after making a request.

GlobalTestMarket does not offer any other sources of income. The only way you can earn through membership on this online survey platform is by completing surveys and through its referral point system. Several other reputable online survey websites offer multiple income options to their registered users including writing product reviews. The absence of these services deters people from registering with this company.

Unfortunately, speculation whether Global Test Market scam or legit company and its reportage on the Internet by various blogs has cost the company dearly. Hundreds of prospective users shy away from registering on GlobalTestMarket without bothering to verify the company's credentials.
Lawsuits against GlobalTestMarket
LightSpeed, the owners of GlobalTestMarket have faced a few lawsuits in American courts over the last few years. The most exemplary case is of an unidentified single mother, whose account was abruptly suspended by Global Test Market for unknown reasons.
The woman lost unspecified amount of money. LightSpeed is said to have informed this single mom that her earnings were "forfeited" but did not cite any solid reasons for the action. The lawsuit was filed in 2016.
To add insult to injury, GlobalTestMarket's lawyers sent acrimonious communication to the aggrieved woman, according to an Internet forum.
Complaints from India
An online consumer grievance forum from India is full of complaints against Global Test Market. The online survey market is relatively new in India. An increasing number of Indians are lured by the prospect of making quick money in spare time or as a full time source of income.
Most of these complains from India however are due to inability to register or disqualification by the company for various reasons.
My unbiased, independent review
My research clearly indicates, GlobalTestMarket is a legit business. It is not a scam. Therefore, you can safely register with the company and join the growing, global online survey community.
However, you may also consider flipsides of Global Test Market before deciding to register. Understandably, every online business has its inherent pros and cons and Global Test Market is no exception.