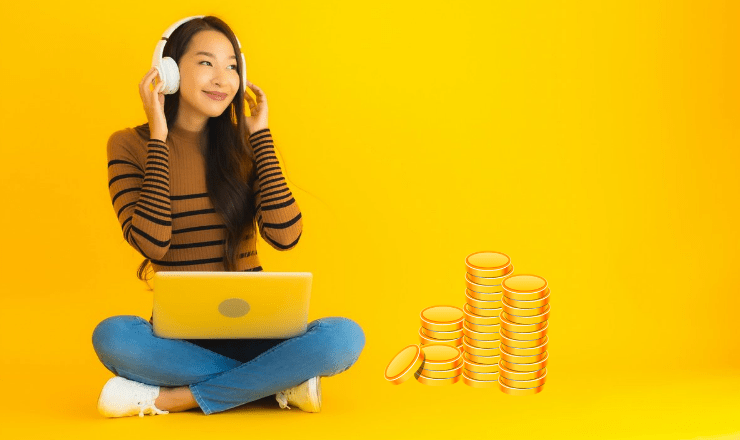 Are you fond of music? I mean, do you like listening to music from all or any specific genres? Did you know that you can actually get paid to listen to music? I'm sure, you're unaware.
Therefore, I'll assure you that there're various ways to get paid to listen to music. These ways allow you to convert your passion and hobby into something very meaningful that gets you quite a lot of real cash.
There's no upper or lower age limit to get paid to listen to music. In fact, any teenager or senior citizen can use any of the ways I'll be describing in this article, to get paid to listen to music. These ways are legit and hence, you can use them safely.
My comments above will definitely make you wonder: who pays to listen to music and why? Actually, this is a common question. I will answer it in a few words.
Who Pays to Listen to Music?
To know who pays to listen to music, let's understand how this industry actually works.
Actually, any song or an instrumental music composition becomes very popular depending upon the star ratings of people like you and me. Our reviews about any song or instrumental music pushes it up the charts.
As a result of our ratings, the demand for a music audio or video rises or falls. This directly affects the sales and viewership of these videos and audios. If the sales and viewership is high, the artist and the company that records it, stands to make profits. And if it falls below certain levels, the artist and music company can lose money.
That's where our work matters. Artists and music companies pay us to listen to music and provide ratings and reviews. But that's not all. There're other ways to get paid to listen to music too. In this article, I will describe these amazing ways, which you might not be knowing.
Ways to Get Paid to Listen to Music
Now that you know the well-kept secret about music ratings and reviews, let's see different ways to get paid to listen to music. Actually, reviews are just one part and I will discuss these too, in depth, in this article.
Ready to make money by listening to music? Here we go.
1. MusicXray.com
MusicXray.com serves as a platform for songwriters, singers and other musicians to upload their songs and musical compositions online.
It allows people to listen to these songs and compositions for free because singers, songwriters and musicians want to popularize their works. This website is mainly used by freshers and amateurs to the music world.
However, for a music fan, there's also a superb option. You can register on MusicXray as a reviewer for free. All you need to do is listen to such music and write a brief review or provide a star rating. You get $0.10 for every song or composition that you review. Once you collect $20 on your account, you can get a payout.
2. Playlist Push
Playlist Push is an app where you can review and get paid to listen to music. As a matter of fact, they pay as much as $12 for every song that you review successfully.
The money goes directly to your bank account and you have the option to choose the time of your payout. There're no upper or lower limits to request a payout.
However, Playlist Push works in a very professional way. While newcomers and upcoming singers and musicians can upload their songs and compositions online, their reviews aren't really open to everyone.
To qualify, you'll have to prove that you're a reviewer on Spotify, Amazon Music, YouTube Music, Apple Music and so on and have enough experience.
Also read: 20 Best Free Music Apps for Android & iPhone
3. Current.us
If you're fond of listening to music on your mobile phone, download the app, Current.us. This app is available for both, Android-based smartphones as well as iPhones, from Google Play as well as Apple Store.
They pay a maximum of $600 per year for using the app, in the way I will describe now in the form of Amazon gift cards and other attractive prizes. Once you download the Current.us app, all you have to do is select your favorite genres of music.
And, you have to listen to various songs and music that will appear. The more that you tap on the app to listen to music, the more money you can earn. That's not a problem because they keep adding new tracks of music and songs daily, so you're never bored.
4. RadioEarn.com
It's actually very easy to get paid to listen to music with RadioEarn.com. The first step is of course, creating your own profile on this website. Once you have a profile, you get access to thousands of songs and musical compositions that feature on this website.
If you're a webmaster or own a website, you can add the RadioEarn.com extension and widget and make more money. This is an excellent way to have a passive income by listening to music. They pay every month through PayPal.
5. Research FM
Go to the website of Research FM and create own profile. Now remember, this profile has to be accurate and indicate your correct email ID, name and location. That's necessary because Research FM is a very professional service that radio stations in the US and around the world use for finding their ratings and popularity of their programs.
On Research FM website, all you have to do is listen to various radio stations that they feature. And, you've to write reviews of these radio stations as well as the type of music they play and other programs they broadcast online.
For these reviews, Research FM pays you some money. They also send sample music and survey forms. They pay with Amazon gift cards.
6. Hitpredictor.com
Another amazing website that pays you to listen to music is Hitpredictor.com. To start earning, the first step is to make your own profile with the correct details. These details are necessary to get your rewards. Hitpredictor.com usually carries music that is awaiting release to the public. This means, you'll be among those few who will listen to those songs first.
Hitpredictor.com allows you to rate and review the music. To do so, you have to select the music genres that you love. They will send you samples of the music for listening and reviewing.
For every successful review that you give, Hitpredictor.com pays you $1. You can request payout in the form of Amazon gift cards. Per music clip, you get three points, which is worth $1.
7. Cash4Minutes
If you're fond of listening to radio, signup on Cash4Minutes. They pay you $0.08 per minute, to listen you radio stations that feature on their list and do odd tasks for them. This is an ideal way to earn money while listening to music of your choice.
Cash4Minutes provides very simple tasks. That is, you have to call the radio station from your phone and request them to play some music or participate in their program. These radio stations pay Cash4Minutes for your participation and you get Amazon gift cards as your reward.
8. Swagbucks
Swagbucks claims to be the single-largest online survey platform in the world. This means, they give you online surveys to complete. And they pay for each successful survey you do. However, Swagbucks also offers you different ways to make money. One of them is listening to music and getting paid.
Once you successfully register on Swagbucks, you can do tasks such as listening to music and writing small reviews or rating them by stars and other ways. For each music you review, you get a few SB Points. These points can be redeemed for cash or for Amazon shopping vouchers. They give a payout when you have minimum $5 in your account.
9. Start a Music Blog
You can make your passion for music in a real money-spinning venture. That's by opening a wonderful music blog. You can buy a good domain name and website hosting in USA with prices starting from $9.99 per year.
All you need is good knowledge about music and skills to write reviews that people would love to read and share with others.
A lot of upcoming artists such as singers and musicians want some publicity. Therefore, they're willing to pay some money to individual bloggers to write good reviews about their works.
And, there're music companies too that want you to write blogs on their latest albums and will pay for the reviews. You can also monetize your blog with Google AdSense and affiliate marketing, among other resources.
Read: How to Start a Blog in Just 30 Minutes
10. Subtitling Music Videos
Do you have native level skills in a language other than English? If so, you can provide subtitles in that language to songs in English and make a lot of money.
Often, music video makers and songwriters request for such services. They want these subtitles so that audiences in other countries and non-English speakers can know the meaning of the songs.
To do so, you'll have to signup as a labeling or subtitling expert with any music recording and production company. You don't need to work offline by visiting the recording company: they will usually send you the music video online. You have to listen to it, transcribe and put the subtitles in the foreign or regional language.
Closing Thoughts
There's a lot of money in the music industry, if you care to look around and earn some of it. Not only can you get paid to listen to music and write reviews, in the ways I have said earlier, but also with your own skills such as writing. Use any of these ways to make money from music.