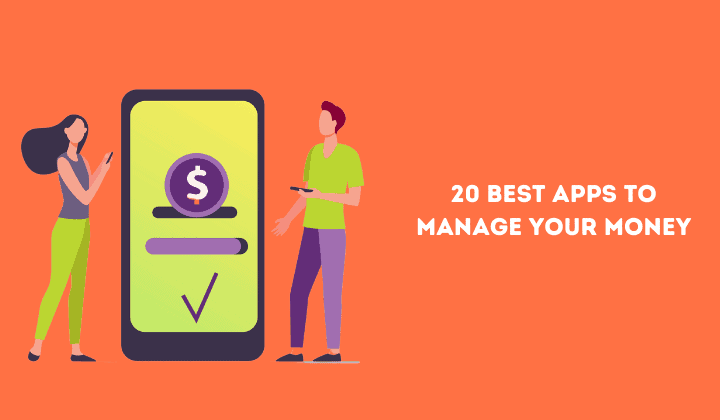 Regardless of whether you're an individual, a member of a household, or an entrepreneur, money management is something very important. Without astute money management, we often end up spending more than we can afford or lose track of our money.
That happens because most of us don't keep track of our income and expenses. The result can be disastrous: we won't have enough money when we need it the most.
However, there're several best budgeting apps that are now easily available. These help us in our day-to-day money management for all purposes- personal money management as well as for businesses.
Therefore, if you're finding money management a hassle, continue reading. Because in this article, I will be providing a list of the 20 best money management apps for businesses and individuals. These money management apps will take away almost all the hassles of knowing how much money comes in and where it's going.
Let's start by understanding exactly, what are money management apps. That should help you get a clear idea about why you need them to handle your money.
What are Money Management Apps (Budgeting Apps)?
In simple words, a money management app or budgeting app is something you download on your smartphone or computer. Most money management apps link with your bank accounts. They track all income and expenses related to either personal finance management or your business.
It's possible to create various heads for income and expenses on the money management app and allot specific budgets for each.
That way, you have an income and spending plan. Individuals or households can benefit from such apps because they will know exactly where they're overspending and savings. Businesses can keep track of things such as their profits and expenses.
Additionally, you can use these apps for creating a budget for your household or business. Whenever you exceed the budget, the money management app alerts you with a tone or through its panel.
Such financial apps take away a lot of hassles from your money management such as the need to personally remember each income and expense or budget.
Such money management apps can also help you to invest your savings for making the money grow. And they also help you find your net worth, which helps you to plan for the future.
20 Best Money Management Apps
There're plenty of best personal finance apps available on Google Play Store and Apple Store. Therefore, it can be a bit confusing for you to select one that best suits your need as an individual, household, or entrepreneur. Therefore, in this article, I'm listing the top 20 budgeting apps for all which include you as an individual or even as a businessperson.
1. YNAB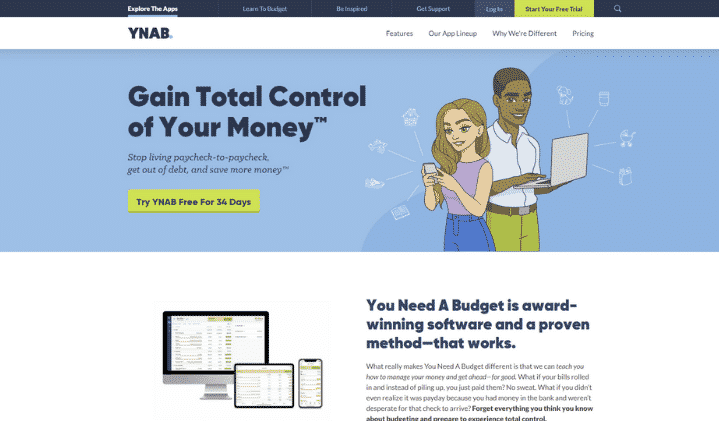 YNAB stands for You Need a Budget. This is a business and the best personal finance app with several features to help you manage your personal or business budgeting. They provide graphs and charts that let you track your progress in savings over a period of time and real-time budget information over your smartphone.
This app is highly secure and all your data is encrypted. Meaning, no unauthorized person can access your personal or business financial information. If you encounter glitches, they provide support through email.
Additionally, YNAB also provides you access to over 100 free online budgeting and personal finance workshops every week. YNAB is available free of cost for a 34-day trial while the paid version is $84 per year.
However, considering the facilities and money savings options you get, especially if you're an entrepreneur, this is the best money management app for you and this is a small fee to pay for hassle-free money management.
2. Mint
Mint is one of the best finance apps. It is useful for handling all of your finances in just one place. Mint provides you balances and budgets as well as facilities to set credit health and financial goals.
Once you begin using Mint, you can get financial summaries and alerts through email or text messages. And you can receive a free credit score from Equifax.
The app however doesn't have investing features. However, they have over 25 million users, which makes it one of the most popular money management apps.
The basic version of Mint is available free of cost. However, for advanced features, you can go for the paid versions. The ad-free version is available for a one-off charge of 99 Cents only.
3. Personal Capital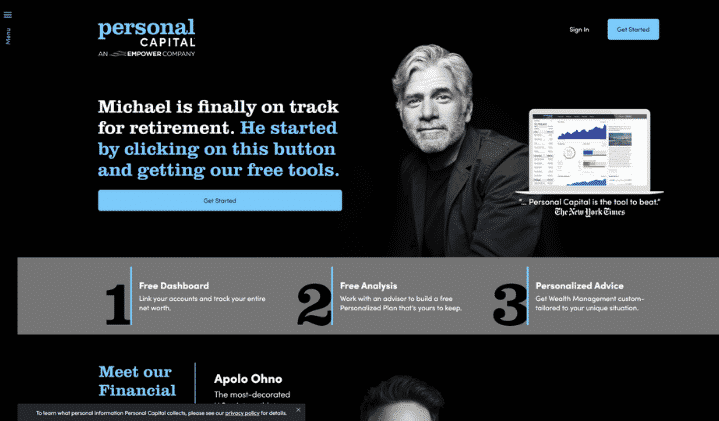 One of the amazing and free money management apps that you could use is Personal Capital. It features a dashboard that helps you to link your bank accounts and credit cards. This proves very handy to keep tabs on your entire net worth.
Personal Capital also provides lots of analytical resources and access to a financial advisor who can help you create personalized money management and investment plan.
Personal advice is one of the strongest features of this app because it helps you get expert advice on money management, which is tailored to suit your situation. This app is free of cost to download and use. And you can also create personal or business budgets with this app.
4. Pocket Guard
If you're looking for a simple yet highly efficient money management app, I recommend you to go for Pocket Guard. This is one of the easy-to-use money management apps that link with your credit cards, debit cards, and bank accounts. You can also track your student loans through Pocket Guard.
One of the best features of Pocket Guard is that you can set budgets for various expenses. It's also possible to create expense heads for your specific needs. Pocket Guard then monitors your budgets and keeps track of whether you're spending excess on things other than regular bills.
It also alerts you about credit card offers and any expenses you make on these. You can download and use Pocket Guard for free. And if you want a premium version, you'll have to make some digital purchases.
5. Goodbudget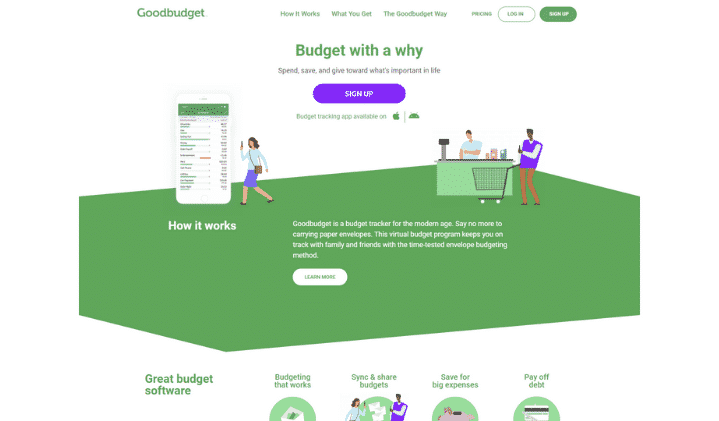 Goodbudget also makes it to my list of best money management apps for one reason. They have a unique system that's known as envelope budgeting. It allows you to synchronize your budgets and share them to save for larger expenses. It is one of the best financial planning apps.
They also provide an in-built feature to pay all your bills through the app. Goodbudget is a free app. However, if you prefer to go for the advanced version, it costs $60 for an annual subscription. Or you can go for the monthly plan at $7 only. This is one of the most modern and fastest money management apps too.
6. Marcus Insights
Marcus Insights was once known as Clarity Money. However, Clarity Money was bought over by Goldman Sachs and hence, the app now has the new name, Marcus Insights.
This app is available free of cost for all Android-based smartphone users and iPhone users. The app allows you to link your bank accounts, credit cards, and debit cards. That way, you can get an overview of your all finances at the same time through a single platform.
You can also organize your expenses under various heads and create a head for saving money too. The app tracks your expense and makes suggestions for savings. It also visualizes various scenarios of cash flow and expenses to give you a better idea of how to manage your money.
7. Albert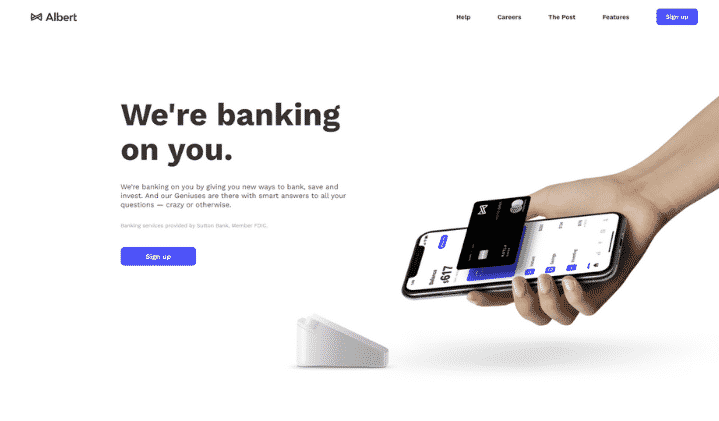 The Albert money management app comes loaded with resources that help you check all your linked bank accounts, credit card accounts, investments, savings, credit score, and more through a single platform.
You can also get financial advice from qualified and experienced financial consultants on saving plans and investments. These are human advisors so you can ask them questions or request financial planning for yourself, your household, or a business.
These experts provide you with personalized advice on a variety of issues related to money management. Furthermore, Albert provides a lot of insights and analytics by using your data so that you can better manage your money and keep track of all expenses. This is a free app to download and use and ranks among the best of its kind.
8. Acorns
Acorns is very popular among Americans that wish to start investing with a small amount of money. As a matter of fact, you can invest as little as $5 on stocks, Exchange Traded Funds, Mutual Funds, currencies, cryptocurrencies, and commodities with this app.
At the same time, this app also helps you to keep track of your finances, if you link your bank account, credit card, and debit cards. You can consider it as the best money tracking app.
You can allot some money every month from your paycheck to start a savings and investment plan. They also provide tips and suggestions on investing in the right financial instruments to make your money grow.
This app is backed by partners such as Blackrock Finance and CNBC, among others. About 10 million Americans use the Acorns app. You can use the free version or go for their paid packages which start from $1 per month and goes up to $5 per month.
9. Simplifi by Quicken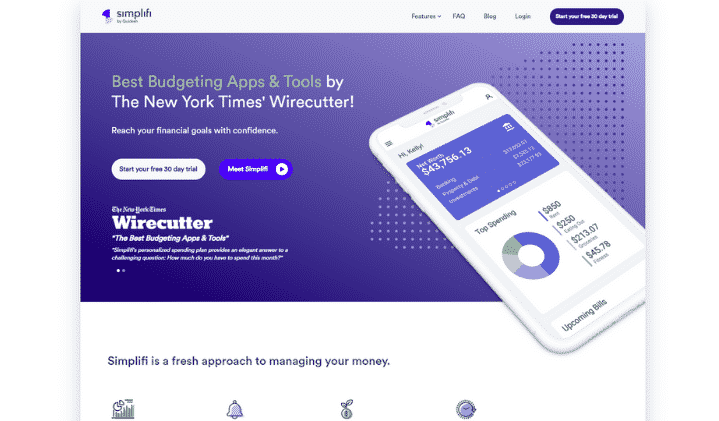 Simplifi by Quicken is like a one-stop shop. It gives you the entire big picture of your finances by allowing you to view all your bank accounts, loans, credit cards, and investment products from a single dashboard.
You can check your bank balance after paying all bills and set expenses under various heads with monthly or weekly budgets to ensure you don't overspend.
You can also create your own savings goals, and rework the categories under which you spend. It's also possible to allot a specific amount of money as a budget under various heads to ensure you remain within a specific limit of spending.
Simplifi by Quicken is free of cost for a trial period of 30 days. Later, you can continue using the app for only $3.99 per month or $35.99 per year.
10. Expensify
With over 10 million users across America, Expensify is one of the best money management apps that you can use. They have a pre-accounting process in the app that you can use to calculate expenses, bills, and invoices. You can also scan invoices and bills, track your business and personal expenses from the dashboard.
They also have a feature from where you can book tickets for traveling. Expensify comes with more features such as multi-level approval workflows, mileage tracking, and corporate card reconciliation, among others, which makes it a superb choice for entrepreneurs. You can use the free version or go for the advanced, paid version that costs $4.49 per month.
11. Trim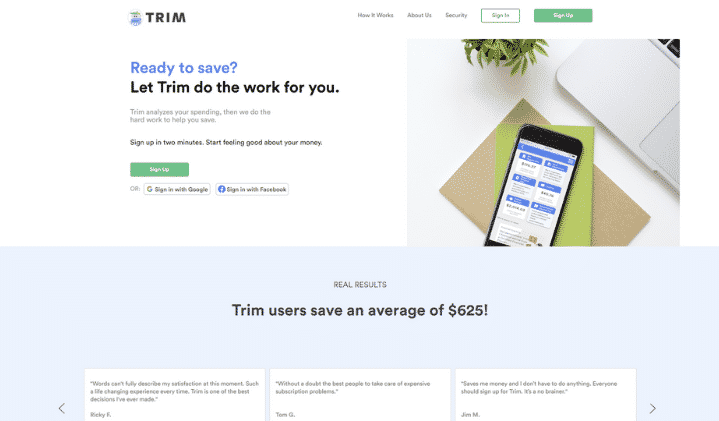 If you're serious about saving money and using an app for investments, then I would recommend you use the Trim app. That's because it is one of the best money management apps that you can get for a small fee of $99 per year. However, you can try Trim for free for 14 days before deciding whether it's the right app for you.
Trim helps you to budget by analyzing your spending patterns and suggesting ways and means to save money. It can also help you manage all your bills for cable TV, Internet, mobile phones, and landline, add or cancel subscriptions you don't require, and even pay medical bills if needed.
It connects you to a sort of Robo-advisor using Two Factor Verification to ensure that your data is safe and doesn't fall into the hands of hackers or unauthorized persons.
12. Credit Karma
Also, check out Credit Karma, which is another superb and new generation money management app for individuals, households, and businesses. You can also request a free credit score from this app.
Credit Karma makes it possible to file your Income Tax returns as individual or state and federal taxes as a business. And they have an amazing feature that helps you to save on taxes too, through expert advice from a Robo-advisor.
You can get tips and tweaks to save money from the expenses that Credit Karma tracks. They have various other features that include an approval odds calculator if you're applying for a loan or credit, financial progress tracker, a relief roadmap creator, and a free investment planner. Credit Karma is free to use. However, you've to register by signing up and providing basic details to use this app.
13. Mvelopes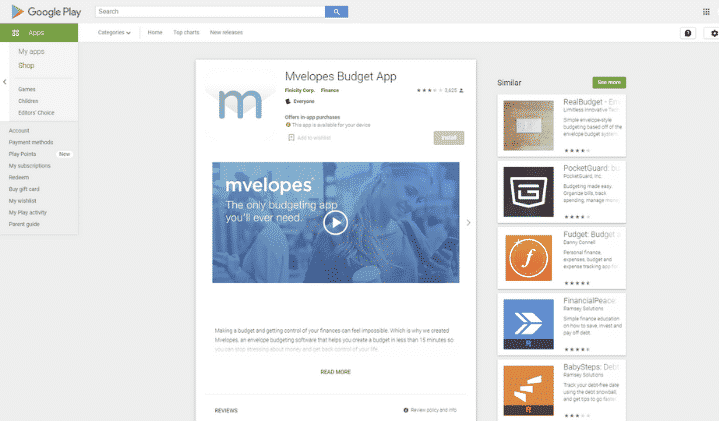 Mvelopes is an app that helps you plan and budget all your savings, income, and expenses through their user-friendly dashboard. In brief, it helps you to implement superb money management, even if you lack the skills to do so.
They use the time-tested and proven envelope budgeting system that helps you make budgets for all expenses and track them while finding ways and means to save. You have two options to use Mvelopes.
One is by connecting it to your bank accounts, credit cards, and debit cards. Or you can use the app without linking but feeding in data manually.
You can link several accounts including savings, current, time deposits and fixed deposits, mortgage, credit, and debit card accounts not linked with your bank, and much more.
They also have a personal financial advisor to help you chart your savings and investments and get you started. Mvelopes is a paid app. They charge $60 per year for the beginner level and $590 per year for the advanced level app for businesses and individuals.  
14. EveryDollar
EveryDollar helps you create monthly budgets and keeps track of your spending under various heads. It has an automatic alerts system that warns you when you're reaching your budget or exceeding it for any reason.  
You can create your first budget within 10 minutes, according to the app description. This app however is simple and easy to use as well as intuitive.
All you need to do is add your monthly income and projected expenses. It helps you track expenses and warns when you're exceeding a specific budget.
This app also is useful for money management if you're really serious about saving money by budgeting. The app comes with a 14-day free trial. They have various subscription plans starting at $59.99 for three months, $99 for six months, and $129.99 for one year.
15. Wally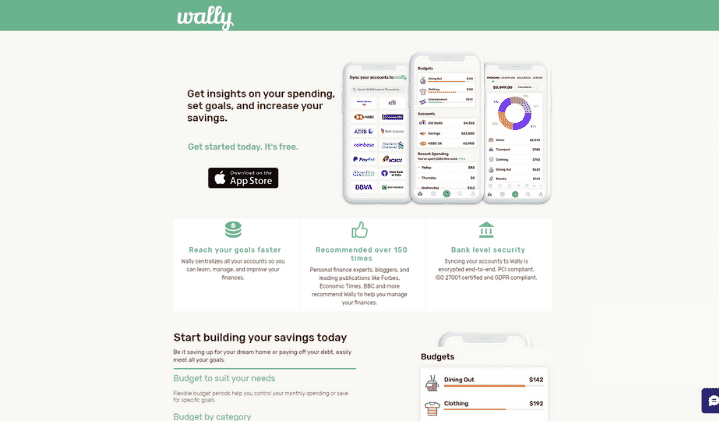 You can save a lot of money by setting a daily budget for expenses on the Wally app. This makes it easier for you to take control of all your finances and do proper money management.
The daily expense tracker helps you weed out unwanted or frivolous expenses and helps you save a lot of money. You can set specific goals and budgets for them while planning on expenses for groceries and other essentials.
You can also sync all your bank accounts, credit cards, debit cards, investments, and loans to the app to get an overall picture of your financial health. They have flexible budget periods if you're planning on saving for something big.
The basic Wally app is free to download and use. However, the premium one comes with a lot of other superb features. It costs $4.99 per month.
16. Spendee
You can access all your bank accounts, e-wallet, cryptocurrency wallets, investments, and loan accounts to the Spendee app. This app gives you an overall view of your income, savings, assets, and liabilities from its superb dashboard.
You can also create short-term and long-term budgets on Spendee, if you're planning on an expensive purchase or want to step up loan and credit card repayments, The basic version of Spendee is free to use.
However, if you're looking for extra features, you can go for the Plus plan at $14.99 per year or the Premium plan at $22.99 per year.  The paid apps are also useful for entrepreneurs that wish to keep track of the expenses and cash incomes of their businesses.
17. Self Employed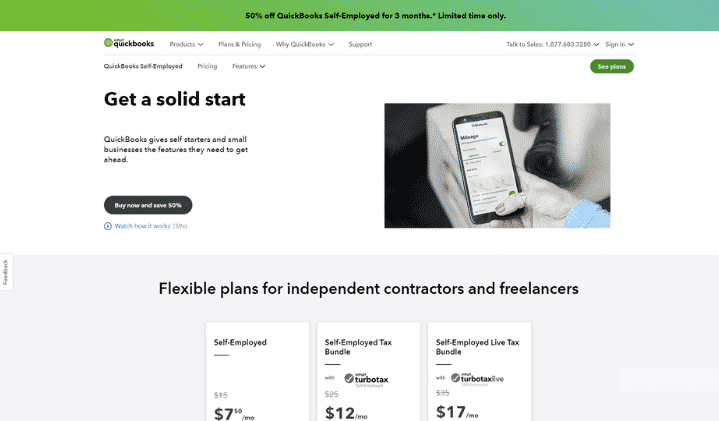 The Intuit QuickBooks Self Employed app is specifically made for small entrepreneurs and startup owners as well as freelancers. It can track the expenses and cash flows of both your business and your personal ones at the same time.
You can schedule various payments to your business associates or even cable TV and Internet bill payments.
This app has automatic mileage tracking and calculates estimated taxes that you'll have to pay both as an individual and a business.
The app comes in various versions. The basic Self-Employed plan comes at $7.50 per month, while the Self-Employed Tax Bundle is priced at $12 per month. The Self-Employed Live Tax Bundle will cost you $17 per month.
18. Freshbooks
Another amazing app for freelancers and others in self-employed professions, as well as entrepreneurs, is Freshbooks.
That's because it has an in-built accounting software that makes it easier to invoice your customers, keep track of payments, schedule your payments and taxes. You can also use their features such as project planning and expense planning, among others.
Freshbooks is a very sophisticated app that every businessperson can use.  You can also use this app for making payments and managing reports. Lite Freshbooks plan costs $6 per month while the Plus plan costs $10 per month. The Premium costs $20 per month. You can get a 30-day free trial for this app too.
19. Dollarbird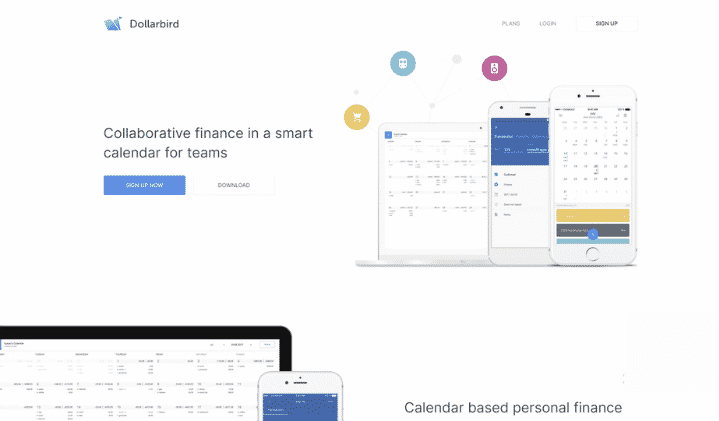 Dollarbird is an app that's ideal for families and households or even charitable institutions. However, Dollarbird can be easily adapted for freelancers, self-employed persons, and for small businesses.
Dollarbird is a calendar-based money management app. That means, you can also include your past financial transactions as well as schedule upcoming ones and include recurring transactions or expenses too.
This is an Artificial Intelligence-based app, which helps track your cash inflows and spending very easily. However, Dollarbird isn't a free app. The Pro version of this app comes at $39.99 per year while the Pro Unlimited plan costs $54.99 per year. They also have a Business plan for startups and freelancers as well as medium-sized businesses.  
20. Venmo
Venmo is not exactly a money management app. However, it does help you save money when you shop through the app and pay using Venmo. It keeps track of your cash income and spending. And whenever you pay using Venmo, it's possible to get some cash back on certain occasions.
You can also send and receive money from relatives and friends using Venmo. The app is free to use. However, Venmo makes some money from your financial transactions.
Read: 20 Most Powerful Money Management Tips You Will Ever Find
Best Features of Money Management Apps
Obviously, some of these apps aren't free as we can see from the above list. Therefore, if you're going for a paid app, the best way to select one is by looking at the various features and services they offer. Therefore, here're some of the features that you should be looking for while going for a paid money management app, to get the best of it.
Income Tracker
Income tracking is very important because every individual, household, or business can plan their expenses only if they're aware of the income and its sources. Without tracking income, it can be difficult to plan any expenses or do budgeting for any purpose.
Net Worth Tracker
Net worth tracking is nowadays very important for individuals, households, and businesses. That's because most Americans don't have adequate savings for their retirement and emergencies. When an app offers you net worth tracking, you can know how much more money you need to put aside.
Bill Tracker
Bill-tracking enables you to know whether you're overspending on any particular thing such as unwanted cable TV channel packages and magazine subscriptions. You can also know whether your power bills are high and find ways and means to reduce such expenses.
Spending Habits Tracker
Most of us spend without a second or third thought. And often, this lands us in situations where we run out of money when we need it the most. A good money management app also tracks your spending habits to warn when your expenses are about to overshoot the set limit.
Expense Tracker
Not all expenses are unwanted or excessive. However, having an expense tracker also helps a lot. That's because we know where the money is going and the amount. In some cases, an expense tracker can actually help you reduce your spending.
Cash Flow Tracker
Cash flow tracking is important for freelancers and businesspersons. That way, they can know how much money is coming in or has gone to their bank accounts. This helps them plan for their expenses and investments or savings plans.
Receipt Capture
Nobody likes to keep printed or handwritten receipts at home or office. Therefore, a receipt capture feature on the money management app helps you to digitize the process. You can capture a picture of the receipt and store it on the app for future reference if needed.
Tax Deduction
Not many apps have this feature. But it's useful if your money management app can offer this facility, especially if you're a business person or a freelancer. This feature helps you know how much taxes have to be paid and the due dates.
Investment Tracker
If you're investing in stocks, currencies, cryptocurrencies, or even on your own business, investment tracking is a feature you can use. It helps you know cash outflows and the value of your investments on any given day. For businesspersons, it can provide some ideas whether their business is making profits or running at a loss.
Analytics
If your app provides analytics, it's fantastic. Because we never analyze our own income, expenses, and savings. With analytics, we can get a clear picture of all our financial habits and rectify them if needed through proper money management.
In Conclusion
One of the questions that people ask me is whether money management apps are safe and could information or data about their personal finances leak out to hackers or unauthorized persons. That's understandable considering that identity theft cases and app-based frauds are on the rise. However, I affirm that all these money management apps are safe because they never display full details of your bank accounts or credit and debit cards, or even investment accounts. And most apps use encryption to ensure your data isn't hijacked. So, they're safe.