So you have this date with some potential partner. Maybe you know their likes and dislikes or are fully in the dark. You could be a teenager or a senior.
Either someone who has little money or possess a mini fortune. Dating is something every woman and man looks forward to. Dating conjures up visions of romantic time spent together. Time when you forget anxieties of life and focus solely on that special person.
However, most of us have some wrong ideas about dating. Prime among these being that dating involves heavy expenses.
Therefore, at the onset, I will assure you that dating can be great fun even without burning that proverbial hole in your pocket or digging into a bank balance. In fact, dating with scare resources can be more pleasurable and memorable to both.
Interested? Then read this complete guide to save money on dating while enjoying truly memorable moments.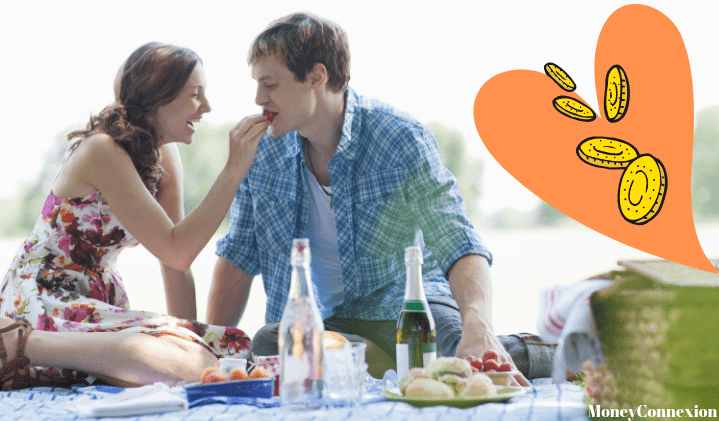 Why Save Money on Dating?
There are a couple of strong reasons you should save money on dating. Firstly, overspending can send wrong signals to your partner, who may not be as wealthy.
Secondly, splurging means you may end up doing something that is expensive but not enjoyable to the other. These tips on saving money on dating will help overcome such inadvertent problems.
Saving Money on Dating
These 10 simple tips and tweaks will help you save considerable money on dating. They require some effort. But your partner will surely appreciate these efforts.
1. Give Handmade Gifts
A handmade gift speaks volumes of the effort you exert to make the partner happy. It is a clear indicator that you have been thoughtful and taken time away from schedule to prepare this gift.
It could be anything from a handmade greeting card, a small painting, knitted cap or something that speaks of your creativity.
Handmade gifts can be made at fraction of the cost of those available readily in the market. It will be unique and personalized. You can customize it to express your love towards the partner by putting all your creative senses to work.
2. Go on a Picnic
Picnics are one of the most romantic ways of dating. And they are economical too. By picnics, I do not imply you go to some very popular location that offers little or no privacy.
Instead, look for areas around your town that are scenic and yet draw little or no crowds. Such places, despite being bereft of activity, prove to be very romantic.
Some of the areas I suggest would be nearby hills or forest. As couple, you get that real-life feel of Adam and Eve. The sound of nature, birds, trees swaying in winds and greenery takes your heart and minds to a new level of serenity.
Your partner and you can carry the food along and share it. This privacy and bonding it offers proves priceless for a couple. And it costs almost nothing.
3. Watch Scary Movie
Watching scary movies is not everyone's game. However, watching something scary on the screen tends to draw you and the partner closer.
More so, if you watch a horror movie with the full package of ghosts and haunting. Spooking out your partner and of course, yourself, has immense benefits while dating.
A scary movie that spooks both considerably will cause you both to cuddle up. Preferably, do this with a nice and cozy blanket. Also, ensure that you do not use a washroom alone.
Instead, ask your partner to accompany you saying you are scared by the movie. Watching scary movies at home and preferably when nobody is around has that special effect of spooking out.
You need not spend on cinema tickets: a mere video of the movie will suffice or subscribe to Netflix or Amazon Prime and watch on your TV, computer or laptop. This brings you closer together.
4. Check-in at Remote Motel
Checking in at remote motels is another great way to save money while dating. It also adds that extra thrill and romance to your date. Remote motels cost much lower than those located in cities and towns.
Find such motels on Google. Further, motels are not very particular about finding whether you are on date or married: they are interested in the money they get as room rental.
Such motels offer you all privacy to take your date to a higher, more intimate level, provided your partner is willing. Only, ensure you carry sufficient food, drinks & protection before checking in: some motels do not have restaurants or coffee shops.
Nor would there be such facilities nearby. Remote motels that witness few customers are excellent place to romance around. They are worth a try especially for that special bonding with your date.
5. Volunteer at Orphanage
Now who would want to work while on a date with that special one? Despite, take your date to volunteer at some orphanage.
The reason: playing with underprivileged children helps bring out that long lost child hidden in your personalities. Your partner and you can relive moments of childhood once again by playing games with these underprivileged kids.
Other than bringing out that dormant child hidden in both, volunteering at an orphanage can work wonders for your relationship. You will discover hidden and pleasant traits of the partner.
It will also make both realize how fortunate you are indeed to have had a lot of stuff that others only desire. It also provides insights of sorts into parenting.
6. Get Drunk Together
I would not recommend this if you are underage or come from families that are averse to alcohol. This idea to save money on dating is only for the mature who can consume alcohol safely and are responsible drinkers.
If you are an alcoholic or tend to get ill after a few shots, skip this idea altogether. If not, continue to read. And in any case, try this innovative dating idea only at home to avoid getting into trouble with the law.
Getting drunk together can be fun for both partners. This is because everyone's funny and absurd side comes up when moderately inebriated. Alcohol is also renowned as a 'social lubricant'.
Meaning, it helps loosen tongues and creates bonding. Going on a controlled binge can help your partner and you to enjoy some funny moments and learn more about one another.
Never force yourself or the partner to consume more alcohol than they are comfortable with: you might ruin what would have been a perfect date.
7. Swimming in Lake or River
If you are fortunate enough to have a freshwater and safe lake or river nearby, have a swimming date. There is nothing more erotic than seeing a wet female or male figure emerging soaked with water.
Playing and swimming in water has unique charm. Find a location where there are few swimmers or prying eyes. At the same time, ensure that the place is safe for swimming and waters are shallow.
You can also include a picnic with this swimming date. Generally, activities in water will trigger appetite. Hence, you need to carry some snacks and drinks with you.
If you are of legal drinking age, try taking some wine or brandy to keep your partner and yourself warm after splashing around in cool waters.
8. Visit a Fair
Your local newspaper, TV channel or radio station would definitely have announcements of some fairs in the locality. Take your partner on a date to such a great fair.
It helps save money on dating since stuff at fairs is invariably cheaper. Also, you can enjoy the entire day with various attractions on offer at the fair.
Where permitted, you can also go for a date to some esoteric trade fair, provided entrance to public is free. Participating stalls at such trade fairs give away a lot of freebies to promote their brands.
Such freebies like pens, keychains, cigarette lighters, sample packs and mementoes cannot be bought outside. At food fairs, you get a chance to taste new and upcoming food products for free. With some planning, visiting fairs can prove an excellent date that saves you money.
9. Massaging Date
Wish to develop intense intimacy with your partner? Try a massaging date. There is nothing more romantic and intimate than massaging a partner's body.
You need not be a professional masseuse or masseur to have such a massaging date. Simply learn a few tricks and tweaks from YouTube. You will find a lot of lessons in Oriental, intimate massage techniques.
Massaging dates are indeed romantic. All you would need is some fragrant oil, which is easily available off the shelves of supermarket or a drugstore.
And it is inexpensive too. What to do after the massage is your choice. So make sure you have complete privacy at the location where you intend to hold this romantic massaging date.
10. Gift Plucked Flowers
Bouquets from florists can cost a lot. Instead, make a personalized bouquet by plucking different flowers from your own garden or where permitted.
Making a beautiful bouquet is fairly simple. Again, you can watch some videos on YouTube on how to create amazing floral bouquets.
This is one more way to save money on dating. Further, it can be done while taking your partner on any type of date I mention above. Both women and men love bouquets.
They aptly express love for one another. If possible, include a small bar of chocolate with the bouquet to give your floral gift that special touch.
Wrap Up
Dating is not about how much money one spends with a loved one. Instead, it is more about quality time together that both can enjoy and cherish for years to come.
Our complete guide to save money on dating will enable you to enjoy unique moments that do not cost much. All they need is your inclination and time.
Remember, one-off experiences matter more to a person compared over pleasures that money can buy. Because nobody can relive an experience and derive the same pleasure again. The above ideas to save money and have unique dates will help you get the best pleasure possible.
Try any of these ideas that suit the nature of your partner and yourself. You both would definitely cherish these fond memories for lifetime.