Recently I read an interesting article that says families or individuals without a car have lower income. It says, car ownership holds the key for American families to rise from poverty.
For several Americans below poverty line, owning a car may sound like pipe dream. But isn't the case anymore. My research proves, there are 15 ways to get free or donated car.
So let's look at who's giving free cars and why. Maybe you'd qualify for one and drive your way to riches.
Ways to Get Free, Donated Cars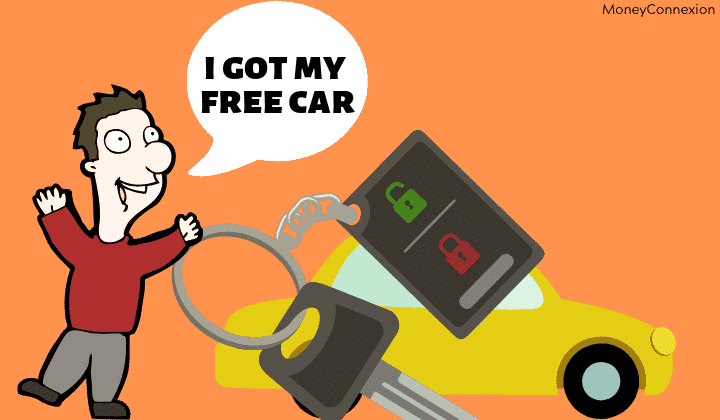 There are several suggestions to get a free or donated car that float online. Some of them simply don't work. These 15 ways I'm listing can help you get that free or donated car.
1. 1-800 Charity Cars
1-800 Charity Cars gives away free cars to struggling families, victims of domestic abuse, medically needy, victims of natural disasters, working poor as well as US military veterans and military families.
This charity operates nationwide. It also donates cars to non-profit organizations that perform various charitable works.
Complete the online application to get free 1-800 Charity Cars membership. As member, you have to vote for any applicant for a free, donated car whose profile appears on the website. After voting for a few times, you get to apply for a free car from this charity.
2. Good News Garage
Good News Garage donates cars and minivans to working persons with disabilities under their 'Wheels to Work' program. They also provide free rides to workplace and back as well as to childcare facilities.
Currently, GNG services are available in New Hampshire and Vermont only and specifically in New England. GNG accepts car donations.
These vehicles are refurbished and sold at very affordable rates to needy families. Additionally, they are given free to applicants that qualify for a car donation.
3. Modest Needs
You cannot get a free or donated car directly from Modest Needs. However, this excellent charity will pay for a vehicle, if your application is successful.
As a rule, Modest Needs does not give you cash directly. However, they will buy a pre-owned car if your case merits.
Read the different types of grants given by Modest Needs. Apply for a grant where you qualify. State specifically that you require a free or donated car.
They will pay and give you a very decent car free. Modest Needs also accepts car donations. So you might get one of these donated vehicles too.
4. Cars for Christmas
Cars for Christmas operates only from November to February. This charity is based in Kansas and operates across America. You can get a free or donated car from this charity around Christmas.
They accept online applications from November through till February the following year.
Meaning, you cannot apply anytime for a free and donated car from Cars for Christmas. Provide exact details and state reasons why you need a free car and how it can help your family and yourself.
 5. Cars for Heroes
Are you serving the US military, are veteran or first responder? Then you can get a free, donated car from Cars for Heroes.
This Kansas-based charity operates across the US and is specifically for active service personnel, their families, US military retirees, active and retired first responders.
While applying, you have to provide complete details about your service including rank and service history. Cars for Heroes also requires you to write a short note on how owning a free car would improve your or family's life.
6. Onlinecardonation.org
Onlinecardonation.org operates has a very simple operation. They accept car donations and give one away free to needy persons. But they repair the car before giving it away. Register online and state why you need a free or donated car.
This charity also gives free cars to other organizations and groups conducting welfare activities. To apply for a free or donated car, register on their website and state why you need one. Generally, they respond to requests as soon as a car is available in your area.
7. Vehicles for Change
Vehicles for Change operates in Virginia, Maryland and Michigan at the moment. They give away free cars to families in need.
It is important to meet their criteria to receive a free or donated car. This charity also sells cheap and very affordable cars to struggling families and individuals.
Since this charity accepts car donations too, you can be assured of getting a vehicle in good, drivable condition. Vehicles for Change services a car before giving it away. Apply online for their free membership and place request for a free or donated car.
8. US Government Benefits
The American government does not give or donate cars. Not directly at least. However, you can get some money under the Benefits program and buy a car.
There are countless 'Benefits' from the US government. Struggling families, veterans, single moms and disability benefits are some categories.
Find whether you qualify for any of these benefits and apply. As a rule, you have to declare the money you get would go for buying a car. There are no restrictions on buying a car as long as you qualify for the benefit and mention that while applying.
9. With Causes
With Causes Charitable Network is another place you can ask for free or donated car. This is a faith-based charity and applies fair practices in providing assistance to needy individuals and families.
Other than free cars, With Causes also provides assistance including free computers for deserving individuals and families in distress. They accept car donations. These cars are given away free after refurbishing.
10. American Hope Resources
American Hope Resources is a large charity that operates across the US and has offices in California. AHR, as it is commonly known, has several charity projects for individuals and families facing hardships.
Additionally, AHR also operates several charity programs in partnership with other organizations.
You can apply for a free or donated car under any of the welfare programs of AHR. To be eligible, register for their free membership. They also have an excellent resource that connects people across US that are facing hardships to exchange stories and network.
11. Relief Benefits
Relief Benefits can give you a free or donated car under its automotive help program. This charity provides free cars to low income individuals and families as well as welfare recipients from government and non-profits.
To get free or donated car, you have to register as member. Use the Eligibility Calculator on their website to find if you qualify to get a free or donated car.
It is a Wyoming based charity with operations across the US. Applications for free or donated cars are submitted online.
12. Jewish Family Services/ On The Go
Jewish Family Services, a charity from San Diego, CA gives free cars to senior citizens under the 'On the Go' program. Additionally, they provide free mobility solutions to seniors in and around San Diego area.
The charity accepts car donations. Suitable cars in good, working condition are refurbished and donated to seniors. Others vehicles are sold.
Cash from these sales goes for providing free rides and other benefits to the elderly. Despite being a Jewish charity, it donates free cars to people from all religious communities.
13. Cars for Moms
Single moms can get a donated car from Cars for Moms, a charity that has nationwide operations. They also offer free daily rides to workplaces and schools to single moms that qualify.
Cars for Moms operates in two distinct ways. They refurbish donated cars and give them free to single moms who need one. Also, they sell certain cars and use the money to fund various charitable activities especially for single parents.
14. My Free Car
My Free Car does not give you a free car. Instead, this company pays you up to $400 per month for advertising on your car. You can use this money to buy a decent, pre-owned car on mortgage.
Contact My Free Car to find which vehicle qualifies for carrying their advertisements before rushing to buy one. Better, ask them to choose a car for you that suits their needs as well.
Usually, this company welcomes all car makes provided they are suitable for carrying advertisements. However, they look for the routes where you will drive. Advertisements on My Free Car sponsored vehicles are from local businesses.
Hence, you have to drive within a specific zone only. Driving for longer time and parking the car in specific areas provides opportunities to earn more money.
15. Free Car Solution
You can drive a flashy new car absolutely free.  And get paid too. Sounds too good to be true, but it is. You need only pay for gas and insurance.
This sounds incredible but Free Car Solutions makes it possible. Of course, it is not that simple to get a free new car and get paid:  you need to qualify.
Their cars are coated with vinyl advertisements of various local businesses. The car attracts people's attention when you drive or park. It serves as a very effective and low cost form of advertising for local businesses. The car is usually paid for by a brand or the local business.
On some days, you may have to drive on specific routes or park the car at particular venues. This is to ensure that lots of people see the advertisement.
Two More Ways to Get Free Car
There are two more ways to get a free car, without even approaching a charity. Try any of these
16. Car from Employer
You definitely need a car to work in sales and marketing or visit sites of your employer. In such cases, you can request the employer to give a free car. Point out how an own car will increase your productivity and make your work profitable.
Generally, most employers will be happy to provide you a free car since it is for their business. You may have to return the car if you leave the job. Yet, it does solve your immediate problem of not owning one.
17. Car for Volunteering
Organizations provide a free or donated car to their volunteers. Because a volunteer does not get any pay or is given allowances only. Cars given to volunteers are for their personal commute as well as to carry stuff or people around.
If you love volunteering and need a car too, find a suitable organization. Such volunteer based organizations require your skills- both professional and amateur. This is yet another way to get free or donated car.
How It Works?
Surely you might think why do these charities give away free cars? The reason is simple. Thousands of Americans wish to dispose their old cars.
Selling such cars involves lots of hassles like advertising, waiting for buyers to inspect, bargaining on price and transfer of ownership. Therefore, such Americans prefer to donate their cars.
Donating a car holds several benefits:
But Flipsides Too
During my research, I also came across an article that says all is not well with the car donation charity. Considering the number of Americans wanting to give away their old vehicles, this is not surprising.
There would be some scammers. Some legit charities were also seen dragging their feet on using money they got by selling old cars.
Understandably, there are several pertinent questions that surround the entire car donation business, as one can see from the article I mention above. Yet, the system is helping thousands of Americans get wheels necessary to improve their financial situation.
Wrap Up
Try any of the ways I mention to get free or donated cars. Bear in mind, you may have to wait several weeks before a charity gives you a free or donated car.
Also, it isn't easy to get a free or donated car: charities are quick to disqualify an applicant if the application does not meet their criteria.
There are two other simpler ways for getting a free or donated car. Search Craigslist since some advertisers want to donate their car by giving it away.
Or you can ask an auto mechanic to find one. Since auto mechanics and workshops are the first to learn about vehicles that someone wishes to donate. Yes. You can get free or donated car by approaching right sources.