Usually young graduates and experienced professionals work for a 9 to 5 job whether it is a govt job or a private job. However, there are many other alternatives to 9 to 5 jobs.
But the problem is common man hardly knows anything about jobs other than 9 to 5. So what are those jobs & business ideas from home which could be good alternative to your 9 to 5 job?
First such job that comes to my mind is home business. Do not get scared by the word business. Here business does not mean investing huge capital but a small start up cost that a lay man can afford it.
I have 21 reasons to convince you, why home business is better than 9 to 5 jobs.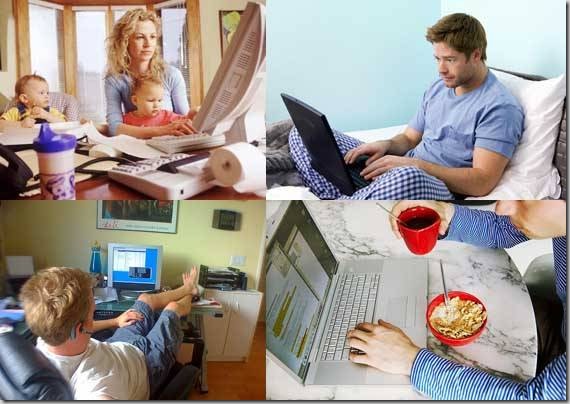 1. Go to Work with a Broad Smile
In 9 to 5 job, you have seen every morning people going to their work in a depressed mood. However, in home business you start your work with a broad smile.
In home business, you start your day in a happy mood. However, in 9 to 5 job this is not the case.
2. Start Your Work in Pajamas
You can start working in pajamas. If you have a laptop, then start working right from your bed.
It is a home business hence you can operate your business from home also. Many businessmen who work from home have offices in their homes.
3. Choose Your Own Working Hours
In a private job, your working hours are decided by the company, but in a home business you choose your working time.
You can work at night, afternoon, morning anytime. It is not necessary that you have to work only from 9 to 5.
4. No Need to Commute
Commuting is the biggest disadvantage of a 9 to 5 job. I personally hate commuting in rush hours.
It is so crowded that, there is no space for even breathing. Moreover, it consumes so much of your time only in up and down.
However in home business, you have to hop from your bed to office table.
5. Be Your Own Boss
Sense of ownership is a great feeling and everyone would like to feel one day. In home business, you will be your own boss.
In 9 to 5 job you have to obey your boss or seniors. You have to work according to them. There is no sense of freedom.
6. No Prior Experienced Required
Starting a home business does not need any prior experience. It is not at all necessary that you need to have years of experience.
Home businesses are based upon an easy concept. You can start even if you do not have any idea. However to get a 9 to 5 job you need to have experience of many years.
7. No Work Pressure
When you do not have to commute and you are your own boss then the work pressure would obviously be zero in a home business.
But if you work for 9 to 5 then you have to meet deadlines. You have to finish your work on time. Otherwise you won't get your salary.
8. No Limit when it comes to making Money
Unlike private jobs where your salary is decided by the management of the company, in home business salary depends upon you, how much you work.
If you work more then you could earn more money. There is no limit for making money in a home business.
But in a private company this is not the case.
9. Give More Time to Family & Friends
You could give more time to your family and friends because you are choosing your working hours.
In home business you can always take out time and spend that time with family and friends.
In a private job you get less time to spend with family and friends.
10. Go for Vacations Any Day or Any Week
You do not have to take permission for holidays from your boss. You can plan your vacation any time.
You can operate your business while you are enjoying your holidays. In a 9 to 5 job forget about going for vacations they do not even give one or two day leave.
11. Start with Minimum Qualification
Starting a home business requires bare minimum qualification. Even a 10th class pass can start his or her own home business.
You do not need any graduate degree or an MBA degree. What you need is simple common sense with a desire to succeed.
However in any 9 to 5 job a degree in any discipline is a basic requirement.
12. Home Business is Evergreen Business
Some businesses totally depend upon the market force. If market is doing well, only then their business will do well.
However, home business is evergreen and it is irrespective of how market is doing.
13. Minimum Start up Cost
If you talk about starting up a business then it requires a lot of investment. But in home business the initial investment is very less.
14. Risk Free Business
Home business involves no or very little risk compared to other forms of business. Anyone can afford to start up his own business if he is serious.
15. Ideal for Women & Housewives
One of the best things about home business is that even women and housewives can start it very easily.
In fact, many home businesses are run by women. It is a great way to become independent in their life.
Women who are looking after their families and do not have money, can start a home business and stand on their own feet.
9 to 5 job is very difficult for women. She always find very difficult working and looking after the family, at the same time. Hence home business can help them out.
16. Support from your Family
Moreover, in running a home business you get all necessary support from the members of your family.
Anyone can help or even join your business. This kind of support is missing in 9 to 5 jobs because there, you are responsible for everything.
17. Expanding Your Business
You always have an opportunity to expand your home business and explore new horizons. You can expand your business and make it real big.
However, an opportunity to expand is very limited in a 9 to 5 job.
18. Fully Recession Proof
Any kind of business is directly affected by recession. If there is a downturn then it may affect a business.
But home business is more recession proof. You make money even at the time of recession.
19. Financial Freedom
After running your home business for a small time you will make enough money that you will be completely financially free for your entire life.
On the other hand, a 9 to 5 job can never give you this kind of financial freedom even you work for decades.
20. Employing & Helping Others
At the time, when unemployment rate is so high, you are helping the country by providing jobs to people.
Small business like yours would always provide jobs to people who are unemployed. You are helping the country economically.
21. Go to Bed with a Feeling of Satisfaction
Finally, the most important thing is satisfaction. Whatever you do, you must be satisfied with the work you are doing.
When you go to sleep you will be completed satisfied with your home business.
However, in a 9 to 5 job you do not get the satisfaction because you are working for someone else.
A small home business is much better than a high paying 9 to 5 job in a private company or a Government jobs.
Hence, start planning to start your own home business now. For more help and complete guidance you can visit our website MoneyConnexion.