Hey Folks! Success starts with MoneyConnexion blog which offers newcomers multiple ways to make money online and live a happy financial freedom. If you are a newbie with a desire to make money on Internet then you have come to the right place. I do hope that you have heard about Clickbank.
If not then you will come to know after going through this article. Just for your information, I want to tell you Clickbank has already paid more then 3 billion dollars to its affiliate.
Firstly we will talk about Clickbank and various things about it that you must know. Believe me guys this is no brainer and nothing here is over the top even a first grader can understand it.
So all the concepts regarding Clickbank is very simple to comprehend and implement. Secondly I will tell you how exactly you can make thousands of dollars with Clickbank. Hence what are you waiting for? Let's begin.
Recommended – Read our previous article "Why Clickbank is Not a Success in India?"
What is Clickbank?
So what is Clickbank? The answer is simple Clickbank is an affiliate marketing network. In simple words Clickbank is a website that has products of all types. These products are basically eBooks and software programs.
Here products does not mean any physical products like gadgets, home appliances etc. These products are downloadable from the Internet after a payment through credit card.
There are around 15,000 digital products on various categories. These products give solutions for problems that people are looking for. Suppose an eBook on weight loss may tell you how to lose your weight, an eBook could teach you how to train your dog or how to play guitar.
Like this you find eBooks on almost every topic. Hence people who are online can go to the Clickbank directly and buy a product there.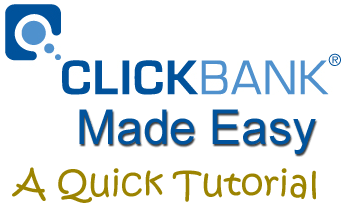 But you might be thinking how do you make money? Well! As a matter of fact millions of people come to Internet and it is not necessary that each of them knows about Clickbank therefore you will have to become a bridge between thousands of products on Clickbank and those millions of people who are online and looking for solution.
The second most important thing is even if a person gets the product idea directly from Clickbank, he will not buy it until he gets the good feedback from someone on internet and here you can play an important role. How you are going to do it? Just continue reading further.
A Quick Tutorial For a Newbie
Before I tell you how exactly you are going to bridge the gap between customers and products I want you to get familiar with certain important terms regarding Clickbank.
As a newbie it will help you to better understand how Clickbank works and your possibility to make huge money with it. If you have clear understanding about below mentioned concepts then you can start earning dollars from today.
Clickbank Marketplace
Clickbank marketplace is where you can find thousands of products that I talked about earlier. There are about 15 thousands products categorized under sections like Arts & Entertainment, Business, Cooking & Food, E-business, Education, Employment & Jobs, Games, Health & Fitness, Sports, Travel etc.
Here I have mentioned only some of the important categories not all of them. There are 23 different categories with each having 6 to 7 sub categories. Hence you can choose any single product from these categories. Clickbank always updates its Marketplace directory so catch up with trending products.
Clickbank Products
After getting familiar with marketplace you must try to narrow down your search as much as you can. There are many products under each sub categories. You can sort your products using 7 important variables. These variables are very essential and can determine the quality as well as popularity of the product. Hence let's discuss them very briefly.
Popularity – Popularity would simply mean that how much a particular product is popular among affiliates (read below).
Initial $/Sale – This means average money that an affiliate makes for each product when he sells it.
Average $/Sale – It is same as Initial $/Sale however here you also have to consider recurring sales that is if a customer is buying a particular product again and again.
Average %/Sale – This shows the average commission that an affiliate makes on a product.
Average Rebill Total – It tells us about the average money that affiliates make on rebilled sales. It applies if products are about subscription or membership.
Average %/rebill – Same thing as above however here it means average percentage commission made by an affiliate.
Gravity – Gravity is the most important thing it means how many other affiliates just like you are promoting same product.
To understand these terms better read the full article.
Clickbank Affiliates
Clickbank affiliates! Now this is where the money is. Who is Clickbank affiliate? You are an affiliate. An affiliate simply means a person who is going to sell these products on behalf of Clickbank to customers. You as an affiliate will be bridging the gap between products and the people who are online looking for these products.
Getting registered on Clickbank is absolutely free, go here and give your details like name, home address, phone etc. There are over 100,000 Clickbank affiliates who are promoting various products online. Remember you are an affiliate who sells the product which is already created by somebody else.
Clickbank Vendors
There are two entities on Clickbank one is Clickbank affiliates and other one is Clickbank vendors. We have discussed about affiliates now let's know about vendors. Vendors are actually product owners who created these products. Clickbank does not have any product of its own.
Its the Clickbank vendors who want to sell their products through Clickbank. You as an affiliate will be selling vendor's product and they will give you commission for each sale you make. Here you do not have to bother about vendors because your identity is an affiliate.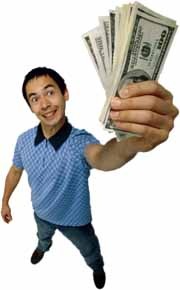 How to Make Money with Clickbank
Enough of explanation now it's time to make money with Clickbank. Before I go into details you must remember terms like "affiliate", "product", "gravity", "commission" and "promote".
To make money steps are simple and straight forward. First step is to choose a product, second is to promote or sell those products and finally make money. Let's talk about each step one by one.       
Step 1: Choose a Product
To make dollars you have to reach out to the people and sell products that solve their problems. Choose a product in a category that you know or have knowledge about it.
For example if you know about finance then choose a product regarding finance, if you have interest in love & dating then choose a product pertaining to this topic. In short I simply mean something closely related to your interest or hobby.
Moreover before choosing a product consider variables that I mentioned before in this article. Firstly is gravity, see how many others affiliates are promoting a product if they are too much then competition is tough.
Secondly average $/Sale that how much you make for each sale, thirdly average %/sale that is how much commission vendor is giving for every product you sell. As a beginner take care of these basic factors.
Step 2: Promote the Product
Step 1 is not yet over. When you have finally decided to choose a product you click on the green button saying "Promote". The moment you click the button you will get an URL link. Copy that URL link and save it somewhere. Now coming to the second step which is promoting the product.
You have to reach out to the people who are coming to Internet searching for their problems. You have to persuade them that your product can solve their problems and ultimately convert a visitor into a potential customer.
There are so many different ways to promote a Clickbank product and reach potential customers. Here are some of the famous methods Clickbank affiliates use and so you can to make good money –
Promote through your existing blog and use the Clickbank affiliate links in your articles or in the sidebar. You can even create a review site and many affiliate prefer this. And if you don't have site or don't want to create one, use other methods below.
You can promote by writing an article giving more details, advantages and review of the product. You can write on web 2.0 sites like Hubpages, or article directories like EzineArticles, ArticleBase and many more.
You can promote through free classified websites.
You can promote your Clickbank products by creating a YouTube video and place your affiliate link there.
You can promote through social media sites like Facebook, Twitter etc.
You can promote through opt-in email marketing
One of the best known method for affiliate marketing is promoting through search engine marketing like Google AdWords. These are the pay per click methods where you have to pay for every click someone clicks on your link. But this is very effective method.
And many more. Yes, we will cover all these promotional methods in our next articles. so just subscribe to this blog so that you never miss any single article.    
Step 3: Now Make Money
Before you make money you have to do one simple thing. Just place the URL link (that you got while choosing a product) below every article you write on your website or blog or in other promotional methods. After reading your whole article when a customer clicks that URL link he or she will reach to the website of the product that you are selling.
If he or she purchases that product then you get a commission from the vendor. The amount will be automatically added to your account. Note that Clickbank will take care if every time someone makes a purchase. Hence to make more dollars you have to sell more and more products to customers.
Try to get as many as people to your listing and sell them products. Clickbank will pay every month after you reach a threshold of $100.
Conclusion
In concluding remarks I would only say Clickbank is a genuine affiliate network. You can join as an affiliate for free, choose a product and start promoting to the customers online. Before choosing products see its gravity, commission rate and popularity.
To reach out customers create a website with some good content. Daily update your website to get more traffic. Place the URL link that you got while choosing a product below every article on your website. If someone clicks the URL link and purchases that product then the amount is credited to your account by Clickbank automatically.
How do you like this article. have you every tried Clickbank to make money. How is your experience. Write us through the comment box if you have on suggestion on Clickbank.