Investing your money is really an art. Rather than spending your money on unnecessary things, you need to invest it. If you learn the art of investing your money then you will never run out of money in your entire life.
However, still a layman in India is not very well familiar with the number of investment options. Perhaps they do not realize the importance of investing.
Although common man does invest in some or other way but I will tell you top 10 ways to invest money in India.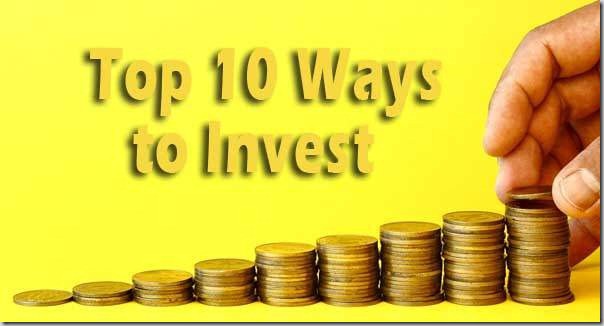 You can easily double, triple or even quadruple your money if you know how to invest at right time at right places.
Let us see where you can invest your hard earned money safely.
1. Share Market – Stocks
Although investing in share markets are little bit risky but if you know the tricks of the trade then it is the best place to invest your money.
If you know in and out of markets, how they are behaving then you can really double or triple your invested money overnight.
You could buy stocks of a particular company whose price is going up and up. You can buy the stocks, keep it with you and sell them at the right time.
Share market is a huge area to learn but if you master it then you can make best out of your investment.
Here is the link for beginner – How to make money from stock market
2. Bank – Saving Accounts or Fixed Deposits
In India, there is no shortage of good banks. Therefore, bank failures or shutdown is very uncommon here.
So, you can feel free to deposit or save your hard earned money into banks. Perhaps saving accounts or fixed deposits are easiest way to invest money.
Before you open an account or deposit money you will be informed by interest rates upfront. Therefore, there is no hidden cost.
Even if the returns are low but the money that you deposited is going to be safe forever. You can recover it any time.
Thus, fixed deposits are the well known, simplest and safest way to invest your money.
Check FD rates of different banks on MoneyControl.
3. Mutual Fund
With mutual fund you can combine your money with other investors. You could invest in selected securities which can be stocks or bonds.
The firm or a company will handle all your investment work you have to just wait for the money that you're going to receive.
The best part of investing in mutual fund is the minimum risks because the money is distributed across the variety of securities.
You do not any expertise because asset manager will do everything for you.
4. Bonds
Government agencies as well as private companies issues bonds. Investing in bonds involves pretty low risk.
Investors earn money through fixed interest rates.
The most secured bond investment would be notes or treasury bonds issued by the government. Initially, they might have less value but in long run they generate high profits.
If you have small children then you can start investing in bonds as they grow you can allow your money to increase and by the time they are adults you can cash out your investments for their education.
5. Life Insurance
Life insurance is perhaps the over-heard term. You might know about this as it is one of the popular forms of investment.
If you don't find a way to invest your money then investing in life insurance is always an option.
Here, money that you invest is called annuities. When you pay money to a life insurance company to get back your money at a certain period of time in small increments then it is called annuities.
Your nominee will get this money in case of your death.
6. Provident Fund
Provident fund is yet another form of investment. This is very safe form of investment because you will get your money back.
Here, returns that you get are outstanding.
However, you have to wait for at least 15 years. But no other form of investment could match the provident fund returns because of the safety that it offers.
Perhaps, provident fund is best form of fixed income investment.
7. Metals – Gold, Silver and Bronze
In India, every household has some amount of gold and silver. The value of metals like gold or silver soars when value of other investment drops.
Purchasing gold bullion is one of the safest & most promising investment. Gold is almost 2.5 times in last 5 years.
There may be risk involved to keep lots of gold at home. Its always better to keep the gold in the bank lockers.
You can even buy the gold in virtual form if you don't want this physically.
8. Properties – Real Estate
Investing in properties like real estate is very popular form of investment but here you need very big investment even for buying a single property.
If you know about a particular location and have an insight that after few years this particular location would be of high commercial value then you can invest in that property.
Properties are very stable investment. Real estate could be a very lucrative business if you apply your brain.
You have to make right decision at right time while you are purchasing a property then you can sell it when demand rises.
9. Businesses
Investing in a small business is also a great idea especially if the business is owned by you. Here is a list of 101 small business ideas & I am sure you will like at least one business idea where you can invest your money.
If you are planning to start a business then you could invest some money. If you are able to turn around your business then you could get high returns.
If you are sure that you can succeed in starting a business then you can invest your money in it.
10. Forex Trading
This is the last form of investing your money. Although forex trading is very popular but I mentioned in the last point because it is very risky business.
If you have exhausted all other investment options only then you should go for forex trading.
Forex is nothing but foreign currency exchange. You need to analyze patterns of currencies in relation with currencies in other governments.
It is very risky for newcomers hence do only when you know about it.
Finally, I would say instead of investing your money in some scams which promise to double or triple your money overnight you should go for above mentioned 10 ways of investing your money in India.