Online medical stores in India are fairly new entrants to ecommerce. That's because India adopts a stringent policy for sale of medicines. As you would know, some medicines are available only with prescriptions.
Furthermore, brick-and-mortar pharmacies are also opposing online pharmacies. That's because they fear a boom in online pharmacies would cause severe drop in businesses of brick-and-mortar stores of what are popularly known in India as 'Chemists'.
Given these scenarios, you might wonder how to open an online pharmacy in India? And is the business really profitable?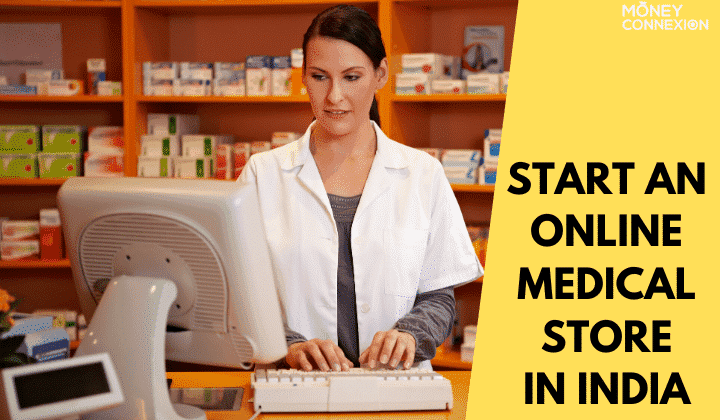 Profitability of Online Medical Stores in India
There's a lot of debate currently over profitability of online pharmacies in India. The Drug Price Control Order (DPCO) that India's Food & Drug Administration releases occasionally puts an upper limit to the price of every single medicine sold in this country.
Therefore, no online or physical medical store can charge more than the Maximum Retail Price (MRP) printed on a medicine's strip, bottle or other packing.
Secondly, an online pharmacy also has to arrange to pick up a prescription and deliver the medicines. Some also offer automatic refills of medicines if the necessary prescriptions are allowed.
And thirdly, discounts are the only attractions to buy medicines online. That's because medicines aren't something for which people would wait for three or four days to get if they're sick.
However, that doesn't mean there's no scope or limited chances for success of an online pharmacy. On the contrary, there're excellent chances you might be successful if you open an online pharmacy in India.
To do so, you'll have to meet the requirements I'll be listing below. These may vary according to the types of online pharmacy you wish to set up in India.
Types of Online Medicine Stores in India
Broadly speaking, there're five kinds of online pharmacies in India. That's mainly due to pricing policies.
Online Pharmacies for Generics: These are most popular in India. Under Indian rules, generic drugs are available up to 70 percent cheaper than branded or ethical ones. However, the drawback with generic drugs is they could come from unknown manufacturers. And usually, generic drugs aren't available in formulations.
Online Pharmacies for General Medicines: General medicines also include ethical or branded pharmaceutical preparations from highly reputed companies in India. Sometimes, they also sell generic drugs. And these pharmacies also sell food supplements, baby formulas, medical devices, cosmetics, skincare and other products too.
Online Ayurveda Pharmacies: As the name suggests, these online pharmacies supply only medicines from the Ayurveda or Indian form of herbal medicine. They do not require any prescriptions. As a rule, they cannot sell Allopathic or general medicines.
Nutritional Supplements Pharmacies: Here you can buy online various kinds of nutritional supplements that don't require prescriptions. However, claims made by manufacturers of these nutritional supplements aren't verifiable. And most of these manufacturers are foreign ones. Hence, their products can cost a lot.
Online Apothecaries: Though very rare in India, they do exist. An apothecary makes medicines as per specifications of an Allopathic doctor. Or in simpler words, these are custom-made formulations that doctors prescribe when something their patients require isn't available easily from drugstores. Buying from online apothecaries can prove very expensive.
Now that you're aware of the five kinds of online pharmacies, select one to start your business. Because now I'll be speaking about how to start an online pharmacy in India.
How to Start Online Medical Store in India?
So let's get down on how to open an online pharmacy in India. These steps I'm mentioning are broad guidelines. That's because every state in India has different rules regarding online medicine store.
Hire a Licensed, Qualified Pharmacist
The first requirement to start an online pharmacy in India is to hire a qualified pharmacist who holds a professional license. The minimum qualification for this is Diploma in Pharmacy D. Pharm or higher such as Bachelor or Pharmaceuticals or Master of Pharmaceuticals. A doctor holding professional license can also open an online medical store.
It's worth remembering that a licensed Pharmacist or Doctor's name figures on the application form for applying for online pharmacy license. They will be directly responsible for the medicines and other products you sell. Unless you hold relevant degrees as Pharmacist or Doctor, it's best to hire one. And this has to be a fulltime employee.
Apply for FDA & FSSAI Licenses
The next step to open an online pharmacy from any of the five categories I mention above, you'll require licenses. The two main authorities from where you'll need licenses are the Food & Drug Administration (FDA) and Food Safety & Standards Authority of India (FSSAI). Without these two licenses, it's not possible to open an online pharmacy legally in this country.
In some instances, the Pharmacist or Doctor also has to appear for a written exam and interview to obtain the due licenses for the online pharmacy. The requirement varies in every state. That's because every state has different licensing procedures, though FDA and FSSAI come under the Central government.
Licenses from Local Authorities
Medicines in India are divided into various categories. This depends on their use and risks to consumers. As a rule, a pharmacy requires prescriptions to sell any medicine to a customer. However, this rule is loosely applied in most cases.
It's only certain categories of medicines that require prescriptions. For examples, sleeping pills, cough syrups, certain kinds of psychiatry medicines or those containing addictive substances usually require prescriptions.
To store and sell these medicines, you'll need licenses from local authorities. These include your state authorities as well as local bodies including municipalities and village panchayats or district administrations. These can include licenses under Shops & Establishments Act, trading licenses, warehousing licenses, Goods & Service Tax Identification Number (GSTIN) and other such permits.
Tie-Up with Local Pharmacies
Generally, online pharmacies don't have brick-and-mortar warehouses. That's because nobody can anticipate which medicine will have a high demand. Therefore, these online pharmacies usually have tie-ups with local chemist stores. And they have tie-ups with pharmaceutical companies and distributors to get a proper margin too.
This is the trickiest and important part of starting an online pharmacy. As I mention earlier, you have to have an adequate margin to pay the local pharmacy as well as prescription pick-up and medicine delivery charges. That's not possible unless everyone gets a fair share of profits. Therefore, negotiating with companies and medical distributors is of prime importance.
Arrangements with Couriers
You'll also require arrangements with courier companies to pick up prescriptions from customers and deliver medicines at the earliest. This involves an extra cost since there're two distinct services- pickup and drop involved.
And the courier firm also has to be able to deliver orders on schedule since medicines are important and their unavailability can endanger someone's life. For example, a diabetic or blood pressure or cardiac patient requires medications daily and can't afford missing dosages.
Website & App
To start an online pharmacy in India, it's important to have both, a website and app. This allows two ways for people to order medicines. Over 70 percent of all online buying in India is done from mobile devices, especially smartphones. Therefore, an app is the most vital component for every online pharmacy.
And you'll also require an excellent ecommerce website to sell medicines online. The website usually has an online chat mode, where buyers can make instant enquiries about the availability of a medicine or product and its uses or availability.
Setting up an ecommerce website and providing an app for online pharmacies also requires various kinds of government clearances. Therefore, obtain these clearances before you go about setting up the website.
Staffing
Online pharmacies don't require much staffing. That's because a patient has to upload a picture or scan image of their prescription on the website or app. And this prescription goes automatically to the pharmacy nearest to the customer's location.
This is possible because a customer has to specify their Postal Index Code or PIN before placing an order. There're software that sends orders directly to the pharmacy with whom you have a tie-up in that specific area.
The pharmacy will in turn dial your courier company and arrange for the original copy of the prescription, if the medicines require one as I explain above. If not, this effort is avoidable and the pharmacy will deliver directly to the customer.
Sometimes, the delivery person asks for the prescription and takes a scan or the original, depending upon the nature of the medication.
Do Digital Marketing
And finally, you'll need to promote your business online to popularize your online pharmacy among customers. Digital marketing can help you in that. At the time of writing this article, only a handful of online pharmacies are operating in India. However, as the Indian government relaxes its regulations for medicine sales, the number can go up drastically. Hence, you need to get ready to meet the completion almost immediately.
Digital marketing can also help an online pharmacy to get clients from outside India. However, sending medicines outside India isn't always possible since it requires export licenses and other clearances. And the foreign government mightn't allow the medicine to enter their country.
Usually, foreign clients buy medicines just before arriving in India. These are long term visitors and would usually have a proper delivery address in this country.
In Conclusion
Before concluding, I will emphasize that it's not possible to start an online pharmacy in India without getting proper clearances from various authorities. Failure to do so can land you in serious trouble with the Indian law. Also, you need to ensure that medicine priced don't exceed the DPCO listed rates. At best, you can only charge delivery fees or convenience fees from the customer to offset your expenses.