You are going to become another victim of Bharat Online Work scam online jobs if you won't read this review & complaints of hundreds of customers of BharatOnlineWork.com.
Although I can easily identify any fake online job by checking any website for just 2 minutes but when I write the review of any website, I do my full research before I write about any fake online job site.
You can see that I have received more than '240 Comments' when I published Krishna Karpal scam here. Most of the people were about to become a victim but thankfully they read my review.
So once again I am going to write about one of the similar online job scam from Bharat Online Work operating from 2 sites bharatonlinework.com and bharatworkonline.com.
Scam of Bharat Online Work – Review & Complaints of BharatOnlineWork.com
As both the sites are similar, whatever I will write about bharatonlinework.com will be applicable for bharatworkonline.com. So check here the reasons why I found Bharat Online Work as an scam company-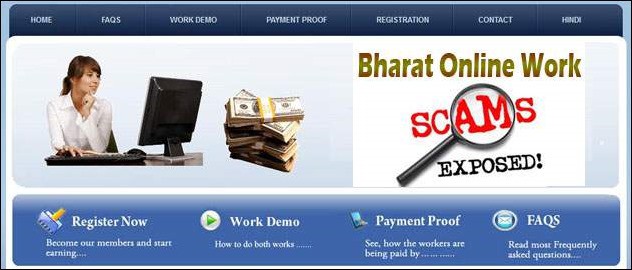 1. 100% Fake Payment Proofs & Testimonials on Bharatonlinework.com
This reason is enough for you to understand that Bharat Online Work is nothing but a scam company. But still you read other reasons so that you will be fully convinced.
Can you imagine you are working in Reliance & you are getting your salary from TATA. But if you visit Bharatonlinework.com, you will find they have done this mistake in their payment proofs.
They show you the jobs of Paid advertisement & Online Surveys on their website but all the cheques shown as payment proofs & testimonials on their website is  from Google AdSense & Commission Junction.
Paid advertisement & online surveys are totally different from Google AdSense & Commission Junction (CJ). If you are working on paid advertisement & online surveys then you are neither going to receive your payment from Google AdSense & nor from Commission Junction.
I am making money from Google AdSense from the last 8 years. I have also worked for CJ & made good money. So I know much better about these sites than many of the internet marketers in India.
There is only one way to receive money from paid ads & online survey & that is PayPal. There is not a single payment proofs from PayPal on the website.
Now you will be confused & there will be many questions in your mind. Don't worry, find the answers below for all questions-
Why Bharat Online Work don't show payment proofs for Paid ads & online surveys?
Because Bharat Online Work don't have any payment proofs. There are very few sites who pay you for paid ads & online surveys & if you work on these sites, you will not be able to earn more than Rs.1000 to Rs.1500 in a month. If they will show payment proofs of Rs.1000, you will not buy their CD package.
Is the payment proofs of Google AdSense, Clickbank or CJ (Commission Junction) real?
No, all of the cheques at Bharatonlinework.com are fake because the sites is showing latest cheques of 2014 but Google AdSense, Clickbank and CJ have stopped paying through cheuqes long before. Now these companies pay through bank transfer.
So there is no question of receiving payment by cheques  from last couple of months. So this is a proof of scam.
You will be surprised to know that the format of Commission Junction cheque they have posted on their website is around 4-5 years old & they are showing this old cheque with 2014 date.
Spot the Difference Between Real AdSense Cheque & Fake AdSense Cheque from the cheque images below
Cheque format is completely different. Google discontinued the format in 2011 where you will find Google INC., & its address on the top right of the cheque. So they are showing very old cheque  with the date of 2014.
See how the amount is written in  words. In the real cheque, 31 paisa is written as 31/100 INR but in the fake cheque 20/100 is missing for writing 20 paisa.
See there is no mention of cheque number anywhere in fake cheque.
See the letter spacing between the date. Its edited very unprofessionally. So anyone can easily identify that this is nothing but a fake & modified cheque.
1. Real cheque that I received from Google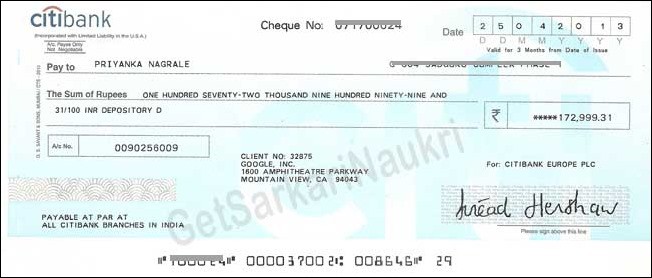 2. Fake cheque on BharatOnlineWork.com

They have copied the old cheques from other sites, change the date & other details through Photoshop. This is nothing but crime.
2. Lots of complaints on number of complaint sites
I used to check reviews & complaints of many online jobs sites on internet but I was surprised when I started checking the complaints of Bharatonlinework.com. Not 10 or 20 but there are hundreds of complaints on different sites from number of people. It means they have cheated thousands of people in India.
This is the case of cyber crime & you check this link on SureJob if you want to submit a complaint to cyber police.
So just check these links to find review & complaints on many complaint sites-
If you click these links, you will find dozens of complaints on each & every website for Bharatonlinework.com. So you can decide if a company who is receiving so many complaints is a trusted company or a scam company.
3. Misleading Job Details
Do you know, what you will get in the CD when you order & receive the Bharat Online Work CD package? Just the list of fake sites for paid advertisement & online surveys.
But there are only 5-7 trusted sites for paid ads which pay their members. If you search Google for paid ad sites or online survey sites, you will find hundreds of sites where you get the same list without paying anything.
Even I have provided the list of the sites for PTC here and online surveys here.  I have mentioned only the trusted sites and all are free to join.
How & why the job details are misleading at Bharatonlinework.com?
You can see their website where they have shown that you receive paid advertisement by email & you will get paid $0.25 (Rs.15) for viewing the ads.
But in reality there is not a single trusted website which send paid ads in the email. And there is not a single paid ad sites which pay more than $0.01 (60 paisa) for viewing one ads.
And same is the case with online surveys because $1 is the maximum amount you will receive for completing one survey in India.
They are just showing you the lollypop so that you will be tempted to order their CD. Once you receive the CD, you will never get any response.
4. No Option for Login on Bharatonlinework.com
If you visit the website of Bharat Work Online then you will not get any option for login. Then why they have mentioned that you will get the username & password in the CD package.
They have also mentioned that there is no renewal charges & no expiry date. So when there is no option for login to the site, where is the question of renewal & expiry.
5. Hidden contact details
Do you know you can find the name of the website owner & his contact details by visiting https://who.is and https://whois.net/ websites but if you try to find the name of the owner or the contact details of Bharatonlinework.com, you will not get anything because they have hid the details by paying extra to the domain registrar.
Trusted sites never hide their details from Who.is, so its the direct indication of scam.
Even you can't get the contact number & name of the owner on its contact us page.
So you can see how Bharat Online Work is doing scam from its website Bharatonlinework.com. If you have already burnt your fingers then you can write your opinion in the comment so that you can alert other people from losing their money.
And if you want to earn money from home then we have provided here online jobs without investment. These are real, simple & legitimate internet jobs. You can signup for our free training from that page.