Generally, most people live with the impression that all Multi-Level Marketing (MLM) or network marketing companies operating in India are foreign ones. However, there's a superb MLM company from India too. It's known as RCM Business.
What's RCM Business?
Obviously, you'll wonder what RCM Business is all about. Therefore, I'll start by telling you that it's a 100 percent homegrown Indian company.
They sell everything from health supplements and herbal medicines to skincare and beauty products, clothing for children, women and men as well as a wide array of other stuff such as bags, stationery, tools and lots more.
Their products are generally made in India. Hence, you get a guarantee that it's not some foreign product being tested in this country.
RCM Business sells all its products through direct marketing or what's also known as MLM. And a thousands of working persons, housewives, stay-at-home moms and those looking for a fulltime source of income work as their business associates.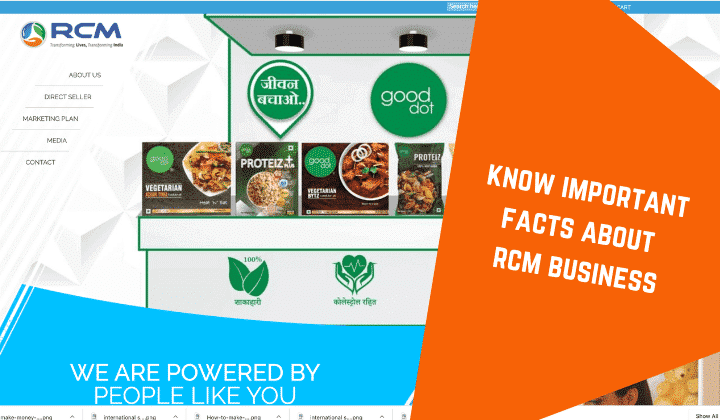 Just in case you don't know, MLM or direct selling isn't a job or employment. Instead, it's a form of micro business, where you buy products from an MLM company at a lower rate and sell directly to the consumer.
For promoting the company and its brand, products and services through your social network, you get some money for every confirmed sale,
And RCM Business does exactly that. Therefore, if you're looking at a small business opportunity within India, consider RCM Business.
Joining RCM Business as MLM Associate
Actually, it's very simple to join RCM Business to become their MLM associate or direct seller, as it's known. All you need to do is visit their website. You'll find the necessary application forms there.
Download these forms and make sure you complete them with all the necessary information. Since RCM Business involves money and bank transactions, you'll also have to complete full Know Your Customer or KYC formalities.
There're two options: you can email the form or submit online. Or, mail them to the postal address provided on the forms. I would recommend mailing them by India Post as better option.
That's because you can attach copies of your ID cards such as Aadhar Card, Permanent Account Number (PAN) card and others.
Selling RCM Business Products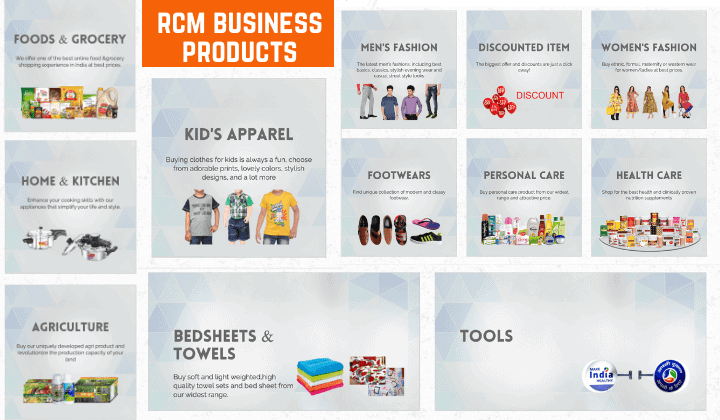 Similar to every MLM and direct selling business in the world, you'll have to create an awareness of the RCM Business brand within and outside your social circle. There're various ways for doing so, as RCM Business will show you.
Once you create a brand awareness, it's possible to get orders for hundreds of products that's sell under the RCM Business name.
You have the option of making payments for these products and selling them at the tag price or with discount to a customer. Occasionally, you can also provide samples of some products for customers to taste.
Understanding RCM Business Pricing
Under Indian laws, every product made and sold in this country as well as imported stuff available from legit sellers should bear the Maximum Retail Price or MRP. The MRP includes all sorts of taxes and other levies including Goods & Services Tax (GST).
The price you're paying to RCM Business covers the price and shipping costs. And the MRP or tag price on their labels is higher. This is something you need to understand clearly.
The MRP or tag price of RCM Business products compares very favorably with those of similar things available online or at brick-and-mortar supermarkets.
Now RCM Business provides you the option of selling the product at MRP or at a discount, depending upon your perception of the buyer. For example, if it's a long-term and loyal buyer, you can part with some discount to encourage them to patronize your services.
For newcomers you wish to convert as clients, you may offer freebies. What you charge is entirely your decision. However, as policy, RCM Business doesn't permit selling any product above the MRP.
Selling RCB Business Products Online
There're a lot of uncertainty over selling RCM Business products online. While online stores including Amazon and Flipkart encourage small businesses and individuals, they generally shun products from MLM companies. Furthermore, laws in India over online sales of MLM products aren't very clear.
However, a lot of foreign MLM associates that work outside India actively do direct selling online. They open a marketplace on Etsy.com, Shopify.com or Facebook Marketplace and Facebook Business to display products and accept orders.
You can enquire with RCB Business if they would provide you the option of online sales. Generally, direct selling companies do not encourage online sales because they wish to become a household name by word of the mouth publicity.
Foreign MLM v/s RCM Business
A lot of people compare foreign MLM companies with RCM Business. Actually, there's nothing much to compare because both have their own niche clientele. Large foreign direct selling companies have variety of healthcare products they're allowed to legally sell in India.
And some of their products are very unique or exquisite. This means you'll spend more time explaining the benefits of the foreign product to an Indian client.
In stark contrast, RCM Business makes products that are generally known to Indians and contain ingredients they're aware of. Hence, you don't have to bear that additional hassle of explaining the uses and benefits of something to convert a lead as a customer.
And above all, there's a vast difference in price of some products from RCM Business compared over foreign ones. Generally, imported products cost more in India due to import duties and other charges. 
That doesn't mean that imported products from foreign MLM companies don't sell in India. In fact, they hold a much greater share than Indian direct selling firms. That's also due to the fact that Indians have an inclination to opt for foreign stuff.
Closing Thoughts
These are the brief descriptions of RCM Business and ways you can earn money from this company. They have a fantastic website where all details such as formalities to become a direct seller and the entire product range is listed. Check the website before signing up.