Pradan Mantri Jan Dhan Yojna was announced by Prime Minister Narendra Modi on 15th August, 2014 and was launched on 28th August, 2014.
Pradhan Mantri's dream project Jan Dhan Yojana made record by opening 15 million bank accounts through the 80000 camps across rural & urban areas of the country on 28th August, 2014.
This scheme has slogan as 'Mera Khata Bhagya Vidhata'. Prime Minister Narendra Modi has targeted to open 7.5 crore bank accounts till 26th January, 2015.
Till 8th September, 2014 State Bank of India has opened about 21.16 lakh accounts in rural area and 8.8 lakh accounts in urban areas.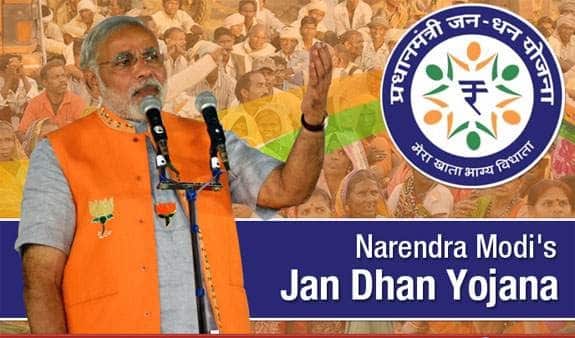 Canara Bank has opened 16.21 lakh accounts, Punjab National Bank has opened 20.24 lakh accounts, Bank of Baroda has opened 14.22 lakh accounts and Central Bank of India has opened 15.98 lakh accounts.
Finance Minister has declared that those having already the bank accounts no need to open new account in Pradhan Mantri Jan Dhan Yojana for the scheme benefits.
The existing bank account holders will also receive the scheme benefits. Due to this scheme the number of small amount deposits has raised.
Under this scheme people can open bank accounts with zero bank balance with any public or private bank.
Purpose of this scheme
The main aim of this scheme is to provide banking facilities to poor persons and each and every person of the country.
To bring everyone under the Governments financial freedom programme.
Many poor Indians depend on the money lenders for the money in case of emergencies and remain in deft for entire life. Through this scheme people will get overdraft facility and get the insurance benefit also so they don't have to face problems in emergency cases. After success of this scheme the money lenders will disappear as people will directly go to bank for small amount of the loan.
Through this scheme people will have the habit of savings money.
All those earning daily wages can also have a zero balance account with small amount deposits.
At the last there will be change in the Indian Economy.
How to open Pradan Mantri Jan Dhan Yojana Account
To open account under this scheme an Aadhar card proof is sufficient. Other than Aadhar Card voter ID card or any other identity proof, Permanent Account Number (PAN card) and Driving licence is acceptable for opening bank account.
Some of the features of the scheme
1. In the first phase, all the account holders will receive the Rupay Debit cum ATM Card. Rupay card is an Indian Version Card Payment like MasterCard and Visa Card.
2. After satisfactory operation of the account in 6 months of account opening the Aadhar Card account holder will receive Rs 2000 overdraft facility and may be extended upto Rs 5000 depends upon the credit history and the bank's final decision.
3. The account holders will get Rs 30000 life insurance cover and Rs 1 Lakh accident insurance cover.
4. In the second phase of the scheme the account holder will get facility of micro insurance & pension etc.
Benefits of the scheme
Zero Bank Balance Account
Basic Mobile Banking Services. No need to have smart phone to access the mobile banking services.
Insurance Benefits
Rupay Debit Card and ATM Facility
Loan / Overdraft facility
Here are some of the FAQs to know more about this scheme. Below two Helplines will help for any queries regarding the Pradhan Mantri Jan Dhan Yojana Scheme.
1800-180-111
1800-110-001