I love travelling all over the world. I have been to places like New York, Paris, Dubai, London, Thailand, Mauritius etc.
However we tend to ignore our own country. So I decided to travel all over India and find some of the best places only for street shopping.
The reason I did this article is because we spend a lot of money on shopping. We usually shop in fancy shopping malls which are pricey.
But if you can get better items with cheaper price from a street then why you need to go to a mall.
So I decided to create a list of some of the best places in India for street shopping. Here you not only get the better deal but also exquisite items that you can never find in fancy mall or a plaza.
1. Goa
Goa is one of my favorite destinations; I love beaches, shacks, sea food etc. But apart from these things you can also do some street shopping in Goa.
One of the best places to go street shopping in Goa is Arpora. It is famous for "The Saturday Night Market" where you can buy anything from clothes to knick-knack.
You also get to shop colorful fabrics, leather sandals and other souvenirs. Then there is also Anjuna flea market and Arambol street market where you can buy lots of beaded earrings, necklaces, clothes etc.
2. Jaipur
Second best place to do street shopping in India is Jaipur also known as pink city. Pink city is really best for street shopping when it comes to handicrafts and antiques.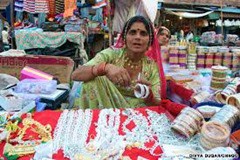 Jauhari Bazaar is famous for its jewelry encrusted with precious stones and minakari work. You can also go to Bapu bazaar for textiles and handicrafts. You can also find other ethnic stuff like shoes, cushions, bed sheets, bangles etc.
You can also visit Chaura Bazaar.
3. Mumbai
Mumbai is also known as fashion capital of the country. There are many places for street shopping in Mumbai. It depends upon how much you are ready to spend.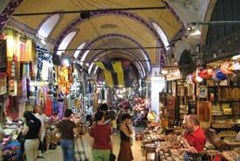 The most of popular area is Linking Road in Bandra and Colaba Causeway. Especially Colaba Causeway is best for shopping items like slippers, shoes like kholapuris, beads, bags, purses etc.
If you want to do jewelry shopping then visit Zaveri Bazaar. Here you can bargain.
4. Kolkata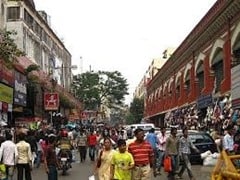 Next on your list must be Kolkata. The best place to begin your street shopping is New Market. It is also called as bargainer paradise because you can bargain till the end.
You get fabulous Bengali Sari at a reasonable price. You can also go to places like Adi Dhakeswari Bastralaya (handicraft), Garihaat Market, College street and Burra Bazaar for street shopping.
If you like books then you can go to Oxford bookstore.
5. Delhi
When it comes to Delhi then there is New Delhi and Old Delhi. If you want to go for street shopping then old Delhi is really great.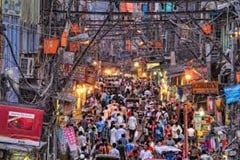 In old Delhi you can visit Chandini Chowk where you get traditional fabrics, jewelry etc at very low price. If you want to shop handicrafts, shoes, paintings then visit Cannaught Place, Janpath Market.
You can also visit Sarojini Nagar and Palika Bazaar.
6. Kerala
Kerala also known as God's own country. Here Jew Street is the most famous place for street shopping. The place is in Kochi at Fort Kochi. You shop items like paintings, vases, clocks etc.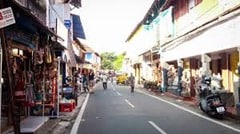 Here you will find things related to colonial era like French, Dutch, Portuguese etc. You can bargain and buy various items at Jew Street.
It is also famous for roadside eateries and delicious sea food recipes.
7. Bangalore
Next top place to visit for street shopping in our list is Bangalore. The best place to go street shopping is Commercial Street. I have been to this place many times.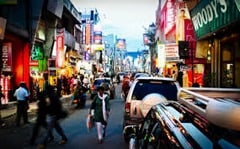 There are hundreds of shops in Commercial Street where you can shop every commodity on the earth. The place offer many things but it is really famous for Mysore Silk.
Moreover there are many eateries and pubs where you can enjoy your evening. You can also visit Brigade Road and MG Road for best bargains.
8. Lucknow
Lucknow is an ancient Indian city with a lot of tourist attraction and some of the best places for street shopping.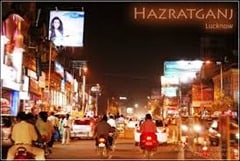 Hazratganj market is the place for street shopping in Lucknow. The shops are as old as 50 years.
You can shop everything like clothes, jewelry and other accessories. You can also shop some of the best perfumes in the world.
But the place is really great for food. Visit this place in night because it is really great.
9. Ahmadabad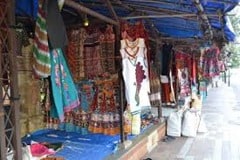 The ninth place for street shopping in India is Ahmadabad. In Ahmadabad the best place for street shopping is Law Garden.
Here you can shop for traditional items like handbags, clothes, shoes etc. You can also look for hand embroidered items here.
But the best thing to take out is choli and ghagara. They are the best.
10. Pune
The final place in our list is Pune. Fashion Street Cantonment is the best place for street shopping in the city.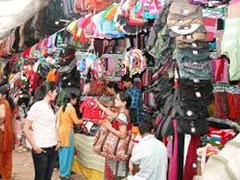 There are over 400 stalls to shop from. You can shop items like clothes, shoes and décor artefacts.
You can also visit FC Lane, MG Road, Tulsi Baug etc.
So these were some of the best places for street shopping in India. There are many other places that you must see like Nianital but we mentioned few best places in this article.
This article is contributed by Shashi Suman who has a passion for travelling. He likes to write about on topics related to travelling.