Updated 18/06/2016
In my previous post, I have written about how to make money by sending & receiving SMS & even published list of the sites where you can signup for this.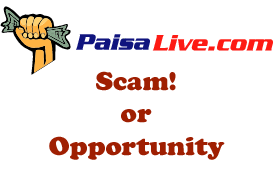 But many of the members claimed that, few of the sites including PaisaLive as scam & they don't pay their members.
So I thought of testing these sites to find whether these sites are trustworthy or not. One of the sites in this category is PaisaLive.
Today, I am going to write the review of PaisaLive.
I joined PaisaLive & worked for almost 2 months as per the guidelines provided by the website. So here is my review after 2 months.
PaisaLive – Scam or Opportunity?
Read each and every word carefully before you login to your Paisa Live account again. There are 2 ways, you can make money from PaisaLive.
Login to your PaisaLive account, click 'My PaisaLive' Inbox' & check the messages.
By referring people to PaisaLive.
So I made this a routine to login at least once and check 2-3 messages as they are available in PaisaLive inbox.
I was also referring at least 15 to 20 people daily to join PaisaLive. Now if you login to your PaisaLive account and check your 'PaisaLive Inbox' you will find –
Only 30% to 40% messages are paid and others are free promotion.
You will earn only 1 Rupee for checking and completing a simple registration.
In many of the places, you will earn only after you register there and confirm with your mobile. And once you register there, you will receive lots of promotional messages. So in order to earn Rs 1, you have to spend at least 2 minutes and receive promotional SMS on your mobile.
So after working for more than 2 months, I referred more than 550 people on PaisaLive & read around 50 to 60 messages. So my total earning is (550 x 2) = 1100 and (60 x 1) = 600/- & that comes out to be 1160/-.
But as the Paisa Live send the payment only after you reach 500 INR, I made the payment request just after crossing Rs. 500 on 21st December 2011.
I was waiting for my payment from PaisaLive. I was checking my account daily, if they have sent my payment. It was more than 1 month, but the status was showing 'validating payment' in PaisaLive payment status.
Then one day, I sent an email to PaisaLive, asking, when they will release my payment as it's more than 30 days I requested for the payment.
I got the reply with in 48 hrs but I think, either this was the auto reply or replied by human without checking the complete message.
They said "it will take 30 days time to receive the payment after request". After waiting for another week, I sent again a warning message asking to release the payment otherwise I will write a negative review on my blog.
And then finally they sent me a check of Rs 524 in the first week of February 2012.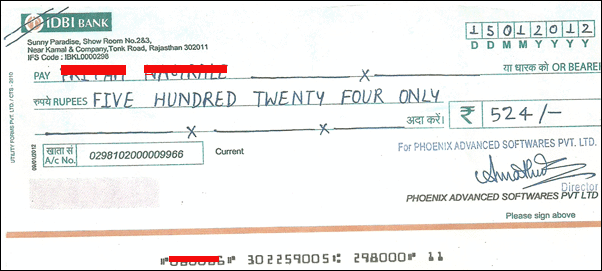 But wait.. read further my review, this is not the end……
Although the check date is 15/01/2012, but I received this check in first week of February.
Why you should not work with Paisa Live?
As I mentioned you, I referred 550 people for Paisa Live and all of these people are joined from my referral link through this blog MoneyConnexion.
But a normal person can't refer more than 20 people in his whole lifetime. But let's consider you will refer 50 people to PaisaLive so your referral income will be 50 x 2 = 100 INR.
Other than referral, you can earn from the promotional messages. You won't get more than 3-4 messages a day or 75 messages a month. So if you  login daily to your PaisaLive account and read the messages, you will earn 75/- at the end of the month.
It will take 6 months to earn you Rs. 450/- and as you earn 100/- from the referral, your total earnings will be 550/- after 6 months.
You will be eligible to receive the payment and it will take another 1 month by PaisaLive to send you the payment. So you will receive Rs. 500+ after working 5-10 minutes daily for 6 months on PaisaLive.
Important points before you think of working on PaisaLive
There are so many people I have found, who has crossed INR 500/- including some of my friends but never received any money from PaisaLive. So if you have crossed INR 500 and eligible for payment, its not necessary, you will receive your payment.You can find many complaint sites where people mentioned that they did not receive payment from PaisaLive.
Most of the income proofs you see at PaisaLive website, are from those people who can refer hundreds of people to PaisaLive. There will be only 1% to 2% such people and many of the income proofs are from such people only.
You are daily registering with email & mobile number on at least 1 site for earning 1 Rupee. So, at end of 6 months you must have joined hundreds of sites. You will be receiving number of spam emails and SMS from those sites.
Now consider everything positive about PaisaLive and you are working daily 10 minutes to earn Rs. 5. It means, you will get paid only Rs. 30 for an hour work. So you think, this is some good income to work for?
Is PaisaLive Scam?
There are more than 50,000 members joined in PaisaLive but if you check the payment proof section of PaisaLive, you will find they have sent the latest payments to 200 to 300 people only. It means only 1 in every 250 members has received the payment.
There will be so many people who, in spite of crossing the Rs. 500 limit not received the payment and they will call PaisaLive, a scam.
Thousands of people leave working with PaisaLive before reaching the 500 figure and if you calculate the total earnings from such people, it will be in millions and that is the complete profit for PaisaLive.
So PaisaLive is making very big money but giving only pennies to handful of people.
Conclusion –
If you visit my blog where I mentioned you about the 6 sites to join and earn money, I will not recommend any of the site to join you. Instead search for other ways of making money like Google AdSense, affiliate marketing etc.
Subscribe to our blog so that you never miss a genuine money making opportunity.
If you are one of the person, who is joined with PaisaLive and has got any feedback to share with other readers, send this through the comment so others will know whether PaisaLive is a scam or not.