Where does one go for recharging data and calling packs on mobile number? The obvious answer would be the showroom of the mobile company, their website and app. Fair enough, because all mobile companies offer the online recharge facility for their subscribers.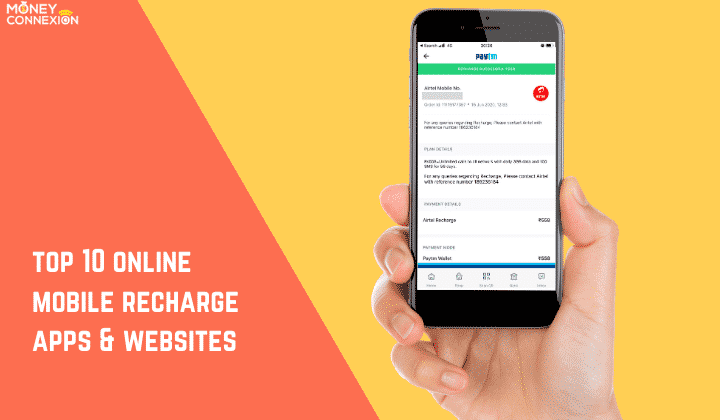 But what if you want freebies or discounts while recharging your mobile phone account? While mobile networks occasionally launch special promotions and offers for customers, there're several websites and apps that allow you to save a lot of money or get better deals at the same price.
Therefore, the next time you recharge your mobile account, consider any of these 10 best online mobile recharge app and sites.
10 Best Online Mobile Recharge Apps & Websites
Actually, online recharges are the best for mobile numbers. They help us avoid the hassles of visiting a showroom or standing in queue at some retailer that sells recharge vouchers or does it online. Using mobile recharge apps and websites also helps save money and can be done round the clock from any location.
Therefore, the next time you need to recharge your mobile account, consider any of these 10 best websites and apps.
1. Amazon India
By any standards, I rank Amazon India as the best website and app for online recharge of my mobile numbers. Since I hold two numbers from two different networks, I'm able to save a lot by recharging from Amazon.
How's that? Amazon India comes up with special offer that give you anything between Rs.10 and Rs.125 cashback on the first mobile number recharge for the month. The cashback depends on the value of your recharge. Generally, any recharge of Rs.100 or more qualifies for cashbacks.
Visit Amazon India's mobile recharge page and fill in the relevant details. The website will display the promotion of the month. While some promos are for select debit and credit card holders, others are valid for all. Upon filling the necessary details such as mobile number, network and circle, select the pack for recharge and proceed to pay.
You can pay by net banking, credit or debit card and Unified Payment Interface or your Amazon Pay balance. It takes a couple of minutes for the mobile number recharge to reflect on your account. The cashback is generally credited to your Amazon Pay balance within three days.
Refer: Top 60 Online Shopping Sites in India
2. Kotak-811
Kotak-811 is a service from Kotak Mahindra Bank. They allow you to hold a zero balance, n-frills savings account at any branch. You can open the Kotak-811 account online and complete KYC formalities at any branch. There's no need to deposit money in your Kotak-811 account. However, don't forget to download their app.
The Kotak-811 app allows you to deposit money in your account whenever you wish to recharge, using UPI cash transfer from your main bank account. And they have the mobile number recharge facility on the app. And you can also buy mobile number recharge from their online store, Kay Mall.
In both cases, Kotak Mahindra Bank gives you some incentive in the form of cashback, discounts on the recharge or discount vouchers for future recharges. This is an excellent option if you hold more than one mobile number, since you can get discounts for all subsequent recharges.
3. PayZapp
PayZapp is one of the most popular mobile wallets that comes with a digital debit card facility. PayZapp is a service from India's largest private lender, HDFC Bank. They have amazing offers round the year on mobile number recharges from every mobile network in India.
Using PayZapp or the HDFC Bank digital debit card that comes with it earns you anything between Rs.10 and Rs.150 or more, as cashback on mobile number recharges, depending upon the promotion. Sometimes, PayZapp gives you discount vouchers for subsequent recharges.
Another excellent feature of PayZapp: you can use it to recharge the mobile number from websites of mobile networks too. Often, these mobile networks provide cashback and discounts for payments from HDFC Bank debit card and apps. Pay with PayZapp to avail these special offers.
4. Pockets
Pockets is a fabulous online wallet and shopping app from private lender, ICICI Bank. The Pockets app is available for all users, including non-ICICI Bank customers. Pockets app is simple to use and comes loaded with host of features.
One of the attractive features of Pockets is the mobile number recharge service. You can get amazing cashbacks ranging from Rs.10 to Rs.100 or more, depending upon the promotion. ICICI Bank also ties-up with ecommerce companies and mobile networks to provide cashbacks.
Pockets also comes with a digital debit card from ICICI Bank. You can use this debit card to avail joint promos on mobile number recharges that are often available from mobile networks in collaboration with ICICI Bank. Usually, Pockets also gives you some discounts on future recharges.
5. iMUDRA
iMUDRA is a recent entrant to the online payments and mobile number recharge scene. This app comes from private sector lender, Federal Bank and the Indian Railways Catering & Tourism Corporation (IRCTC).
iMUDRA serves as mobile wallet. You can store up to Rs.10,000 on your iMUDRA wallet without completing KYC formalities or up to Rs.100,000 for full KYC holders.
iMUDRA and Federal Bank come up with special discounts for mobile number recharges almost every month. You can save between five and 10 percent of the cost of the mobile number recharge with online coupons from iMUDRA that flash while making payments.
6. Phone Pe
Another superb app that I would personally recommend for anyone to recharge mobile number is Phone Pe. It has this wonderful facility to connect all your bank accounts and check balance, send or receive payments. Phone Pe also allows you in-app recharge for mobile numbers or direct through apps and websites of mobile networks.
Phone Pe always has some promotion going on for online mobile number recharges. Whenever you pay with Phone Pe, either as in-app purchase or using the app to pay on another website, you'll get a digital scratch-and-win card on your phone. When you 'scratch' this card, you can get anything from Rs.10 off on next recharge or a discount voucher for other purchase.
7. Google Pay
Google Pay, though a newer entrant relatively, is fairly popular in India. You can use Google Pay safely to recharge your mobile number. Setting up your Google Pay account is fairly simple. All you need is to download the app and feed in the necessary details.
By itself you won't find any special offers on mobile number recharges with Google Pay itself. Instead, websites of mobile networks will offer discounts when you pay with Google pay. Furthermore, you can check for excellent discount coupons and codes from various websites that can slice off a few Rupees on your mobile number recharges.
8. YONO
YONO means You Need Only One. This is an app and website that comes from India's largest public sector lender, State Bank of India. It doesn't matter if you're not an SBI customer: With YONO you can easily open a digital account and use the app for mobile recharges, among other services.
Often, mobile networks launch promos and special offers for people that pay using the YONO app.
The app will automatically notify you whenever there's a special offer from any organization, including mobile networks. I recommend YONO for people dwelling in remote parts of India because SBI has branches at over 55,000 locations across the country. Hence, you can visit any to activate your digital account and start using this app.
9. Paytm
The only reason I'm mentioning Paytm on this list is because it continues to be accepted by all mobile networks. Paytm comes with lots of hidden charges and their promos come with offers that never really materialize, in my own experience. However, Paytm is also one of the apps and websites you can use for mobile number recharges.
They often come up with special offers and promos. You might just get lucky to actually see the special offer materialize. In any case, it's a fairly simple app and website to use for mobile recharges. And it's acceptance in India is also fairly good.
10. MobiKwik
MobiKwik richly deserves the accolade as one of the pioneers of online mobile number recharges in India. This app provides a lot of discounts on every mobile recharge. In fact, MobiKwik began as an app where people could enjoy good discounts for mobile number recharges, before it began offering other services.
You can avail fabulous discounts, cashbacks and other special offers when you recharge using MobiKwik website or app. They have promotions on mobile recharges all through the year. Hence, it's possible to save a lot of money.
Wrap Up
In addition to these third-party websites and apps, it's also possible to get amazing discounts and special offers directly through mobile networks in India. Check their websites and apps for such discounts and offers. In many cases, the above online mobile recharge websites and apps will help you get these discounts too when you pay with them on websites of mobile networks. Try any of these websites and apps to save money on your next mobile recharge.