Do you really need some kind of insurance for your mobile phone? Well the answer is yes if you are using Smartphones like Samsung Galxay S5 or Apple iPhone 6 or any other Smartphone.
However, if you use normal phone like lower models of Samsung, Nokia, Micromax which cost less then Rs. 10,000 then you need not to go for insurance.
A Samsung Galaxy S5 or an Apple iPhone 6 could cost you over Rs 50,000/- and you cannot afford to lose one.
Hence, I wrote this article to give you an understanding about mobile insurance. Whether you need insurance or not you can decide after reading this article.
Why You Need Insurance for Your Mobile Phone
Do you think you need insurance for your mobile phone? Well I do believe it is important to insure your mobile phone for many reasons. Here are some of the reasons: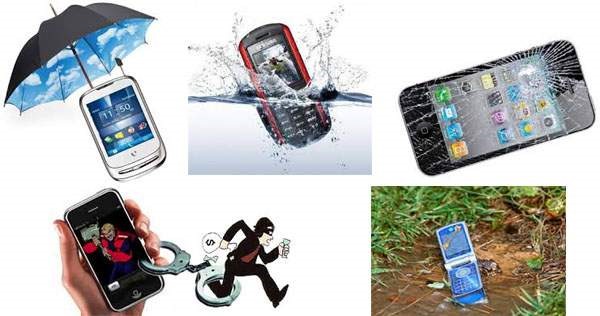 1. Theft: The main reason you need an insurance plan is because most of the mobile phone are stolen. It is estimated that over 2 million phones are stolen every month in this country.
The problem is that its difficult to recover your stolen phone because thieves sell it second hand to someone else in the market. They take out the SIM and pass it on to others in the market. Hence, insurance can cover the loss.
It is said that the market for second hand mobile phone in India is over Rs 500 Crores. The main reason to get insured is because of theft.
2. Physical Damage: Even if you buy a new brand phone, you will not be provided with warranty on physical damage. Most of the high end mobile phones like Samsung Galaxy Note, iPhone 6, HTC Desire etc. are more than 4.5 inches and its very difficult to handle them properly.
There may be many occasions like improper handling, fall from a table top or others which can cause your mobile to damage physically. Repairing expenses of these mobiles are very high.
So your insurance can cover the complete cost of repair.
3. You lost your mobile to some public place: Its very common that you went to a party or another public place where you kept your mobile out of your pocket but forgot to take it while leaving that place.
Now there is rare chance to find your mobile on the same place if you are late. Millions of people lose their mobile because of this reason and unable to track their lost phone even after having all the important details of the mobile.
If your mobile is insured, you don't need to worry. Your insurance company will provide you with the full refund of the cost of the mobile.
Steps for Claiming Your Mobile Phone Insurance
Now let us know brief steps how you can claim your mobile phone insurance.
Step 1: First step is to register a FIR at your local police station that your phone is stolen. (Although there could be other reasons but most of the cases are about theft).
Step 2: Get Your SIM blocked by your network provider and get SIM Barring proof. If you do not get SIM barring proof then get at least SIM change subscription bill
Step 3: Keep your mobile phone purchase bill ready as a proof of your ownership.
Step 4: After completing formalities with your insurance company ask your seller whether he has taken responsibility to choose your compensation plan.
Step 5: Last and the most important thing is that all the steps must be taken within 48 hours of the loss of your phone.
What is all Covered Under a typical Insurance Plan?
We know theft is covered under a typical insurance policy by any company. But we also look at some other unforeseen situation where you can claim your mobile phone insurance.
Theft – We all know about it because it is number one cause for insurance
Fire or any Arson
Accident – Broken in an accident like car crash
Riot, strike, terrorist attack and other damages
Some other unforeseen circumstances
An insurance plan by any company covers above mentioned situations.
What is Not Covered Under a Insurance Plan?
We know what an insurance plan includes. But you also need to know what it will not cover. Hence, you should not expect anything for following situation.
Mobile Phone is mysteriously disappeared
Theft should be from car which is closed if not no insurance
If you have given your mobile phone to others for lending then you are not covered
Electronic and mechanical Breakdown
If your mobile phone is opened and being operated on by others
Damage because of falling into the water or a scuffle with someone
If your phone is damaged or banged on floor by your 4 year old kid
Remember you are not covered for above mentioned situations.
Premium Rates of an Insurance Policy
Before we talk about some of the great mobile insurance plans in India you need to know the rules regarding premium rates of some of the insurance policies.
Today the premium rate for mobile insurance policies will be around Rs 15 to Rs 20 per Rs 1000. Yes this much you need to pay.
For example you bought a new Samsung Galaxy S5 for Rs 50,000 and you want to insure for all of the Rs 50,000 then you need to pay Rs 750/- to Rs 1000/- for the full amount.
However premium rates could differ from insurance company to company. So you need to know about the insurance company and its premium.
After reading this you can insure your mobile phone.
Top Mobile Insurance Plans in India
Now let us look in details some of the best mobile insurance plans in India. This will give you a wide variety to choose from. You can see some of the Indian insurance companies here.
Here are some of the best known insurance plans in India. Some of them you know and some may be new to you. So here are they.
Samsung Mobile Insurance
Samsung mobile Insurance plan is valid for only two models, one is Galaxy S3 and other is Galaxy Note 2. According to the plan you get covered for things like technical fault, breakdown, loss or theft, moisture or water etc. Either you get repaired or replaced.
Nokia Insurance
Second insurance plan is from Nokia. Nokia in collaboration with New India Assurance has come up with the mobile phone insurance plans.
The premium is fixed for only Rs 50/-. It covers things like loss, theft, damage because of daily use and malfunction of internal components. There is a pick and drop facility restricted to few cities only.
Apple Care
Under this plan you get a warranty of one year and 3 months of technical support. There is additional protection plan with extension of two years from date you bought the phone.
Although there are few iPhone users but there is insurance plan by Apple.
There are many other insurance plans but I mentioned only 3.