Many of you reading this article must have seen an advertisement appearing on thousands of websites & blogs which claims 'Single mom makes $7397 per month from home'. And if the earning figure is not same, you can find something like $6,795 or $6,275.
You may be tempted to click on the ads. Or it may be a coincidence that you are looking for an extra income opportunity like every other person in this world want to make more money.
But never click this ad, if you find it next time on some website. Even on my blog!
Why?
Is this virus?
No!
Then?
This is a work from home scam. A very big scam running on internet from the last few years. If you visit the website, I am sure you will become the victim.
Now what exactly is this scam?
This is a most luring work from home scam. This fake website gives you the look & feel of a famous news site like CNBC. There, you will find a very compelling article from a work from home mom where she explains, how she is making several thousands dollars a month by working on very simple online jobs. Just check this screenshot from the website.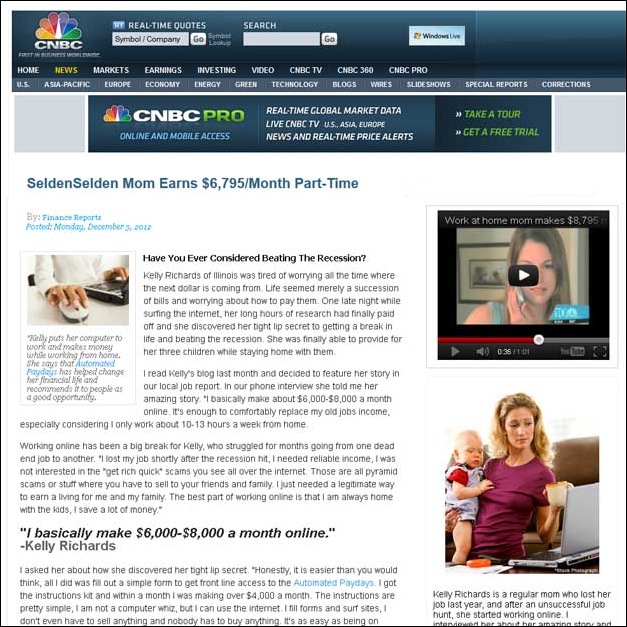 The website will show you fake income proofs, testimonials & comments from the customers & readers. If you click on any of the links in the website, it will take you to their order page where you will be asked to pay their registration fee in order to start this easy work from home job.
But once you make the payment, you will find nothing but scam.
Every week this site changes the website name, URL and everything that makes them identified by the people. At present the new address of this site is FinanceReports247.com.
Thousands of people around the world are being cheated by this scam. Next may be you, your friend or relative. Better you make them alert by sharing this article.