If you are kind a person who loves online shopping then you always look out for special deals that can save you good money.
15 years back, we used to purchase our grocery through our local grocery stores. There was no discounts or offers on any product from that grocery story but still we would save money by not purchasing unwanted items.
But the concept of hypermarket where people can buy everything from a single place & can avail some discounts too, changed the way people buy grocery.
Although you think, you save good money from such offers but in reality, you don't. I have written one of the must read post "Do You Really Save Money or Spend More in Big Bazaar Offers" that received hundreds of comments.
But today, with the emergence of online grocery stores, you are becoming more lazy in going to your local kirana & hypermarket.
Now we are being forced to accept that going to kirana store or a super market is a waste of time & boring task.
And these online grocery stores like Big Basket, Reliance Fresh, Local Banya etc. attract people with different types of offers & discounts.
Trust me, I regularly buy from these online grocery shops & I love the discounts offered by them but sometime there are many offers which looks very attractive but at the end you don't save any money or even you lose your money.
Few days back, I came across similar offer from Localbanya "Smart Grocery Plans" that is not smart for you but this is smart for the company.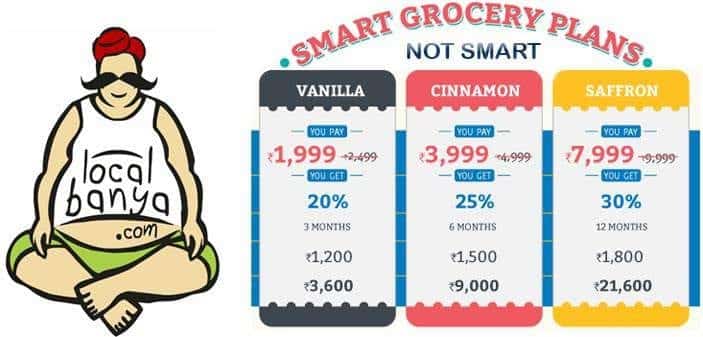 So to get more details, I visited the offer page on their website localbanya.com/smartplans & tried to talk to their customer service through their live chat & even tried their toll free number but did not get good experience.
I entered my name, email & question in their chat box & submitted. The chat window was live but their was no reply even after 15 minutes.
So I tried to call their toll free number to get more details. Every time I call, I used to get the message "Welcome to Localbanya" & then line was cut.
After 4 attempts, a lady answered the call but she was not professional & telling me to visit the website for more details. Then I decided to write the review of the smart plans by doing my own research & calculations.
Review of Localbanya Smart Grocery Plans
Let's have a look at Localbanya Smart Grocery Plans-
| | | |
| --- | --- | --- |
| Vanilla | Cinnamon | Saffron |
| Plan Price: Rs.1999 | Plan Price: Rs.3999 | Plan Price: Rs.7999 |
| 20% OFF | 25% OFF | 30% OFF |
| Maximum discount of Rs 1200 per month & Total Discount of Rs 3600 | Maximum discount of Rs 1500 per month & Total Discount of Rs 9000 | Maximum discount of Rs 1800 per month & Total Discount of Rs 21,600 |
| 3 months validity | 6 months validity | 12 months validity |
So here are some of the points that make this plan not smart for you.
Localbanya 'Plan Price' is for subscription only
The plan price is for subscription only & you can not adjust that amount against any purchase. If you don't buy anything for the first month or next 3 months in Vanilla plan, you will be in loss.
You can lose money if you don't consider these points
You will get maximum discounts of Rs.1200/- a month in Vanilla plan even if you buy grocery worth Rs.10,000/- a month. To get that discount of Rs.1200, your minimum purchase should be Rs.6000/-.
So your total minimum purchase in 3 months should be Rs.18000/- to get total discount of Rs.3600/-. But if you deduct your subscription amount from this, your actual discount will be Rs.1600 only & that comes around less than 9% & not 20%.
Same is the case with other grocery plans Cinnamon & Saffron. So you can't get more than 9% discounts in any condition.
But here are some of the conditions to get that 9% discounts.
1. You need to buy minimum Rs.6000/- every month. When people buy, they buy as per the need & not as per the budget. No matter, your order amount is less than 6000 OR more than 6000/-, your net discount will be less than 9%.
2. You need to stick to Localbanya only for a period of 3, 6 or 12 months. If you don't buy for 1 month then your net discount will Rs.1200 x 2=Rs.2400 – Rs.1999 = 400/- or 3.3%. If you forget for 2 months then your total loss will be Rs.1200 x 1 = Rs.1200 – Rs.1999 =Rs.800/- & if you don't buy anything for 3 months then your total loss will be Rs.1999/-
3. Even in that condition, Localbanya has mentioned dozens of terms like you can't combine the discount with other offers, can't pay with Sodexo coupon, neither you get any banya points nor you can redeem your banya points etc.
Subscription fee is not one time
They say, its a one time subscription fee but in reality there is a validity of 3 months, 6 months & 12 months as per the plan you choose. It means you have to pay again after the validity period.
Although Localbanya has mentioned number of benefits of the subscription plan on their website but that does not provide any value.
If you really want to save money then don't stick to one single online grocery site. Check number of other grocery sites as well & buy from the site that give maximum discount that time.
I have recently launched my coupon site Couponwaale.in where you can find coupons & deals for all your shopping need. Soon, I will provide latest discounts & coupons for grocery as well.
And yes, never buy anything for the discounts on a particular product but buy only if you need that product.
If you have purchased this smart grocery plan from Localbanya then share your experience or if you are planning to purchase then tell me if it can really save your money.