I am sure, if you have shown even little interest in work from home opportunities on internet, you must have come across this name Krishna Karpal from Mumbai who is earning Rs. 4,40,000/- per month by filling just a short form & applied for a work-from-home kit.
And if not, then you might have seen her in advertisements in many famous news & jobs websites in India & even on her fake news website careerjournalonline.com/newsupdate/workfromhome/trifu/0eu2lm77a/in/.
Just see this lady Krishna Karpal below & try to identify her.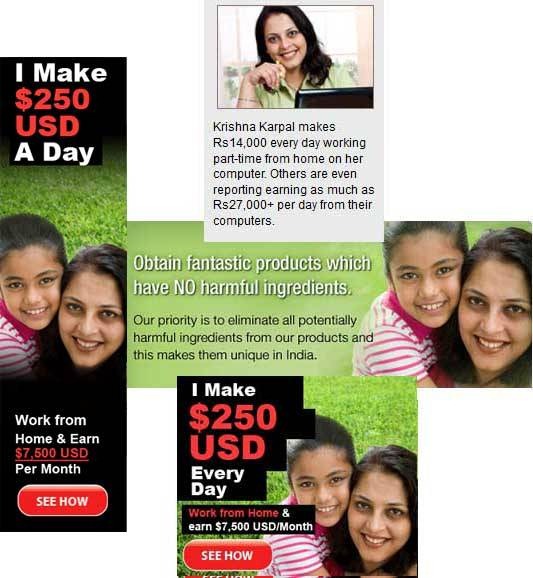 Its one of the biggest work from home scam running on internet. Millions of people around the world has been cheated by this scam.
Who is Krishna Karpal?
Now, after doing a little bit research about this lady, I am sure there is no lady with this name 'Krishna Karpal' from Bombay & even any part of the world.
The scammers have taken these photos of mother & daughter from photo stock site iStockPhoto & I think neither her name is Krishnal Karpal nor she is related with this work from home scam.
Why do I think this is scam?
I have already written about similar scam in the past. And here, I have done some research before I prove this one as scam.
Check some of the important reasons below-
1. Same story all over the world
This is one of the important point. If you are from India & click on these work from home mom ad, you will be redirected to an Indian mother Krishna Karpal webpage but if you are from other country say USA or Singapore, you will be redirected to the US mom site "Melissa Johnson from Chicago" or Singapore mom site 'Li Tan from Bedok".
All the moms have exactly the same story to tell the world about their success & there is not a single word changed in all these mom sites.
And here is the funny things about this site. Either you visit US or UK or Canada webpage, the name & photo of this mother (Melissa Johnson) is same but places are different.
You can check here the links of different countries
Gabriela Valdez from Latin America at  www.careerjournalonline.com/newsupdate/workfromhome/trifu/0eu2lm77a/latam/
Melissa Johnson from Canada at  www.careerjournalonline.com/newsupdate/workfromhome/funbox/0v75pbm/ca/
Doris Halkias from Nicosia at  www.careerjournalonline.com/newsupdate/workfromhome/vc/0a34jkm/cy/
Sanaa Al-Kazaz from Amman at  www.careerjournalonline.com/newsupdate/workfromhome/trifu/0eu2lm77a/jo/
And virtually from all countries that you can check here in Google.
2. Same income cheques everywhere
If you visit any of the link provided above, you will find all mothers have earned the same income $8,795 & their check number is also same. If you compare all the cheques, you will find everything same except the name.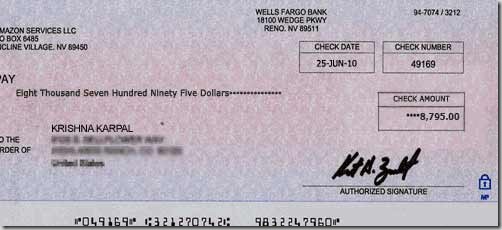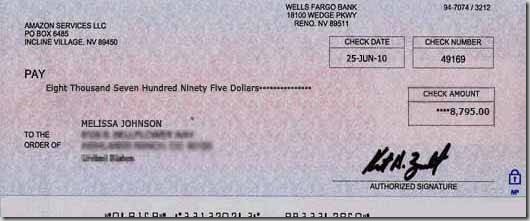 Great coincidence OR hence proved.
3. No social profile of Krishna Karpal
There are millions of people around the world, who are making money from internet. But its very rare that they don't have any social profile on Facebook or Twitter or Google+.
And if there is someone, who is making so much money like Krishna Karpal & if he or she is selling work from home opportunities on internet, they must have a social profile.
No social profile with this name means fake name.
4. All moms selling 3 different products
Whether its 'Krishna Karpal' or Melissa Johnson or 'Li tan' or mom from other country, they are selling 3 different products on different pages.
e.g. Krishna Karpal is selling
Work from home product at newsonlineweekly.com/india/finance/
The Colon Cleanse Weight lose Diet at newsonlineweekly.com/india/diet/
Wrinkle free skin product at newsonlineweekly.com/india/aa/
Again a great coincidence as all of the moms were having same problem & used the same products to solve their problems & they find miracles after using these products. Just copy above links & open in internet browser to see the product details.
5. Fake News Site
When you open this website, it will give you a feeling of a news site but check properly, you will find this as a fake news site. Its logo & header is fake & even the category in navigation menu is fake.
Just click on any link in the whole website & it will take you to the same work from home membership order page from all clicks.
6. Fake comments
All the comments provided at the bottom of the page are fake. You will find the comments there from last 3-4 days only.
You come after 3-4 days, you will find the same comments but dates different.
You don't believe me. Just do one thing. Change the date of your computer & refresh the website & then check the dates of the comments. You will be surprised!
So what do you think after reading all the points mentioned here. Do you agree with me? I am waiting for your comments & opinion.