Everyone wants to start a work from home business. You could be financially independent if you decide to choose a career that you love.
If you have a passion for something in your life then you could turn it into a money making business.
You just need to have motivation and yearning to succeed in life. If you have an ambition then you could make it in this business.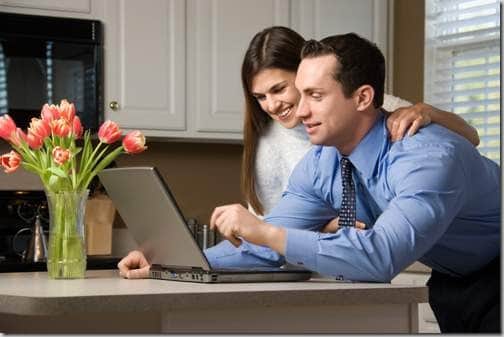 It really does not matter whether you are a woman or a man. So here are 6 easy steps that you need to take if you want to start a work from home business that you love.
Step1: Get Ready to Leave Your 9 to 5 Job
First thing is you need to make your mind that you will be leaving your 9 to 5 job in next few months.
You need strong determination and will power to make up your mind. Before you leave your regular job you need to make plan.
Initially, it would be hard time because you might have to leave your job. But I recommend you not to leave your day job until you start your new home business.
Once, it gets going then you could say goodbye to your day job. Therefore, you have to make your mind up before you start your work from home career.
Step2: Decide on the Work From Home Business You Want to Start
After you have made your mind that yes you will be leaving your 9 to 5 job and now it's time to start your business, you have to decide what you are going to do.
You should start a business which you know about it. You do not have to know everything about it but some basics working of the business.
It is very important to choose a right business when you start otherwise you it could be a big disaster.
If you have contacts then start give consultancy services, if you are in military then you could start giving security services, if you are beautician then start a parlor or a spa, similarly there are many other businesses that you could start.
Check this: how to start a small business
Step3: Muster all the Necessary Resources
Once you have decided about the home business that you want to start, now you have to start collecting all the resources to make your business successful.
Off course, the first thing would be the money. You would require money to start up your business.
You need to have an office in your home, some furniture and you could hire some employees according to the nature of the business you are in.
It is better to make a list of things that you need. Then you have to make a decision whether you have that money or you have to take a loan from a bank.
Step4: Create a Genuine Product, Advertise and Sell
Now you have to get down to the business. You could be successful in a business when you have a great product to sell. It really does not matter how good your salesman or sales letter is when you do not have a product to pitch.
Hence, you have to develop or create a product or a service that you can offer to your customers.
Then you have to have right advertising plan to sell your products because reaching out to your customers is very important. You might have to spend some money on advertising your product.
This would be your 4th step that is most important.
Step5: Managing Day to Day Operation – Employees and Salary
If you want that your business keeps running smooth and making profit all the time then you have to manage your day to day operation effectively.
You have to take care of your employees or staff members that are working with you. Always pay them well so that they give better results.
Then you need to manage other expenses like cost or raw material, rent, electricity bills, taxes etc.
It is important to develop a healthy working environment in your home.
Step6: Make Plan 'B' if anything goes Wrong
Finally, you really do not know what's coming. You must prepare yourself for an eventuality. If it is not going according to your plan then you must have plan B.
Suppose, your new home business fails and you lost all money that you invested then what is the next thing you are going to do?
If you do not have plan 'B' then you would be in great trouble. So it is wise to have a back up whenever you are starting a new business.
So these were 6 steps that you need to take before you start a work from home business that you love.
You have to follow them one by one and take care of things mentioned above. All the steps are arranged in right order so that you could follow one by one.
Effective Ways to Analyze Your Home Business Competition
If you want to be successful in your home business then you have to analyze your competition and direct competitors.
If you know both of them then you could remodel your business and make huge amount of money.
It is that competitor that eats away your profit. Hence it is better to find out your competitors and know what they are doing that you are not being able to do.
You can remodel after some of most successful competitors who have been in the business for a while now.
Therefore, you do not have to reinvent the wheel again because you could remodel them.
There are two ways to analyze your competition, offline and online.
Offline Methods
There are few offline methods that you need to learn for finding your competition. Although most of them are same old techniques but they are still very important.
There is no replacement for them. You need to get back to same old tricks that could really change your business for the better.
Get Tidings for Your Area
The first thing is to find out what is going around your area. You should have someone to brief you about the kind of business that are running in and around your area.
You have to find out every shop owner that is in the same business that you are in.
You need to collect information such as what are new businesses that have come up, who is the owner, how much he or she is making, type of customers that are coming to the shop.
Therefore, you should know all these things. It is better to have your own source that can feed you with this kind of information.
Try to Become a Member of Trade Association
Next offline method to find your competitors is to become a member of a trade association or a business community.
There is always trader or business community in your area for a particular business. You should join that community and attend all meetings.
If you will attend the meeting then you will get a chance to share your ideas with others. You could find out things like the problem that your business is facing right now, when to increase or decrease cost of certain commodities etc.
You will get know all your competitors at one place.
Visit all Malls, Dealers and Suppliers in Your Area
Visit malls, shopping spots, rental office space in your area. You have to know what types of businesses are renting these shops and office space.
Moreover, try your best to meet all the suppliers in your area who are responsible for supplying raw materials to various businesses.
Similarly you could meet dealers also in your area. This will give you a fair knowledge and understating of your competitors.
So these were certain offline methods to find out your direct competitors in your kind of business.
Online Methods
Now you also need to know some of the online methods to know about your competition. Online methods are little bit more tech savvy and you need to be familiar with using Internet.
You have to spend some time here because it is not like offline methods which are very conventional.
Google Tools: Keywords Estimator, Trends
First you have to get familiar with using various Google tools. First such tool is Keyword estimator which gives an idea about your direct competitors.
If someone types in a particular keyword then it will tell how many people are searching it and how many businesses owners are bidding for it.
If the bidding price for a keyword is high then competition is high. You could choose keywords related to your business. Like if you want to start a lingerie shop then type in words like lingerie or woman's lingerie etc.
Similarly, there are other tools like Google trends, Google insights etc.
Join Blogosphere and Social Media
To know what customers are saying about the products of various companies you have to find out various websites and blogs.
You can find out which products are selling really well and which are not. You could also find out who are making really profit by reading blogs and comments.
Moreover, social media is also a great way to know about your competitors. You could use Facebook, Twitter and YouTube to find out more.
Forums and Discussion Boards
Forums and discussions boards are really good to know what people are buying. There are forums which allow a healthy debate on the consumer experiences.
Join these forums and know the latest things about your business.
In conclusion, I would say utilize both methods online as well as offline to find every competitor in your business.
Offline methods are very basic and you do not need anything new to learn. However, online is little bit tech savvy and you have to give some time to learn basic things.