This is another creative business idea. If you have creativity, artistic talent and a style all your own, you could use that style to design beautiful greeting cards that people will buy up in no time. It takes practice and time to test buyers, but talent can be sold and used go show care and concern for others.
You might think the internet is trying to hurt the greeting card business because email is easier, cheaper and faster, but that doesn't mean nobody uses greeting cards.
In fact, they are still very popular and widely used for all sorts of occasions because they are more meaningful than an eCard. You can start a greeting card company and profit from the popularity of sentimentality.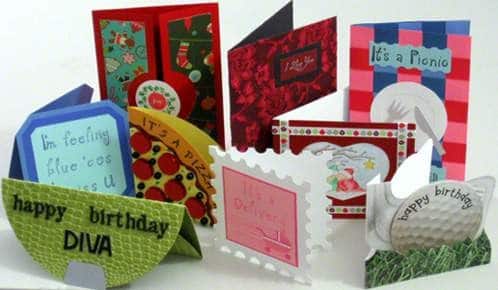 There are basically two aspects to a good greeting card: design and writing. Of course, not all greeting cards need to have words. A beautiful design can be just as meaningful and will let the sender write their own message.
You can try to write poetry or create designs and sell them to greeting card companies, or you can make and sell your own cards. Selling them on your own can be more fun, profitable and easier to get started. There is less waiting and more creative work happening.
Materials
Greeting cards are usually made from basic materials, or they can be high-end, unique  materials. There are no rules about what can be used to make greeting cards. They can be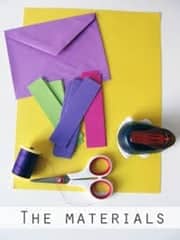 simple or be made from special materials. It all depends on your creativity and what style you are going for.
Handmade greeting cards are special and should have special, quality materials. You may need paper, glue, a printer, ink, a paper cutter, scissors, dried flowers, scents, ribbon, newspaper or magazine clippings, etc.
Greeting cards can be designed and printed on the computer. You can make a graphic design or do something from hand and scan it to the computer to print on many cards.
Truly handmade cards won't use the computer. You can charge more for cards you put together absolutely by hand. For example, if you're an artist, you can paint one-of-a-kind pictures on each card.
How to Make a Greeting Card
Get out a notebook or piece of paper and start jotting down notes and ideas. Do you want a rustic card? Will you paint or draw on the card? Will you glue pieces to it such as dried flowers? Will it be simple or complex? Will you make your own paper?
The design and creation aspect is completely up to you. Try making a variety of different cards in all different styles. Make test models and choose your favorite. Show them to friends and family and ask them which they like best.
Keep track of what materials you use and how much they cost. You will need this information to help you come up with a price.
Pricing your Cards
Once you know how to make greeting cards and have come up with a design, you can start selling greeting cards. First, you need a price.
How much did the materials cost per card? How much time did you spend on each card? Are you a professional artist? How much do similar cards cost in local shops and online? These questions will all help you come up with a price.
Bundle your cards together or sell them separately. It's best to sell envelopes with the card, whether you make them or not. Make sure the quality of the envelopes match the design and quality of the card.
Go to a card rack at your local greeting card store to get pricing ideas. They can range anywhere from $1 for a simple birthday card to $10 for an elaborate wedding card. Try to keep your expenses low and find a way to produce them faster so that your prices won't have to be astronomically high in order to make a profit.
General greeting cards, such as those without words, can be grouped together in groups of 4 to 20 cards. Put them in a pretty matching bag or box.
Where to Sell Greeting Cards
Start out with a small inventory of your cards and test the market. Get a table at a craft fair, flea market or other local craft selling venue and see how many you can sell. Be prepared to adjust the price or barter if no one is buy. At this point, you'll have a better idea about how well they will sell.
When you've come up with a great-selling design, increase your inventory and sell wherever you can. Sell at every craft fair, flea market, church fair and state fair you can get to. Make a website and sell your cards online or sell them through eBay.in, Amazon, Flipkart etc. As demand grows, hire people to help you create and/or raise your prices to increase your earnings.
Selling greeting cards is a very creative process that can be very enjoyable and profitable for the artistically talented. There are number of books available on Amazon which can help you to guide to create best greeting cards.