I have seen many AdSense publishers who try very hard to increase their AdSense earnings but most them of them get failed to do so. After talking to some of the bloggers who mainly depend on AdSense for their blog income, I found that they focus more on Google traffic to increase their AdSense earnings.
To get more traffic, they publish regular articles on their blog & build the backlinks to please the search engine boss 'Google' & at the end they find no increase in AdSense earnings. The reason is simple. They neither write quality contents nor build the quality links & so get the penalty.
I am not here to talk about contents & SEO because many of my WordPress sites with only 2-4 pages are doing well in Google & I receive consistent traffic from the search engines. After I start receiving decent traffic on my sites, I focus on increasing AdSense earning without thinking to increase the traffic on my blog. And yes, by doing a simple changes on my website & in my AdSense account, I am able to multiply my AdSense earnings as high as 400%.
So how do I achieve this? How do I multiply my AdSense earnings 4 times?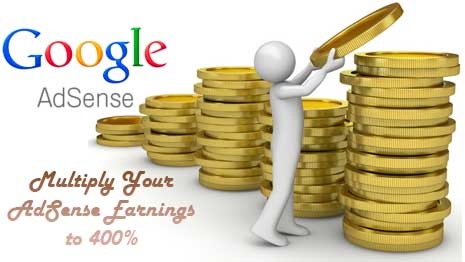 2 Ways to Increase AdSense Earnings
Here I am going to reveal you 2 important ways which many of the publishers overlook to increase their AdSense earnings. Its very simple & it hardly takes more than 30 minutes to set this up.
So what are these ways which can boost your AdSense earnings to 400% without increasing even 1% traffic on your site.
The first method is by increasing the CTR of your AdSense ads & other method is by increasing the CPC.
Just take here an example. I have created a mini WordPress site with 2-5 posts & after doing some basic SEO, I started to receive some traffic e.g 200 page views per day on my site and this site is giving me 3% CTR & an average CPC of 10 cents.
So my daily/monthly earnings will be 200 x (3/100) x $0.10 = $0.6 per day OR $0.6 x 30 = $18 monthly
Then after doing some changes & applying some settings that took only 30 minutes, I was receiving more than 6% CTR & more than 20 cents per click (average CPC) but my traffic was same.
Then my daily / monthly earnings increased to 200 x (6/100) x $0.20 = $2.4 OR $2.4 x 30 = $72 monthly.
My previous monthly earning from this site was around $18 per month but with small changes my AdSense earnings increased t0 $72. Its as high as 4 times.
So how can you increase your CTR & CPC?
Ways to increase CTR
Its very simple to increase the CTR (click through rate) of your website. Just check here some of the best way to increase AdSense CTR of all your sites:
Using CTR themes
Blending your ads with your contents
Avoiding banner ads
Placing high CTR ads (336×280, 728×90) above the fold.
Ways to increase CPC
Another way to increases your AdSense earning is by increasing CPC (cost per click) that you receive for your ads.
If you research your website, you will find many low paying ads on your website which are responsible for your lower CPC. There will be so many ads that you will find which only pay 5 cents or even less for every click. You can identify these ads & block them in your AdSense account.