If you ask a student, what is the main obstacle in getting a better education, majority of them will say lack of funds. This situation does not prevails in India only but you can find this even in developed countries like USA & UK.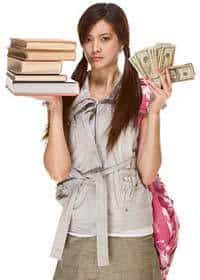 This situation if not solved can affect the entire career of a student. Most of the students who are unable to arrange the necessary funds for their degree can turn into alcoholic or get into other bad habits.
But most of the students either try to adjust their student life or start a part time job.
I have seen many of the students working in part time from Hyderabad or other metro cities like Delhi, Bangalore etc.
There are many challenges for a student if they decide to work in part time & that is why I decided to write this guide so that they can get proper guidance in making some extra income to fuel their student life.
Challenges & Solutions in Part Time Jobs for Students
No fixed income
During my trip to Bangalore, I met Armaan who was working as a tourist guide & making some 5000 to 6000 working in part time.
But when I talked to him, I realized that he is not getting what he wanted from this job. He wanted to earn at least 5000 a month by working not more than 20 hrs a week.
But neither there was any fixed income nor there was any fixed time for this job. Sometime, he was not able to find any tourist and sometime, he gets the customer in the last minute. It was very hard to make that income every month & he was very needy for that.
I suggested him why he is doing such type of unsure job where you need to depend on customers for your commission. Why he does not search for some part time jobs in a company where he can get a fixed salary.
Now a days, there are many companies who are looking for young & energetic students like you where not only you get a fixed monthly income but you will be having many other benefits.
You could start searching for such companies through local employment agencies (who do not ask a registration fee from the student) or online through classifieds or job sites. You can even refer part time jobs column in Bangalore newspaper classified section.
You need to be active in finding a job. If its taking time, you could continue this while searching for better option for you. You can quit this once you get a proper part time job.
After 2 months, I received a call for tanks from Armaan. He was earning some decent income without affecting his studies.
Lots of Travelling
Its one of the major problem in metro cities. Whatever is the reason but it takes lots of time to commute from one place to another. 2 hrs is the daily average time for Mumbaikars to go to their office & come back.
But this travelling time matters a lot in case of students otherwise they won't get the time for their studies.
There are many ways you can avoid this situation like
You can find a job with in a circle of 1-5 km distance from your home or college
You can ask your employer if he can complete the assigned job from home.
Instead of searching a part time job in office, he could earn from online jobs. There are many online work from home options where they can earn some decent money.
Life Becomes Hectic
If you are doing a full time degree course & if you are attending a regular college then by joining a part time job, your life can become hectic. It can badly affect your studies & so your whole career.
Some findings reported increased behavioral problems, insufficient sleep, not enough leisure, propensity toward drug use, drops in college performance, and increased psychological distress.
You can overcome this situation by
Joining an occasional part time option where you don't need to go on regular basis like summer jobs or promotional jobs.
By taking a student loan which you need to pay after completing your studies & joining a full time employment.
You can ask your employer for work from home option so that you can complete your job at home & deliver either through internet or physically on weekly basis.
You can even start some internet jobs. Although there is no guarantee for fixed income but if you work hard, I am sure you can make much more than the extra income you are looking for.
So if you try to follow above mentioned tips, I am sure you will not only earn some part time income but you will also be able to concentrate on your studies.