If you are a blogger & if you are from cities like Mumbai, Bangalore, Delhi, Chennai, Hyderabad etc then bloggers meet is one of the best event for you to learn about blogging & meeting successful bloggers.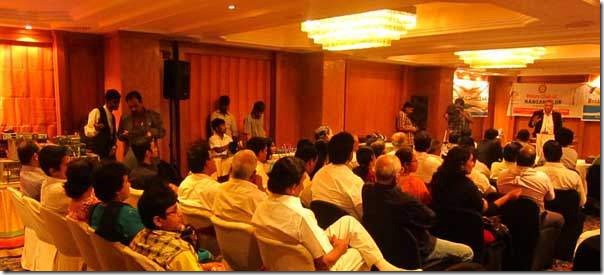 If you are wondering how you can make your next bloggers meet successful then don't limit yourself to distribute your business cards & collecting cards from other guys.
Many bloggers work the same way. They think the event will be a success if they can exchange maximum number of cards. But if you want to make this event successful then its better to make real connection with few bloggers rather than exchanging cards with many.
Nobody cares for the business card. So neither you or other bloggers is going to use the business card. If you connect them in person then your card will have more impact & they will definitely have look on your blog & social media profiles.
Here are some of the tips to make your next bloggers meet successful-
Don't forget to carry your business cards
Your business card is one of the most important tool you will carry in any of the event like this. If you don't have your business card yet, its a good to get them now. Pay attention towards its design & contact details. You can add details like your blog name, social profiles & the services you provide etc.
You will meet many different types of bloggers there & many of them may need your services in future. For girls, its a good idea to keep your cards in their handbag & for boys, you can use a card holder.
Meet all types of bloggers
If you think meeting other bloggers who don't write in your niche is waste of time, you are wrong. You may be a technology blogger & you may find other bloggers in the meet who write about fashion, health or politics but there are many things you can learn from them, as the common interest of all the bloggers is same.
You can discuss about their blogging journey, the way they promote their blogs & how they monetize this. You will learn at least one new thing from each blogger you will meet.
Start conversation with bloggers
Its one of the sad part in the bloggers meet that people wait for others to start a conversion. They don't open the doors to the opportunities they might get if otherwise they could have missed by not taking the initiative.
Start talking with people by introducing yourself & then ask for their introduction. Start a formal discussion before you talk professionally. Be a good listener while talking.
You can ask for the card exchange in between the conversation. If there is any extra details required to note down, you/he can use the back of the card for that.
Don't judge bloggers with blog rank or income
If you meet a blogger whose blog rank & income is poor then try not to underestimate him. I have learnt many big lessons of my life from such people only. Sometime you can receive a good idea from such people that can change your life.
So be humble to meet such bloggers & respect their words. If you are a successful blogger making good income then give them tips & motivate them.
Discuss the important points
If you really want to become a successful blogger then meet as many bloggers as you can in the event. Try to impress them with your thoughts & ideas & give them some time to open with you. Then ask about the tips & ideas that can be useful in your blogging career.
Some of the important things you can discuss are-
What is the topic they blog about & what is their most favorite blog topic?
Is their favorite blog topic is different then their blog topic & if so why?
How frequently they update their blog & what is the source of their content?
How much traffic they are getting & how much money they are making?
How they are promoting their blogs? If search engine is the main traffic source, how they do the SEO?
What are the income sources – AdSense, affiliate marketing, consultancy, services, selling products or ..?
Is this their full time career or doing it part time?
If they work in team or individually?
Do they work from home or office?
What are their future plans with blogging & what they are doing to take this to the next level?
What are best strategies they are using for their blogs?
What tips & tricks they use to increase their income & which tips was most successful?
What is the main USP of their blog?
Which was the most successful tip & which one was the worst idea that they used for their blog.
And many question that may arise during the conversation.
Prepare a list of similar question that will give you the different ideas from different bloggers. This way, you can get lots of successful tips to implement on your blog.
After the meet is over
After the meet is over, don't be in hurry to go your home. Say a formal buy to everyone you met during the meet.
Then next day, check the blogs of bloggers you met & read their latest posts. Write the comments with your Gravatar profile so that they will recognize you.
To make your connection more strong, check their best & relevant articles & link the in your next posts. Ask them to write a guest post on their site.
Keep contacting them on regular basis through emails & phones. You can even arrange a party for few of the selected bloggers & take your blogging relationship a step ahead.
So these are some of the tips that you can use while going for a next bloggers meet.
Do you attend a bloggers meet or similar event?
If so, how do you make it successful?
Share your ideas!!