Freedom 251 is the world's cheapest smartphone for just Rs 251/- or US $3.6. The phone was launched on 17th Feb by the ministers of present government.
So you might be thinking why to buy an Apple iPhone for Rs 40,000/- when you are getting the cloned version for just Rs 251/-.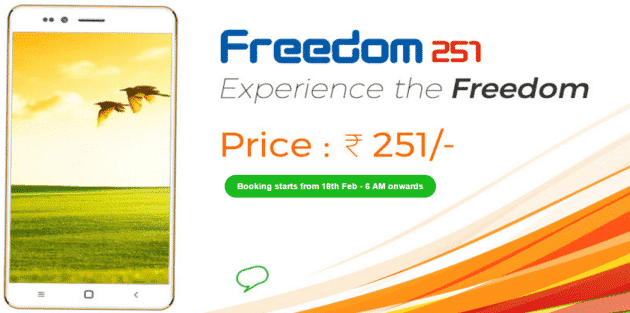 But don't you think a smartphone for just Rs 251/- is too good to be true. Is that simple that you pay just Rs 251/- and get a smartphone like iPhone?
Well! I do not think so.
All About Freedom 251 Smartphone
Before we raise any questions about the Freedom 251 let us take the smartphone on its face value and assume what it is offering is actually true.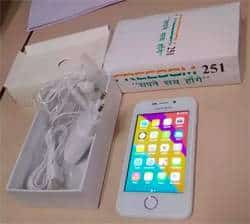 So you will be excited to know what does Freedom 251 smartphone looks like and other specifications.
Freedom 251 dual SIM 3G capable runs on Android 5.1 Lollipop operating system with a 4 inch WVGA IPS display.
It has 1.3 GHz quad core processor with a RAM of 1 GB.
The internal storage is of 8GB with external SD card support and battery power of 1450 mAh.
Freedom 251 Smartphone has got 3.2 megapixel auto focus rear camera and 0.3 megapixel front camera.
So this was a brief rundown of the Freedom 251 smartphone.
What Company is Selling Freedom 251?
Now you might like to know the company that is selling Freedom 251?
The Noida based company Ringing Bells is manufacturing and selling Freedom 251 all over the country.
The company was established in 2015 had already launched a 4G smartphone worth Rs 2999/- in the market.
So this is not their first smartphone.
Here we need to raise some serious questions how a company can make a smartphone as cheap as Rs 251/-
Do not you think it is a scam and if it is not then there will be some hidden charges?
Company's Background
Moreover the Ringing Bells has no known track record in making electronic goods. So we can't talk about the quality of the Freedom 251?
Shipping Products
Freedom 251 is not going to represent the unit that is going to ship the smartphone to you. It simply means the phone you just ordered may never reach you and the company would not be responsible for it.
Rs 251/- For a Smartphone is Too Good To Be True?
Do you think Rs 251 is too good to be true?
The Real Freedom 251 Prototype
Still there is no final prototype of the Freedom 251 because the prototype distributed to journalists bore the logo of Adcom. The entire design and specifications are similar to Adcom Ikon 4.
If company is saying the internal components of Freedom 251 are going to be unique then where is the prototype.
Pricing Model
The price model is simply not sustainable.
If you compare Freedom 251 with Adcom Ikon 4 then Ikon's component costs at Rs 2546/-.
So how could Freedom 251 sell for one tenth of the Ikon's cost?
A 3G smartphone with same specification as of Freedom 251 cost at least 8 times higher.
So how the price could be just Rs 251?
How they are going to Produce if it is Not Subsidized by the Government
The company president Ashok Chadha said the company is not subsidized by the government. So if Freedom 251 is not subsidized by the government how they are going to sustain it?
How they are going to complete factories, production and testing in just 2 months.
As a matter of fact the company is still looking for an investment of Rs 230-250 crores. So the basic infrastructure is still not there.
Certification Process and Copyright Issues
The Freedom 251 is not going to pass the standards for safety given by Bureau of Indian Standards.
Moreover the company is also using icons that are similar to Apple's iPhone. So this will be theft of intellectual property.
The Warranty
There is a one year warranty for the unit, 6 months for battery and charger and 3 months for earphone.
But the problem is the company has no return policy.
How Do You Book Your Freedom 251 Online if it is for Real?
Booking of the phone starts from the February 18th    and closes at 21st February. So it is for just 3 days.
As a matter of fact the company has sold over 30,000 units already.
Because of unprecedented demand for the smartphone the company suspended bookings for a while.
So do you want to buy this Smartphone?
The website is down from 18th February 2016 but the order page is working fine. I even tried to place an order on the website from this link https://freedom251.com/cart & the order got placed successfully.
Delivery of Freedom 251 and Mode of Payment
You may be surprised to know that the smartphone might take 4 months to reach you.
Once you complete the order form they will respond you via your email within 48 hours with payment details.
I might also add that you have to pay an extra Rs 40/- for shipment charges. So the total cost of the smartphone will be Rs 291/-
There are different ways you can pay the money like Net Banking, Credit/Debit card, and COD.
The best way would be Cash on Delivery if you receive the smartphone in June of this year.
Finally I am going to conclude by saying the Freedom 251 looks a fraud to me. It simply can't happen for so many reasons.
I haven't mentioned many other problems that simply make it looks like a scam. The entire project seems to be unrealistic at so many levels.
So don't get too much excited with this new phone. But throwing Rs 251 away is not going to do any harm, so you can afford to burn that much money if you like.