William Shakespeare written in his Hamlet, 'Neither a borrower nor a lender be'. Even though, many people wish to live as per this quote, it is something turning out to be highly impossible these days.
Regardless of whether it is investing in a property or trying to pursue higher education, borrowing has become common today through home and educational loan respectively.
Education: As stated by Will Durant 'Education is a progressive discovery of our own ignorance'. Particularly, in the current competitive job market, an individual can find a decent job when he holds a minimum basic degree qualification from recognized university.
If your parents have not planned for your education in your childhood, then such students are in need of some sort of financial help to meet their educational requirements and this is where exactly educational loan can come handy for them.
Educational loan: With the increasing course fee and other related expenses every year, some students are left with no other option other than seeking financial help.
Nowadays, in India, the fee to be paid towards an engineering degree course is somewhere between Rs.5-10 lakhs, while for a five-year medical course, it will cost up to Rs. 50 lakhs.
>> Paid $667 million to their members. $10 Signup bonus. Swagbucks is the most legit site to make money in  Free time. Join Now


>>

 Free Samples every month from Healthy Living - Apply Here
>> Make $300 sharing your opinion - Join Survey Voices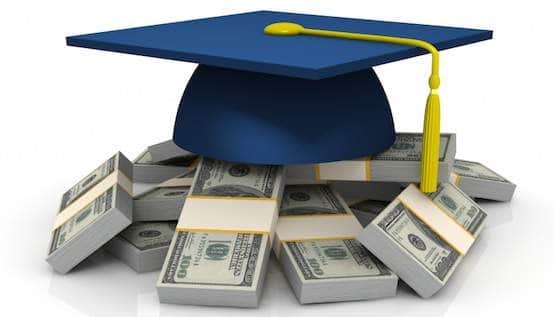 For PG courses like Master of Business Administration, it will cost around Rs.10 lakhs. As compared to government-run educational institutions, the fee charged by private institutions are even higher in India.
What is required for an educational loan in India?
Before applying for loan, it is important that students should check the following requirements to be fulfilled:
Students cannot apply alone and there should be co-applicant like parent, siblings or spouse
If the requirement is between Rs. 4-7.5 lakhs, it is important that there should be a third-party guarantor
For more than Rs. 7.5 lakhs, a collateral is important
The borrower will have to start the repayment within six months to one year after the course completion
If he does not repay the money, it will affect his own credit history and the history of the co-applicant as well.
If the actual borrower goes abroad, the money will be recovered from the co-applicant in case the co-applicant is his parent.
When a student applies for loan to study abroad, he should look for a sponsorship or part-time job
When it comes to foreign courses, insurance is also compulsory.
The document needed to apply for a loan
The applicants must submit the corresponding application form that can be obtained from the specific bank or financial institution. Along with the application, it is important that he/she will have to submit the copies of the following documents. These documents are generally made compulsory by most of the banks; however, there may be some difference in some of the banks or finance companies:
Mark sheet and certificate of the last qualifying examination
Admission proof
Schedule of expenses for the particular course
Copies of letters that confirms that the student is eligible for loan
If it is for foreign education, copies of foreign exchange permit should be attached
In general, 2 passport size photos will be needed and this number might differ in some banks.
If the individual is salaried, he should submit the salary slips that has the details about date of joining and the latest six month bank statement of the salary account should also be attached
If he is self-employed, copies of last two years of Income Tax Return with income computation should be submitted
Rate of interest:
When applying for educational loans, it is important that students should check out the rate of interest charged, so that they can judge whether they can pay the interest without any trouble.
In the present circumstances, interest on education loans is charged between 11.75 to 14.75%, which varies on the basis of the institution or college concerned and on the basis of the borrowed sum.
For higher education in premier institutions, banks generally offer a discount and special offers are given to female students by Public Sector Banks in India.
The beautiful thing about education is that no one can take it away from you at any stage in your life. So, you can consider education as your asset.
After checking with eligibility requirements, rate of interest and comparing the repayment terms of different banks, you can apply for the right educational loan from the right lender.
Once the loan is sanctioned, make the best use of it and remember that the efforts you are making at this educational stage will give you fruitful results in the future.