I think, most of the publishers who already crossed $100 in May 2014 in AdSense have already enabled this direct bank transfer facility.
But if you are someone who has just started AdSense few weeks back and still hoping your account to reach the $100 mark then you need to read this post.
I know most of the people are very excited because now they don't need to count the days from the time Google sends the AdSense cheque & no need to go to the bank to deposit the cheque.
I was also excited about the same when I received my first payment through direct bank transfer but got little disappointed when I checked the conversion rates from the bank.
When Google was issuing the payments by cheque, they were converting the earned dollars in INR with the actual dollar rate for that day but my bank (and I think all banks) deducts the charges for dollar to rupee conversion.
So for every $1, there is a loss of Rs. 0.50 to 0.70 or for every $1000 there is a loss of Rs. 500 to 700 or even more.
If you are making less than $1000 then you won't feel anything about this loss because the benefit is bigger but if its more than $5000 then you can feel the difference.
So it will be better if Google, instead of sending direct bank transfer in dollars, send the payment in INR.
Anyway, there is no other option now because you can't receive the money by cheque. And you have to enable the direct bank transfer for your AdSense payment.
Configure Wire Transfer in AdSense
So here are the easy steps to change your payment option-
Login in to your AdSense account.
Now click the gear icon on the top right & then click on Payments.
Now click on Payment settings option in the left sidebar.
Then click +Add new form of payment.
Enter your bank account information and click Save.
Just refer the image below and check the details below to do it properly-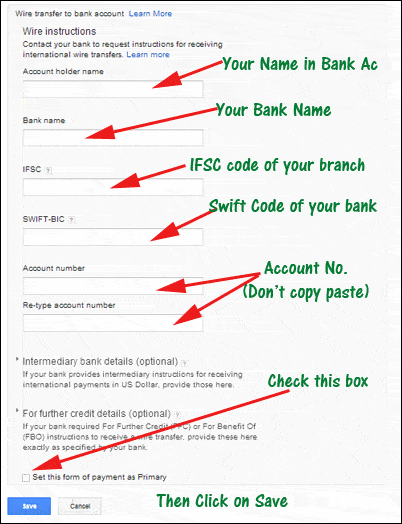 You need to provide the correct details otherwise Google will not be able to transfer your payment. Here are some tips you can follow-
Account holder name: Write the name as it is appeared in your bank account. Refer your passbook or cheque book.
Bank name: Write the name of your bank e.g. HDFC Bank, ICICI Bank, Punjab National Bank etc.
IFSC Code: You can refer your passbook or cheque book for IFSC code.
Swift-BIC: These codes are used when transferring money between banks, particularly for international wire transfers. Either you contact your bank for this or check the official website of the bank to know the swift code for your bank.
Account No.: I hope you know your bank account number. Don't copy paste when entering second time so that you can know the mistake.
Check the box "Set this form of payment as Primary".
And then Click on Save button.
So now its time to change the payment to wire transfer. Just collect the details first and then try to configure this.
I am looking for your reaction if you have already set this and received your payment first time.