Although I rarely watch Kaun Banega Crorepati but after watching the promos of KBC 5 Crore winner Sunmeet Kaur Sawhney on Sony TV, I thought of watching the entire episode of KBC on 12th January 2013.
I was closely following each & every question that was given to her & how confidently & beautifully she was answering them.
Earlier I used to think you need to be lucky in order to earn money in Kaun Banega Crorepati but after watching this episode & confidence of Sunmeet Kaur Sawhney, I had to say it was only her knowledge that earned her 5 Crore in Kaun Banega Crorepati.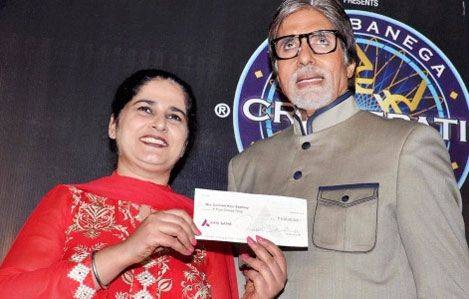 Can your knowledge really earn you 5 Crore in Kaun Banega Crorepati
Yes, indeed. Our knowledge is the most powerful weapon we human can have. Nobody in this world can steal our knowledge. We should always strive to gain more & more knowledge. I am not talking here about the knowledge related to your work only but anything that you come across in day to day life.
Here are some of the key advantages of knowledge-
It can give you good support in worst situations.
It brings awareness & art of judgment in you so that no one can make you fool.
You can give the proper guidance to your child & other people.
It brings the confidence & a feeling of completeness in you.
And yes, your knowledge can earn you 5 Crore in Kaun Banega Crorepati
Don't  you trust me?? Just read this inspiring story of a mechanic….
A giant ship engine failed. The owner of the ship called one professional after other but none of them was able to spot the problem to repair the ship engine.
Then they called an old gentleman who was repairing ships since his youth. He was carrying a large toolbox with him & he started to work as soon as he arrived. He inspected the engine thoroughly.
The ship owner was present there, looking at this man, hoping he would know what to do. After checking things carefully, this man opened his toolbox & pulled out a small hammer. He gently tapped something. Instantly, the engine lurched into life. He carefully put his hammer away. The engine was fixed!
After a week, the ship owner received a bill of $10,000 from the man.
"What?!" the owners exclaimed. "He hardly did anything!"
So he wrote the old man a note saying, "Please send us an itemized bill."
The man sent a bill that read:
Tapping with a hammer………….. $ 2.00
Knowing where to tap…………….. $ 9,998.00
*Effort is important, but knowing where to make an effort makes all the difference!*
.
Do you agree with me?
Education is the right of everyone. Spread awareness & tell everyone the importance of education & knowledge.
Write your opinions through comment.