I know about all possible ways of making money online but none of the program can match the simplicity of Google AdSense.
AdSense is really a great program on internet for people who are looking for the simplest way of making money because in AdSense-
You don't have to sell a product like in affiliate marketing!
You don't have to worry about creating, managing & selling a product like in your own business
You don't have to wait for a client & work for someone like a freelancer do!
And you don't have to work like a labour as in Fiverr, mTurk or PTC sites.
All you have to do is create a blog, write something useful that people are searching, do some quality SEO & start making money from AdSense.
And that is what I do?
And that paid me more than INR 20,00,000 in 2013 Just from AdSense. Just check this video where I am showing my live AdSense account-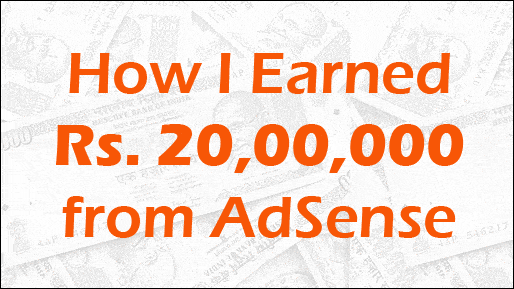 My total earnings from AdSense is $35800 or in Indian rupees 20,11,000/- with different conversion rates in different months.
Google AdSense is not the only way I am making money from. I have other sources of income as well.
I am also earning from Clickbank affiliate program and by providing training on SEO & blogging. Total income from these 2 sources are around 40% more of what I earn from AdSense.
So if you are a new or struggling blogger & eager to know how exactly I make money from AdSense & other sources then here are the things what I do-
I have 2 main blogs (Jobs8Home & GetSarkariNaukri) & number of micro niche sites.
90% of my content on all the sites are outsourced.
Even most of my SEO work is outsourced.
And I never invest more than 15% of my earning in outsourcing.
All I do is manage everything.
There are many people who do not think AdSense is better than affiliate marketing but the truth is its easier & more lucrative than affiliate marketing provided you know how to make money from this program-
All you have to do is-
Find the keywords with high volume & low competition.
Or find the keywords with high CPC even with decent search volume.
Do quality SEO.
Optimize your AdSense ads to get better CPC & CTR.
If you are a new blogger or someone who is struggling to make money online then you need a proper guidance. Many top bloggers write many useful stuffs on their blog but that is not sufficient.
Reading the good things on internet look very motivating but most of the things are not practical to follow.
So if you are looking for a practical guidance on digital marketing & blogging from someone who is very experienced then just visit my website MoneyConnexion and signup.