I have been using Google Adsense program for last 5 years. Although overall the program has been great & I earn my bread & butter from AdSense but at times it gave problems to many people.
In this blog, you will learn 5 things that you will love about Google Adsense and 5 things that you might not like about this program.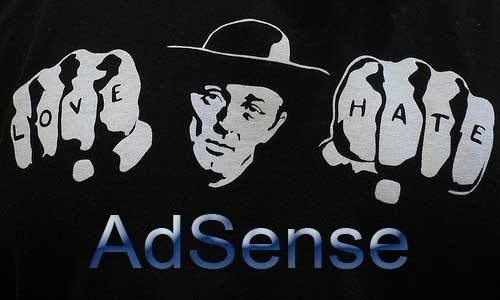 5 Great Things About AdSense
I am earning money from AdSense from the last 5 years & year 2012 proved to be a good year for me. I started blogging seriously in 2012 & AdSense contributes to more than 50% of my income.
1. Trust of Blogging Community on Adsense Program
Google Adsense program is really trustworthy. Millions of bloggers, publishers and even advertisers trust Google. They believe that the company is going to stay here and they could invest their time and money on it.
Especially, blogging community who depends upon Google for their livelihood loves it. Today, most of the top bloggers use Adsense program for their website.
On the other hand, there are many other programs on the line of Google Adsense, however they never succeeded in winning the trust of the blogging community like Adsense.
Thus, trust makes Google Adsense so popular in blogging community.
2. Transparent Revenue Sharing System
Why blogger love AdSense, obviously because it is most transparent program compared to any other program in the market.
All other advertisement programs try to hide their revenue sharing plan. However, Google is quite clear on it.
Google has declared that it will give publishers (bloggers and other companies) 68% of what advertisers (businesses that are putting ads) are paying to them and remaining 32% will be going to Google itself.
Therefore 68% is what we get. But other programs do not outlay their policies for sharing revenue like Google.
Transparent revenue sharing system of Google Adsense program is liked by bloggers very much.
3. Google Always Puts Money in Your Account on Right Time
Google never cheats. In my past 5 years, it has never happened that Google refused to pay check on time. Google will take care that the pay check reaches to you on time and at right place.
Few years back, the pay check that I was expecting to receive was not delivered by the courier service hence it went back to Google and Google resent the check back to my home address.
So never bother about your payments just focus on blogging and that is what Google also wants.
4. Excellent Google Adsense User-Interface
The fourth thing that I love about Adsense program is its excellent user interface. The user interface to Google Adsense is most advanced and sophisticated compared to any other program out there.
You could almost find or ascertain everything about your readers and their demographics. The interface is so helpful that it can give you an insight about how your readers are behaving.
You can blog better according to insight given by Google Adsense program.
5. Adsense Help and Support Team
Google constantly updates its Adsense terms and conditions and other policies. So if you have any doubt or confusion then you could get in touch with their Adsense support team. They will answer all your queries.
Moreover, if you are having problem with placing ads or other issues then also they are ready to help.
Google keeps upgrading its Adsense user-interface. So if you are not able to understand any new feature then you are free to ask their support team.
5 Problems with AdSense
We talked about 5 things that I love about Google Adsense. But unfortunately there are 5 things that people hate about it and they are
1. Current Adsense Account Approval & Condition for Getting Adsense Premium Account
Now Google has become very strict when it comes to get an Adsense account. It might not approve your Adsense account for at least 6 months, unless you get some traffic on your website. There many other such preconditions.
Next, is even if you bring in a lot of traffic & make big earning, you are still not going to be qualified for Adsense's premium account. Google asks for at least 20 million page-views for a website every month. Now this figure to achieve for a blogger is almost impossible.
Hence you cannot get premium account and this is what many people hate about Google Adsense.
2. Terminate Your Adsense Account Immediately
The second thing that I hate about Adsense is Google do NOT hesitate to terminate your account, if they find any malpractice done by you. Google disable thousands of AdSense account every month. Even a small mistake can make your account get suspended.
You will receive a warning in your email as well as AdSense account inbox from AdSense team for any policy violation but if you ignore it, you can be in trouble. Once deactivated, its very difficult to reactivate your AdSense account.
Now I do not indulge in malpractices, but at times Google had stopped showing my ads on websites without any concrete reason. After checking the warning, I immediately took the action & corrected what Google has suggested in the email.
So it is like, Google saying, you better do not mess with us. This attitude of Google is not liked by blogging community in general.
Thus, be careful about your ads and any intentional or unintentionally malpractices.
3. No or Lack of Transparency about How Much Advertisers are Bidding
As I said earlier Google does share the revenue sharing plan. However, it still does not tell you how much a bidder or an advertiser is paying Google.
If you receive $1 for a click then how much actually an advertiser paid to Google. Is Google trying to hide the exact money paid by the advertisers?
It might happened that Google is showing less amount compared to what in reality advertisers are paying to them.
Thus, there is a lot of ambiguity about this issue. And I hate Google for not coming up with the right answer.
4. Lack of Flexibility for Tweaking and Adjusting Ads
Another thing that I do not like about Google is about its ads. Google always want to show ads as per its wish.
If you try to put their ads according to the way you want and then Google would objects and you will be not allowed to show those ads.
In fact, Google may stop showing your ads permanently. Hence, this is very annoying for bloggers and other publishers.
5. No Support for Tracking all Your Custom URL Channels
The 5th thing that I hate about Adsense program is, Google still does not allow you track every URL channel you have created.
It is important for a blogger to create and track as many as URL channel because it can tell them from which URL channel, maximum traffic is coming.
But Google only allows 10 channels to create and track. I hate this because Google should allow tracking unlimited channel.
So, these were 5 things that I love and hate about Google Adsense. You can say Adsense is a mixed bag but bloggers normally love this program.